Many investors interested in alternative assets often shy away from art due to the overwhelming amount of risks and responsibilities that come with acquiring investment grade art. In this article, we identify these risks, and tell you how investing in art through Arthena will make you want to start today.
Comparables, experience and costs:
Needless to say, investment grade art is not the stock market or the real estate market where you can compare prices of one asset to another. With art assets, the ability to determine the legitimacy and the price, comes with expertise - this barrier makes it difficult for the traditional investor to confidently invest. When evaluating a work of art, art appraisers look for: Authenticity, condition, rarity, provenance, and value. Art appraisers' expertise can charge anywhere between $50 dollars to several hundreds of dollars an hour, and not all have equivalent experiences. Additional time is needed to ween out truly experienced art appraisers from those who are not.
How can Arthena help?
By investing through Arthena, we take away all the troubles of doing your own research, determining which work to purchase, placing the right bid, and hiring the right appraiser. At Arthena, we use our very own regression analysis to determine works of art to purchase for investment purposes. We organize artworks with similar core characteristics into logical groups according to their specific criteria, in accordance with USPAP (Uniform Standards of Professional Appraisal Practice) guidelines, which is also known as a IRS appraisal. The characteristics include artist, genre, date range, content, materials, size, coloration, and style, among others. Then, Arthena targets works by artists that have shown appreciation over the past 5 years and are projected to grow by 20% +/- YoY over the next five, or the lifetime of the fund.
From storage to insurance, Arthena takes all these burdens away from the traditional art investor. By investing a minimum of $10k into our funds, we handle every troublesome task when it comes to acquiring a work of art. Just sit back, and watch your investment grow.
Illiquidity:
Generally, the art market is relatively illiquid in comparison to traditional assets such as equities and stocks. Therefore, art assets are ideal for long-term investments. That being said, there is varying liquidity within the art market itself. Determined by the difference between the ask and bid price, the lower the bid price from the ask price, the more illiquid the asset is. The greater the bid is from the ask price, the more liquid it is.
Let Arthena identify the art market's most liquid assets:
Arthena acquires works in the emerging, PWC, and Modern market sectors, which in total account for over 70% of the US market, and have shown the highest rate of growth over the past 10 years. Art market analysts have identified the most liquid sector of the art market are works of art under $250,000. Arthena confirms that the artist and art work fit our growth metrics, rate at 1 or above for Sharpe Ratio, to confirm that it is a high growth investment with low volatility, and determine its maximum acquisition price
Lack of data:
Many reports have noted upon the lack of transparency in the art market. As a result, companies have created indices such as Mei Moses and Artnet index to amend this "problem". Nonetheless, these indices bring in a new set of issues. Such indices as the two mentioned do not encompass the entire art market. For example, Mei Moses's data lies primarily on numbers from Sotheby's and Christie's, negating their online sales as well as other auction houses and private sales. Another problem is that some indexes rely heavily on repeat sales, but does not include bought in lots, which variates some data.
How Arthena operates through transparency:
As such, Arthena acquires works at auction for increased price transparency to the benefit of our investors and our methodology. When works from Arthena's index of artists appear at auction, Arthena uses regression modeling to determine maximum acquisition price. Once acquired, investors can view their art collection through Arthena's online dashboard, allowing our clients to have full access into their investments.

Stock market vs. art market performance:
Multiple art market analysts have determined that the art market has a low correlation to the stock market, while other analysts have deemed that there is still a certain level of correlation between the two because of the notion that investors would only spend disposable income on collectibles and luxury assets when the market is bullish rather than vice versa. Regardless, the art market has proven itself to be a great store of wealth especially during times of economic uncertainty. Notably, it only took the art market 16 months to return to pre-recession levels in 2008, while the stock market took six years. As such, according to Deloitte:
"Increasing awareness of art as an asset class: 53% of wealth managers had a high level of awareness of developments linked to art as an asset class, up from 43% in 2012 and 33% in 2011; this signals that increasing attention is being paid by the wealth management community to the art and collectibles market."
- Deloitte and ArtTactic Art & Finance Report 2014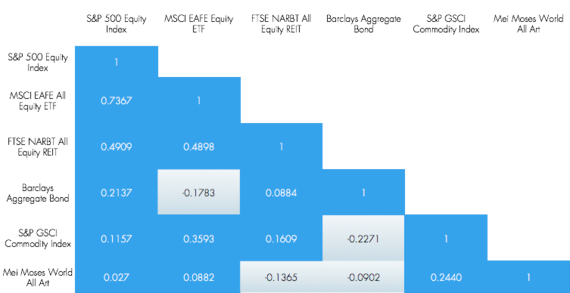 Arthena takes a new approach to investing in art. Like a hedge fund, Arthena identifies specific market segments and artists that have shown impressive historical performance and creates buy orders to acquire said works.
Don't wait any longer, invest today through Arthena. Click here to start investing in our funds.
REAL LIFE. REAL NEWS. REAL VOICES.
Help us tell more of the stories that matter from voices that too often remain unheard.