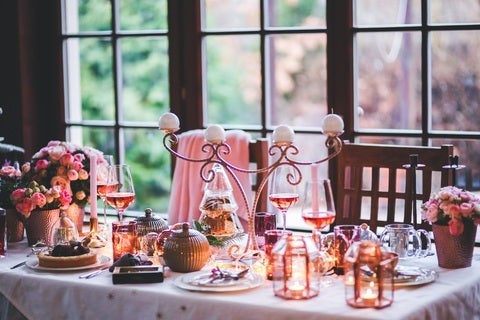 Holidays are a season of joy and happiness. It's important to spend time with the ones we love such as our close friends, colleagues, and family members. However, if you're the main host or hostess of the party, it can be daunting to please everyone.
Here are some helpful tips for mixing it up when seating the crowd to ensure an enjoyable experience for all.
The host and/or hostess serves several important roles, including invitations, catering and generally entertaining the guests. Many co-hosts prefer to sit close to the kitchen so they can serve more of the popular mashed potatoes and gravy. The other co-host seated at the opposite end of the table keeps busy serving drinks and offering pleasant conversation about neutral topics such as the books, weather, sports, movies, and music. These references are controversy-free and delight any conversationalist.
If there is a complainer who gnaws on the soul, seat them close to a co-host so the co-host may quickly change to a positive topic.
If there is a "controversial columnist" who blabs about the political agenda or shares thoughts on sensitive topics inappropriate for a holiday dinner, seat them close to the other co-host who can also avert disaster, and attempt to curtail hostilities.
Conventional wisdom is to separate married and long-term couples, because they have heard each other's go-to stories for years and the temptation to interrupt is just too great! Separation allows married couples to tell their stories to different people without their partner pestering them about mistakes. However, seat newly engaged and recently dating couples together.
Experiment with seating introverts and extroverts next to each other to determine if they will pair well. Many times this is just the needed mix for good chemistry.
It's rare to see millennials put down their smartphones, even at a formal holiday dinner. Encourage them to Snapchat, Instagram, and take chotos up until dinnertime. Give them a 15 minute warning and then have them deposit all phones in a different room. Dinner conversation is more likely when they are seated by a middle aged adult who can answer questions with wisdom and advice. For example, seat a college student who is a finance major next to an accountant or CPA. Play around with the mix, but try to get the two talking to share their thoughts for a productive conversation.
Consider seating well-mannered older children next to adults, other than their parents to teach them self-discipline. Unless they are too young, seat them with other children to encourage them to make friends, observe and figure out a few things on their own.
Be creative with holiday seating arrangements. It makes all the difference in fostering a happy holiday dinner party!
Sharon Schweitzer, J.D., is an award-winning entrepreneur, cross-cultural trainer, and the founder of Access to Culture. In addition to her accreditation in intercultural management from the HOFSTEDE Centre, she serves as a Chinese Ceremonial Dining Etiquette Specialist in the documentary series Confucius was a Foodie, on Nat Geo People. She is regularly quoted by BBC Capital, Investor's Business Daily, and Fortune. Her Amazon #1 Best Selling book in International Business, Access to Asia: Your Multicultural Business Guide, (3rd printing), was named to Kirkus Reviews' Best Books of 2015. She's a winner of the British Airways International Trade Award at the 2016 Greater Austin Business Awards.
Related
Popular in the Community