So you landed that sought after speaking engagement. Your opinion matters and people are starting to listen. You probably already have a content marketing campaign which is why you're considered an industry expert in the first place. Your speech is ready and a lot of effort has gone into it; and then your business partner asks "but how is this going to win us new clients?"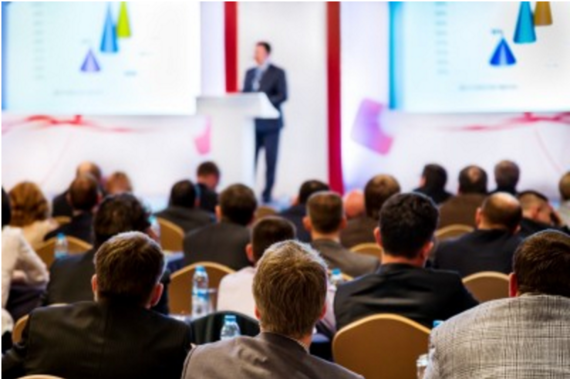 Fair question, speaking engagements eat up time and money; how will you answer? There are many ways to leverage a conference, I have put together a list of tips that will not require a large team to execute. Even the largest companies often allocate small delegations to events so here are some ideas you can execute without too many hands on deck:

1. Make your presentation social.
As a speaker your presentation is key. Make sure your presentation carries your Twitter handle and company Hashtag on every slide. This will make sure that everyone notices it at some stage. During your presentation you will also have key messages to deliver. Make sure these are short enough to be tweeted, highlight them and make sure you repeat them a few times.

Include all other social addresses in the footer of your presentation.

2. Create social boiler templates
Create social media headers that promote your keynote speech and change all the boiler plates on your social channels a couple of weeks before the event. Complement this with some image posts to pepper your social platforms in the fortnight before the event. Make sure you include: time, location, topic and event hashtag.

3. Create it as an FB event and invite your followers.
Create your speaking spot as an Event on Facebook so that people who are interested will automatically get notifications and reminders from Facebook. This also allows you to invite people and run Pay-per-click campaigns to promote the event. Promote the Event on your personal page and your business page and ask friends, colleagues and other businesses to promote the event to their audiences to further your reach.

4. Use eMail Marketing
Tell all your clients through a mail shot. Even if they cannot make it, it will raise your profile and garner respect for your expertise in the industry. If you're tweeting live make sure you let everyone know so that people can participate and follow the event remotely. Follow-up the event with an email containing a link to a snippet or full video recording of the event for all those that couldn't make it but would have liked to. Make the video easy to share.

5. Promote your blog.
During the event direct people to a blog page (like blog.com/event) with all your tweetable quotes in it. Use click to tweet to make this easy. Encourage people to follow you during your talk whilst giving them a good reason to. Promise to follow-up the presentation with more information on the topic.

6. Prepare a valuable give-away
Give away a copy of your presentation so your audience can see it again later. Let them know you will be posting and writing more info about the topic and that it will all be available on your social accounts. Ask them to follow you in the final slide or even better in the footer of each slide.
7. Scope it
Use Periscope to broadcast the talk (if the event organisers allow it). Even better save the video and post it on your blog and send in a mail-shot later.


8. Brand Yourself
Find the colour that defines you. A lot of speakers and businesses use this very effectively. Always wearing the same colour when you talk and branding your surroundings with hints of the same colour will make you more memorable.

9. Get some face-time before the go
Give a physical giveaway (ideally not merchandise) this could be a printed whitepaper or case study based on your talk. A usb with additional information. Registration for a free consulting session. Any giveaway that will encourage people to come and talk to you after the event will help you get some direct leads from the event that you can focus on closing later. Think about what your ideal customers would love to take away with them and create it.


10. Build your list
Let people know your presentation will be available for download on your blog page. Create an opt-in email form and ask people to enter their name and email in order to download it. You can use these email addresses to nurture them as leads and invite them to other speaking events.

11. Collect business cards
Ask people to leave you their business card if they want to receive the presentation notes and content links after the event. Not everyone takes notes.

The tips above will help you collect personal details to introduce new people to your sales funnel. Give special follow-up attention to people who put in the time to speak to you face-to-face and do not forget to keep following up.
80% of sales require 5 follow-up calls after the meeting.
- The Marketing Donut
If you want to be remembered use story telling and make your audience laugh. Practice the way you close. Tell them why they should remember what you said and how this will be useful to them. Most people will remember the last thing you say so make sure it's a strong close. They will be looking out for you next time.

After a presentation 63% remember the story. Only 5% remember statistics.
- Chip and Dan Heath
Do you know someone who likes speaking at events or has a speaking event coming up? Share this with friends and colleagues.
Calling all HuffPost superfans!
Sign up for membership to become a founding member and help shape HuffPost's next chapter