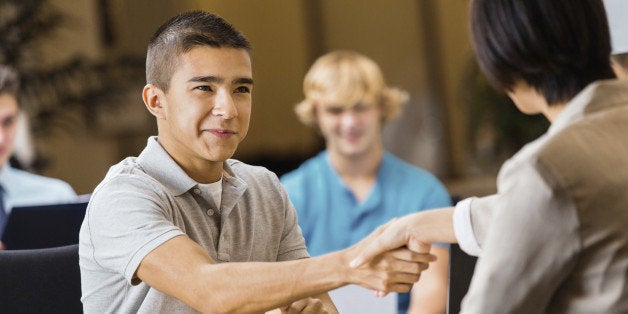 After countless hours of SAT and ACT prep courses, endless drafts of personal essays and tackling the monster that is the Common App, you think you have it all down when it comes to the college admissions process. But then you receive a notice about your admissions interview—now you have to impress someone in person enough to make him or her let you into college.
Never fear, collegiettes! We've talked to students all around the country as well as Michelle Podbelsek, a college admissions counselor and co-owner of College Counseling Associates, to answer all of your questions about college interviews.
What are college interviews and why are they important?
College interviews are, unsurprisingly, interviews that you go on to help colleges and universities decide your admission status. They give the colleges another opportunity besides your personal essay and other application supplements to get to know you for you and not just the bullet points on your resume.
Interviews are crucial to making your application sparkle when admissions officers are deciding whether or not to admit you to the school. Make sure you seize this opportunity to show the school your true self!
Where will the interview take place?
Answering this question can be pretty tough because these interviews can happen anywhere from the college's admissions office to someplace local, like Starbucks or Panera.
"The interview I went on in the admissions house was way scarier than the one I did at the coffee shop," says Chrissy Brenstein, a freshman at the University of Illinois at Chicago. "I ended up getting into the school that was in the admissions house, though, and waitlisted at the other school, probably because I was almost too relaxed in the coffee shop."
If your interview is scheduled to take place in an office on the college's campus, remember to relax and be genuine. If your interview is going to take place someplace local or more casual, remember: You might feel more relaxed and at home, but don't let that make you forget that you're having a professional conversation!
Schools typically reach out to you to schedule your interview; once the interview is scheduled, they will let you know where it will be taking place. Some colleges even advertise where they hold their interviews.
Most of the time, the person who will actually interview you depends on the location. Admissions representatives or people who are on location for the school usually hold interviews conducted in admissions offices; interviews that take place at local coffee shops and the like are usually conducted by alumni or regional representatives of the college.
Remember that not all interviews are the same: While one might take place at one location in one fashion, another might be completely different. Make sure you go by what the college tells you and roll with the punches to be successful!
Whom will I be talking to?
Like the location of your interview, the person you'll be talking to depends on the interview. Some colleges have prospective students talk to admissions representatives; others have prospective students talk to alumni of the school. "Sometimes even a senior in college does the interview," Podbelsek says. Your interview could be with anyone, so be prepared for anything!
Although your interview can be with anyone, know that the university you're interviewing with will let you know in advance who your interviewer will be. They will also let you know how to sign up for an interview; this is something you can find on the college's website or through their application.
"I had one interview with a student and another with an adult representative in admissions," Chrissy says. "The one with the admissions person was a little bit easier, to be honest, because I knew for sure that I should be sort of formal. With the student I didn't really know where I stood [in] regards to being formal and being relaxed."
When a student admissions ambassador conducts your interview, remember not to go over the top while trying to impress him or her—these people are only a few years older than you and could potentially be your peers. You want to make sure that while you're being formal and presenting yourself in a positive light, you're also being genuine in order to make a connection with someone your age.
This is also your chance to ask someone for firsthand information about what the college is like. By striking up conversation about the culture on campus or about specific clubs, you will make a more sincere connection.
Remember: As a young adult, you can smell a brown-noser from a mile away. Although you definitely want to be respectful and personable with a student admissions ambassador, know that they will be able to recognize disingenuous students the same way you would be able to.
No matter whom your interview is with, make sure you are putting your best foot forward. Mind your manners, but most importantly, be yourself.
Ah, one of the most important questions for girls when attending any event: What do I wear? College interviews can be particularly tricky because it can be tough to tell what's too formal and what's not formal enough.
"[Dress in] business casual—what you would wear to your grandmother's birthday party or to a decent restaurant," says Podbelsek.
Shira Kipnees, a senior at Franklin & Marshall College, did exactly what Podbelsek suggested for her interviews. "I usually wore a dress or really nice shirt and skirt with heels," she says. "However, I kept everything appropriate, like something I would wear if I were going to services in any place of worship."
Try to sense the tone of the interview based off of where the interview is going to take place or whom you're going to be interviewed by. If you're going to the admissions office, try to keep it dressy; if you're going to Panera, still keep it classy, but maybe leave your dress pants in the closet and opt for a cute dress instead.
"One [interview of mine] took place at a local Starbucks," says Gabrielle Hughes, a freshman at Syracuse University. "I seemed way too overdressed, because the young female alum was in a green Free People jacket and jeans."
Wherever your interview takes place, make sure you make an impression not only with your personality, but with how you look, too. Show your interviewer that you're a confident and put-together collegiette who will definitely excel at his or her college.
For admissions interviews, the most important things for you to bring are yourself and your sparkling personality. It's important to make a good impression using your personality and nothing else; you should show that you have a lot to contribute to the college or university just by being you! That said, pre-collegiettes should also remember a few other things to put in their purses before the meeting.
It's important to have a resume to give to your interviewer if he or she asks, but don't shove it down his or her throat! Remember, the college has all of that stuff in your application, so only pull it out if your interviewer asks for it.
"[Students] could also bring a notecard with a few main accomplishments [and] points they want to make," Podbelsek says. You could also write down a few questions you know you want to ask as well. "When the interviewer asks if they have questions, [the prospective student] can pull out the card with their own questions written down and also see if they forgot to say something they wanted to mention," Podbelsek says.
Just like giving an oral presentation, it's not a bad thing to have a few notecards to give you cues. Just need to remember that the interview will be stronger if it's more like a conversation between yourself and the interviewer, so don't read directly off of your notecards!
What will the interviewer ask me?
You guessed it: In your interview, you're going to be asked questions. But what should you expect?
Most interviews are used to find out if you are a good fit for that specific college, so don't be surprised if they ask you specific questions about you in relation to the college. Many interviewers even ask what they can tell you about the college (see "What should I ask?" below!).
"I remember the hardest question I had to answer was what I wanted to major in," says Callie Johansson, a junior at Florida State University. "I had literally no idea at the time, so I just started spouting off different academic interests I had. I think the interviewer appreciated that I was still able to come up with something that I was interested in."
To prepare for the interview, start looking at the different programs and activities the school has to offer and start imagining yourself taking part in them. By prepping yourself with that, you'll be ready to answer any of the questions your interviewer throws your way.
Calling all HuffPost superfans!
Sign up for membership to become a founding member and help shape HuffPost's next chapter
BEFORE YOU GO
PHOTO GALLERY
Colleges With The Most School Spirit