The word glamorous can mean different thing to different people. Being someone who believes glamour is simply wearing makeup, I'm guessing that my definition of glamorous is pretty different than say Kim Kardashian. That's why navigating the spectrum of glamorous camping, termed Glamping, in Australia can have varied results. However, with the growing popularity of glamping in the land down under, luckily you have an array of choices that should fit your definition of glamorous perfectly.
One Size Does Not Fit All
If you are looking to make glamping a part of your Australia itinerary, then you should first determine what type of glamorous camping experience you are looking for. Just like the diverse landscapes of Australia, you can find diversity in your glamping choices. High-end luxury, adventure, romantic, or rustic are a few things to consider when choosing. And once you decide what type of experience you want - then you need to determine where to go in the vast land of Oz.
Adventurous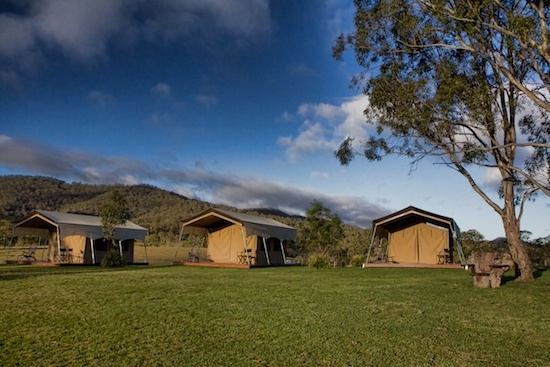 Our hiking guide, Hanna, handed us day backpacks already packed with rain gear, a hat, lunch, snacks, and a camel back water system. This wasn't just luxury camping, it was luxury hiking. Spicers Canopy in Southern Queensland is not just a camping experience, it's a full on adventure.
The only way to get to the luxury tents is to hike to them. This is not simply a little walk; it's a proper hike - one that requires climbing up to the summit of Mt. Mitchell, a beautiful site to soak in the view of Australia's Great Dividing Range. After a filling lunch at the summit, you start back down hiking through back country trails and riverbeds. Then you finally see them - 10 perfectly placed safari style canvas tents with porches situated on a green glen, all looking out on Mt. Mitchell. After hiking for 7 to 8 hours, we had finally arrived - and we arrived in style. Chef Ryan was standing on the porch of the lodge holding a platter of champagne.
We spent all day earning our glamorous camping, now we could sit back and bask in our tents with 500 count sheets and a sea of feather pillows. Each tent contained a queen size bed, solar powered lighting, a lounge chair, and a fluffy robe/slippers. We also enjoyed the communal lodge with bottomless drinks and a cozy fire to sit and socialize around. The 3 bathrooms and showers were also located in the lodge.
That evening we were served up a feast to give us plenty of energy for the next day's hike. Chef Ryan served an onion-brie tart with balsamic, Coq au vin, mashed potatoes, carrots, and sticky date pudding with ice cream. At Spicer's Canopy you certainly earned your dinner, and once you arrived at Spicers canopy you didn't have to lift a finger, and for me - that was glamorous.
Website: Spicers Canopy
Location: Maryvale, Queensland
Cost: $1,899 AUD per person for 4 day Scenic Rim Trail hiking experience - all inclusive
Luxury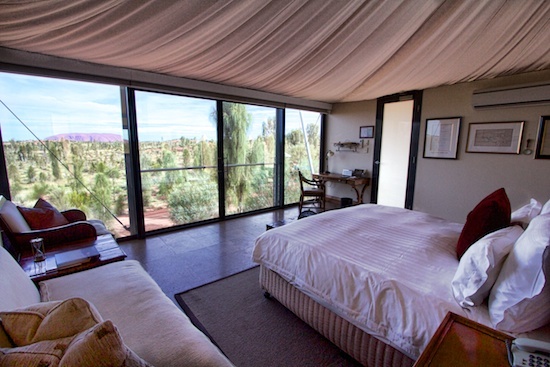 A personal view of Uluru from Longitude 131
If it's good enough for the Royal Couple and Oprah - then it must be luxurious. Longitude 131 is the diamond in the rough situated in the heart of Australia's Northern Territory. It holds the distinction of the closest lodging to Uluru, and it is one of the nicest glamping experiences I've ever had. Touches of luxury were everywhere from the ipad complete with playlist and Bose speakers in each tent, to the complimentary bar, to the Nespresso teas/coffees. Each tent was actually part tent, part cottage with a canvas roof, 3 solid walls, and 1 full window for the 4th wall. This layout provided the perfect private view of Uluru.
How do you add luxury to a dessert environment? It's all about service. Each morning and night there was an exclusive experience you could participate in with fellow glampers. The experiences ranged from guided hiking to sunset champagne and canapés as well as cultural educational programs. My personal favorite was Table 131 - dining under the desert stars. A long communal table was set outside and we all gathered around for a 4 course feast with wine pairings. At the end of the dinner we were served a lovely port and then treated to explore the southern hemisphere night sky as a guide led us through a star-gazing talk. It was a memorable way to experience the Australian Outback.
Website: Longitude 131
Location: Uluru Northern Territory
Cost: $1,100 AUD per person with minimum 2 night stay - all inclusive
Romantic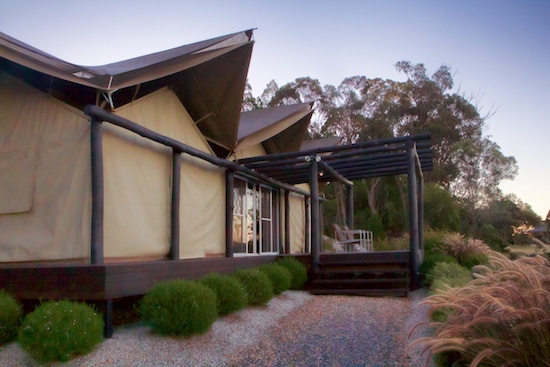 Alure - an architectural wonder!
Alure Stanthorpe was designed as a tent so comfortable you'd never want to leave; making it the perfect romantic glamping getaway. The single secluded tent was nestled in the trees of rural Stanthorpe, a small farming community in Southern Queensland known for their wineries and agriculture. The walls and the roof were canvas, but inside those walls you found a complete kitchen with stainless steel appliances, a queen sized bed, full bathroom/shower, a little sitting area with a fireplace, and a chandelier. Alure Stanthorpe was really an architectural tent wonder.

Curl up by the fire with a bottle of wine from the nearby wineries of the Granite Belt or decide to head outdoors to your own personal Jacuzzi and stargaze with your significant other. This glamping was all about romance. In fact Alure offers special romance packages dependent on your occasion. And even if there is no special occasion, they'll still provide any extras you may need to make it a special night.
Rustic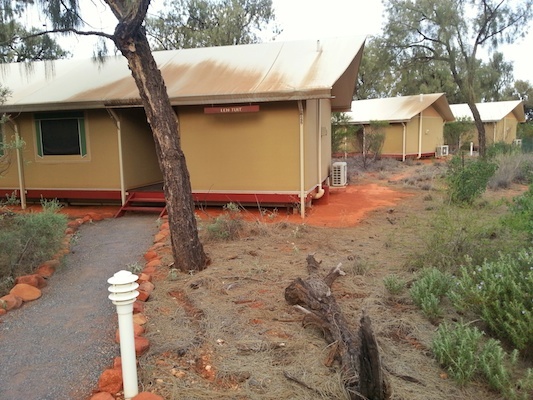 The simple yet effective Kings Canyon Wilderness Lodge
I could hear the packs of wild dingoes howling in the distance. All of a sudden my glamping tent was feeling rather exposed. However the tent was everything I needed for a couple of nights at Kings Canyon Wilderness Lodge in Australia's Northern Territory. I was there to do the Kings Canyon Rim Hike and get a dose of the real Australian Outback. I think the howling dingoes were pretty authentic.
Don't expect wifi, or even a cell phone signal in this part of the Outback, this is a bit more rustic than the other glamping experiences. The tents were completely canvas and built on a decked platform. It was simple. It had 5 zip-up windows, a separate tent bathroom, and a little patio to sit and look out on the scrubby Outback bushes and red sand. After settling into my tent, I joined other guests for a communal dinner under the stars and next to the bon fire. We feasted on canapés of smoked kangaroo, cheese, and avocado. The dinner was lovely and we ended the night sitting around the campfire socializing.
Australia offers a variety of glamping choices for all tastes. Or if you just can't make up your mind, you can do what I did and try them all!
Which one would you choose?