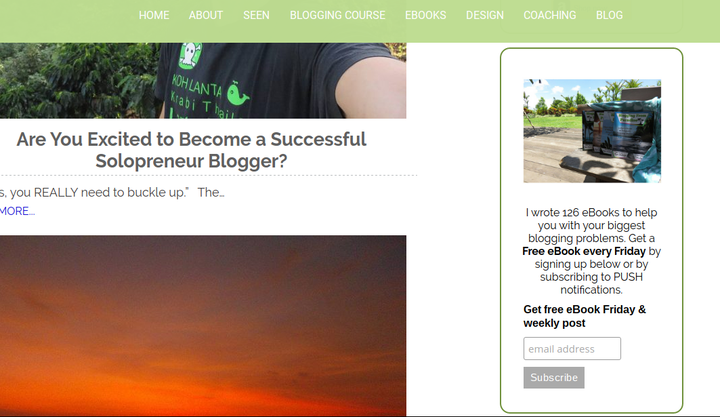 Few bloggers do list building right.
Many feel plastering a generic opt in form anywhere on their blogs will yield eye-popping results.
Unless you are fully clear on your blog, and believe deeply in the power of voodoo, chances are:
You will have a tough time growing your list
Papa Legba will not save you (dying to work in that reference)
But if you follow these 4 tips you can effectively optimize your blog for strong email list growth.
Do you remember those funny cartoons as a kid, when the character ate corn on the cob, typewriter style?
Then left to right, on the next row.
We read blogs typewriter style.
After spying your blog title and tagline, readers will jump to the next row.
As they work across your blog - left to right - the top right corner real estate of your blog - along your right sidebar widget - is about the more desirable real estate.
So plunk your opt in form right cher, if ya would.
Reader's peepers tend to focus on this area.
The average visitor expects an opt in form here.
Give 'em what they expect to see.
Boost your email list growth.
2: Entice with a Delectable Free Giveaway
Look at your free giveaway.
Do your readers salivate over your freebie offering?
So for 24 hours every Friday I give my email subscribers a free blogging eBook.
Don't worry: I wrote 126 of these eBooks (all available for sale here on Amazon).
I ain't running out of freebies any time soon.
Use your opt in form to offer something:
Delicious
Enticing
Relevant
Eye-popping (optional, but it doesn't hurt)
Helpful
Grow your list by making the exchange of email address for product too good to turn down.
Note; my friend Yann Ilunga is an absolute wizard in this area.
His free giveaways drip and ooze with sensational benefits.
Naturally, he's built a hyper responsive, ever-growing list and hosts a highly rated, famous podcast on iTunes.
3: Ask for Sign Ups Early (and Often)
I did something stupid many years ago.
I rarely asked readers to sign up for my list.
Now I ask readers to sign up for my list regularly.
Calls to action at the end of my posts
Various pages on my blog
Opt in forms strategically placed on certain posts
Ask readers to sign up for your list regularly, throughout your blog.
This is the easiest way to optimize your blog for growing your list.
4: Deliver Inspiration through Your Emails
This is an off-site method but bears mentioning.
Referral list growth is the sweetest list growth.
Some bloggers go gaga over snatching email addresses on the front end but do a hella terrible job on the back end, offering little value through their newsletters.
If you do a really, really, really really good job wowing your subscriber's pants off - metaphorically (not that kinda post) - 1, 5, 20 or 100 of your list subscribers, or more, will beg their followings to sign up for your list.
It's like PRE-optimizing your blog.
When subscribers show up they'll be hungry, open-minded, budding fans already.
Your blog will look like "Christmas morning" to them.
Are you using these tips to grow your email list?
What tips can you add to this list?
How are you optimizing your blog for email list growth?
If you want a complete resource for setting up a profitable online funnel you can check out Yann Ilunga's course here.
Related
Popular in the Community