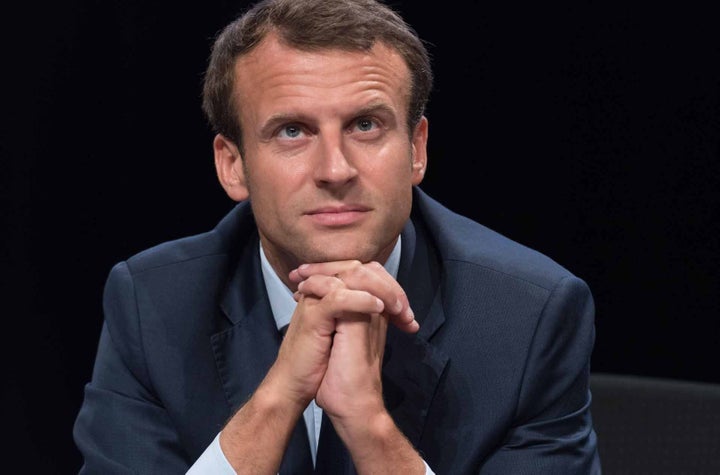 A nervous sense of déjà-vu came over me on Sunday as I watched the French presidential election, which pitted the centrist Emmanuel Macron against the far-right nationalist Marine Le Pen. As an American living in France, I wanted to get up-close to what is making Europe's populist movements tick. On Labour Day, a week before the election, I joined two very different political demonstrations on the streets of Paris. The first was a rally by Jean-Marie Le Pen, founder of France's far-right National Front party and father of this year's run off candidate. The second was the polar opposite, an anti-National Front march that began at the iconic Place de la République.
As in previous years, Jean-Marie Le Pen gave his speech in front of a golden statue of Joan of Arc, France's patron saint who was appropriated by the far-right movement in the 20th century. Perhaps oddly for observers unfamiliar with the scathing campaign rhetoric of the National Front, he opened his speech with references to France's 15th-century territorial dispute with the English. He recounted that, after Joan of Arc's capture, she was asked whether she believed God would love their enemy, the English. Yes, she retorted, but at home ("chez eux")! It later became obvious that an historical English adversary was being replaced with an abstract Muslim one.
The immigrant-bashing then morphed into to contempt for the urban elite, perfectly incarnated by France's new 39-year-old president. Jean-Marie Le Pen railed against Macron, referring to him as a bourgeois-bohème and a pantouflard (literally "wearer of slippers"), an allusion to members of France's political class who move swiftly from the public sector into well-paid positions in French companies. At the end of his speech, jeers at journalists recalled a trend that was, for me, all too familiar from watching Trump rallies in the United States.
I walked away feeling shaken by the palpable anger in the air. Arriving at Place de la République, activist groups were staging their response to the National Front. To the backdrop of Bob Dylan and Robin Schulz, demonstrators were holding white lily flowers and a slow-moving van of the French Communist Party was selling tropical cocktails. Yet this crowd, too, displayed visible anxiety. Plenty of protesters were less than thrilled to throw support behind an ascendant investment banker-cum-socialist candidate. Cardboard signs read "vote for a crook, not a facist" and "beat Le Pen, resist Macron."

Perhaps what was most interesting about this day, which included rubbing shoulders with both the far-right and the far-left, was thinking about how it is that we, participants in the political process, choose our preferred candidates. As Hasan Minhaj astutely noted during last month's White House Correspondents Dinner in Washington D.C., it appears as if we are living in this strange time where trust is more important than truth.
For today's centrist candidates, outsmarting the populists will require understanding some key lessons from the recent elections in France and the United States. First, brand yourself as an "outsider." While Hillary Clinton was reproached for her close ties to the Democratic establishment, Macron launched a new political party, "En Marche!". Just as the relative political inexperience of both Obama and Trump helped to boost their popularity, the young Macron manoeuvred as a candidate from outside the system.
Second, show strength on the economy. Opinion polls before the American election showed that a majority of voters believed Hillary Clinton was the weaker candidate on economic issues. Macron capitalized on an opportunity here by displaying little shame about his past career as an investment banker. A key moment of the French debate came when Macron insisted that pulling France out of the common currency would sink the pensions of French retirees. Marine Le Pen wavered, losing key votes from undecided elderly voters.
Third, address the concerns of the working-class while staying consistent. A fatal mistake by Hillary Clinton was neglecting the importance of historically left-leaning, blue-collar states (read Michigan and Wisconsin). Macron made a concerted effort to avoid this oversight. Shortly before the second round of voting, he visited a tumble-dryer factory in France's deindustrializing North, yet he stuck to his position that globalization would be good for France in the long-run. His visit was controversial but it showed that he was listening.
Now that the dust has settled after France's election, we might feel some comfort that a populist campaign has been thwarted. But the populist insurgency will not be dormant for long. To beat the populists, centrist politicians will need to get smart when it comes to projecting novelty, attentiveness and prowess. Then, perhaps, we will be able to focus on the structural reforms – from education to the labour market – that we need to confront the challenges of the 21st century.
REAL LIFE. REAL NEWS. REAL VOICES.
Help us tell more of the stories that matter from voices that too often remain unheard.
BEFORE YOU GO