If you're like me, you've said this phrase a hundred times, even without thinking about it. The last time I said it, I was standing in the grocery store checkout line with my 6-year-old son. He had just asked me to buy him a candy bar.
"I can't afford it," I said, barely noticing the words as I spoke them. I was completely on auto pilot.
Looking back, it seems so silly.
Especially because the next thing he said was, "But mom, you just bought a brand new car. We can't afford to buy a candy bar?"
Ouch! He was right. What was I thinking?
Or perhaps I wasn't thinking.
After all, this was the same answer my mom had given to me thousands of times growing up when I asked her to buy me things. And now I was saying the exact same thing to my kids -- even though it wasn't true.
In that moment, I had a realization of just how deep our human programming goes. Without conscious thought, we can act in ways that are completely contrary to our current reality. I realized I was using the auto-pilot phrase, "I can't afford it" to avoid something else, something deeper inside of me. It's exactly what my mom had done when I was child. And there I was, doing it, too.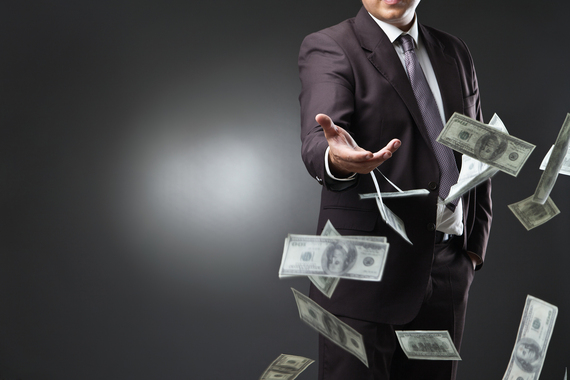 Perhaps it's the same for you. Have you ever found yourself making unconscious financial decisions based on your programming -- even if they have little to do with your current financial state? You may use money to overcome social pressures to appear successful (perhaps even more financially successful than you actually are), to overextend yourself to help those in need, or as a mood enhancement (retail therapy, anyone?). Or, like me, to keep a close watch on what were once precious pennies, even if the cost of a candy bar today is of little consequence to my current state of financial affairs.

Make a Choice
While standing in that grocery store line, with my young son looking up at me, his innocent question still on his lips, I committed to never use the phrase, "I can't afford it," again. Now, instead, I say, "I choose not to spend my money in this way."
I've noticed that others use this same excuse when it comes to not trying things they know deep inside would help them. Have you denied yourself an opportunity to grow and expand because it costs 'too much'? Or chosen to not follow your heart because you might fail?
Since that day, I've learned that it's a powerful practice to question the things I say (and do!). Once you start, it has the power to change the way you approach every minute of your life.

Overcome Past Conditioning
Most of the things we do on any given day arise from past conditioning. When we don't question our actions and automatic responses, we miss out on the opportunity to break free and live in the present moment. Which is where 100 percent of the joy we feel in life resides.
As a mindful wealth coach, I've seen this situation again and again with my clients. I was lucky I had my son Aidan to wake me up and help me see what I was passing on to my kids. In that moment, he helped me gain clarity and break free of my past.