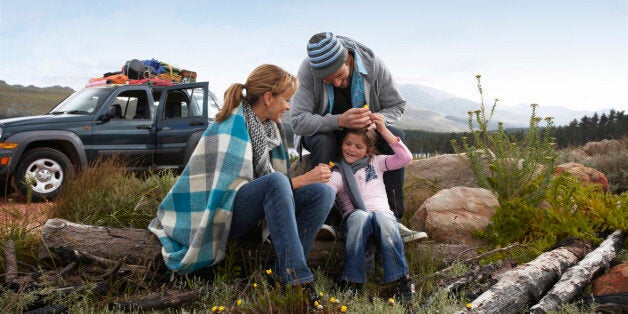 Road Trip! Remember the days when the whole family piled into the station wagon for a summer road trip with a few bags, a cooler and some Mad Libs? There were singalongs, license plate games and simply family time together. Those are some of my fondest memories. Think that simple life is impossible with all of the gizmos we have today? Think again! With some packing knowledge and creativity, you can still create those memories for your kids tech-free. Come on now, yes, you can keep the kids happy and entertained minus their devices. You will be happy too because the kids will be engaged and you'll be bringing back what family vacations are all about: family.
So, before you hit the road this summer to your family vacation destination, follow these three checklists: Entertainment Tools, Packing 101 and the Survival Guide. Keep the car clutter-free, wire-free and the kids happy!
Road Trip Priority #1: Entertainment!
We all know the key to a successful family road trip is keeping the kids happy in the car. Instead of relying on the gadgets and streaming movies, here are some helpful tips to focus on your surroundings to make the trip a memorable one.
1.Wrap items like car games, deck of cards, sticker books, puzzle books, joke books, reading books, Crayola crayons, fun masks, etc. as presents -- try reusable bags to be eco-friendly. When you make stops a long your route place the presents on the kids' seats. When they come back to the car they will have an exciting gift to unwrap and play with!
2.Bring extra backpacks to place the toys in once they are unwrapped.
3.Create a singalong playlist and sing songs together such as "Bingo," "Old MacDonald," etc.
4.Before you head out, sit down with your children with a map. You remember maps, right? Have them help you plan the trip out and then have them follow the map as you make your way to your destination. Do some research on each of the places you'll be passing along the way. Print out a fact sheet for points of interest, like "World's largest ball of string, 19 feet." (I love the website www.roadsideamerica.com -- it's full of wacky wonderful stuff to see on your trip.) Use your fact sheet to create a game. Who can remember how big the ball of string is? Whoever gets the most facts correct gets a prize, gets to pick where we stop next, or pick where we have lunch...
5.Happy kids are hunger-free kids! Bring healthy snacks such as grapes, apples, carrots and string cheese. Include a loaf of bread, jar of peanut butter/almond butter and jelly (one sharp knife for spreading) as well as treats like snack size packs of crackers and cookies. Avoid juice boxes, as they tend to explode. Instead, pack bottles of water and glass juice bottles that you can recycle at rest stops. Pack these items with plastic utensils and napkins in clear plastic bags in a cooler. Place the one sharp knife in a plastic bag and tape it to the inside of the lid of the cooler for easy and safe access. Use blue ice -- it is thinner and will easily fit into the mini-freezer in the motel room. Don't forget to pack a package of napkins, a container of wet wipes, a box of sandwich bags, first-aide kit, flashlight, a roll of paper towels and a box of tissues.
The Headache Cure: Organized Packing 101
No matter if your trip is short or long, packing for a family is always a challenge. Be sure to consider the following tips before unloading the closets and throwing the suitcases into the back of the minivan.
•Think about your itinerary and pack according to your stops. For instance, pack one suitcase with the clothing for your stop at the Grand Canyon and another suitcase for the stop in Sonoma. This will make unpacking and re-packing simplified as well as finding different weather clothing a cinch.
•Encourage your kids to pack themselves so that they are involved in the planning of the trip. They can have their own suitcase or backpack that is their domain.
•Bring one big collapsible duffle bag to place dirty laundry in.
•Keep bags and suitcases different colors so that they are easily identifiable or add bright stickers or yarn to the handles.
•Pack one backpack that stays well-hidden in the car. Include your first aid kit, camera, tickets, flashlight, etc.
•When loading up the car, think about when you will need to access to each bag along the trip. Make sure the first stop items are accessible first and so on. Be sure to lock the car and park in safe spots if you are leaving items in your car.
•Next, place bigger items on the bottom and smaller items on top.
•Don't be afraid to turn things up side down, or on their sides, to fit better.
Road Trip Survival Guide: Don't Leave Home Without...
In addition to your luggage, the following items will come in handy during your road trip to keep everyone safe and happy.
1.Kleenex2.Hand sanitizer3.Baby wipes4.Paper towels and Windex5.Extra sandwich bags6.Medications7.Personal pillows8.Phone numbers (i.e. the kennel)9.Cell phone charger (yes, still bring the cells for emergencies and confirming reservations)10.Walking shoes11.Bug repellent12.Sunscreen13.Sweater and Rain Jacket14.Maps
Now gas up (or plug in that electric car -- be sure to know where the charging stations are!) and head down memory lane!
Related