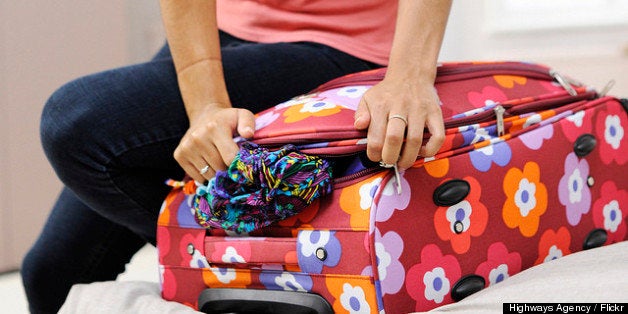 Packing requires practicality: Not only must you carefully plot what items to bring, but you must also strategically organize them into one compact carry-on. With steep checked-baggage fees increasing already lofty flight costs, experienced globetrotters often suggest stripping down to the absolute essentials in order to hold on to some dough. Add the burden of shouldering a bulky bag along spread out terminal walkways and you can see why savvy travelers are taking advantage of smart, minimalist packing.
While carrying less cargo certainly has its benefits, even the most seasoned travelers agonize over how to limit excess baggage. But never fear: No matter where you're headed, these nine handy techniques will help you pack as efficiently as possible for your next trip.
Size Up Your Carry-On

You'll run the risk of paying a hefty sum if your bag exceeds your carrier's size requirements for carry-on luggage. Before you consider which particular suitcase to take, check your airline's carry-on baggage restrictions to avoid extra fees. Carry-on bag size dimensions vary by airline. Most domestic carriers allow you to bring luggage as large as 45 linear inches (the total length, width and height of a bag) on board; however, some smaller international airlines like Ryanair impose much stricter dimensions. By opting for a suitcase that doesn't exceed 20 inches in length or 20 pounds fully packed, you should have no problem boarding domestic carriers. New, cutting-edge luggage designs are rolled out every year, but you should stick to the style that suits you. A roll-aboard with soft sides that can be easily laid into an overhead bin allows you to breeze through the terminal on wheels, while a lightweight duffel bag allows you to traverse a variety of terrains.
It may seem like a no-brainer, but making a packing list forces you to differentiate between what's necessary and what's not. Write down exactly how many shirts, pants and shoes you will need, taking into account the climate of your destination. Also, don't forget to use logical numbers to determine necessary clothing -- for example, the number of shirts you bring probably shouldn't exceed the number of days you'll be away. And while you're at it, pare down your list once more if you'll be able to wash garments on your trip. After you've thoughtfully calculated what to bring, cross off each item as you lay it next to your bag, and ignore the urge to add any extra articles of clothing at the last minute.
A general rule of thumb for packing light is selecting neutral shades. If you're traveling on business, bring along shirts, pants and blazers that complement each other in whites, blacks and browns. If basics aren't really your style, pick an eye-catching color like red and work around it. Another tip: If you're traveling for work, bring along a crisp, white-collared shirt. You'll find it's easy to mix and match pieces on the road. Plus, you'll allow yourself extra room for packing casual clothing and heavier items like shoes.
Pack Ahead of Time

It probably goes without saying, but if you pack at least one day prior to your departure, you'll be far less likely to hastily insert extras that aren't necessary. Allow yourself enough time to assess the pieces you need. You should lay all your items in a way that allows you to see everything -- this will help you lighten your load and prevent you from bringing that extra bathing suit or pair of shoes that you could probably do without. Plus, by starting the packing process early, you'll give yourself enough leeway to thoughtfully pack your bag instead of trying to balance stuffing your suitcase with scrambling to get to the airport on time.
If you're headed somewhere cold, you're going to need to pile on the layers. But instead of stacking a hefty winter jacket into your carry-on, pack thermal gear and thin sweaters. Another trick for keeping your suitcase slim: Wear your bulkiest items (such as a long sleeve shirt or your heavy coat) on the plane. If you're too warm, you can always stow away your extra layers in an overhead bin.
What's the secret to bundling it all in? Compiling your bulkiest items into compression packing bags. These helpful bags allow more room for your clothes and other items by reducing excess air. Spacepak Bags available from Flight 001 or Space Bags from Ziploc are ideal if you're packing for a longer trip; these bags allow you to fit bulkier items into a smaller bag. If your trip doesn't require clunky articles of clothing, skip the space bag and tuck accessories and smaller necessities into larger items. Stuff socks, underwear and belts inside running shoes to save space.
Before you toss any shoes inside your bag, ask yourself one question: "Do I really need these?" Many frequent travelers agree that two or three pairs of shoes -- at most -- should suffice. Whether you're traveling on business or for pleasure, you can probably make do with one pair of dressier footwear and another more casual pair. (You'll also save room in your bag by wearing your bulkiest shoes on the plane.) Once you've decided which shoes to bring, be sure to place them in your suitcase first and to the side as shoes tend to take up a lot of room. By doing so, you'll not only maximize your space, but also evenly distribute your heaviest items.
Instead of folding, start rolling. You'll be surprised how much room you'll save if you roll your clothing instead of laying it out flat. Stack the bulkiest items, such as pants and sweaters, into the corners of your bag (after shoes, of course) to distribute weight evenly, and then continue compiling rolled items at the center of your bag. Pack everything snugly to conserve as much space as possible. If you're looking to keep your formalwear wrinkle-free, your best bet is folding rather than rolling. You'll want to place your dress wear into a dry-cleaner bag or insert a piece of tissue paper between each article to prevent extra creases and wrinkles in-transit. All rolled items should be placed at the bottom of your bag, with dressier attire arranged neatly and tightly at the top of your suitcase.
Save the Lightest Items for Last
Once you've bundled the bulkiest articles of clothing inside your carry-on, it's time to stow lighter items like toiletries. And with the Transportation Security Administration adhering to three-ounce liquid restrictions, you're going to have to pare down to the essentials to stay within size requirements. Opt for a two-in-one shampoo and conditioner or a shampoo bar that can double as soap. You may purchase specific toiletries on the road or rely on hotel shampoo bottles to save extra space, too. After you've trimmed down your toiletry kit, place it on top of your bag so it's within easy reach at security checkpoints. You'll also need to reduce your tech gear to the essential travel tools: Must-haves include your cellphone, camera, headphones, chargers and laptop or tablet (if you're planning to work while on the road). Remember that you'll need to remove these items along with your toiletries at the TSA checkpoint.
Related