A quick color change is the most satisfying way to give your front entry a facelift, but it turns out there's a better way to paint a door, in just one easy step. The key is to use porch and floor enamel. This type of paint dries to a hard, colorfast, moisture- and mildew-resistant surface. (All without needing a primer coat.) It's ideal for front doors because the enamel dries to a super-strong coating that offers unparalleled protection against scratches. Once you paint a door with it, the color will stay bright and fresh-looking for season after season.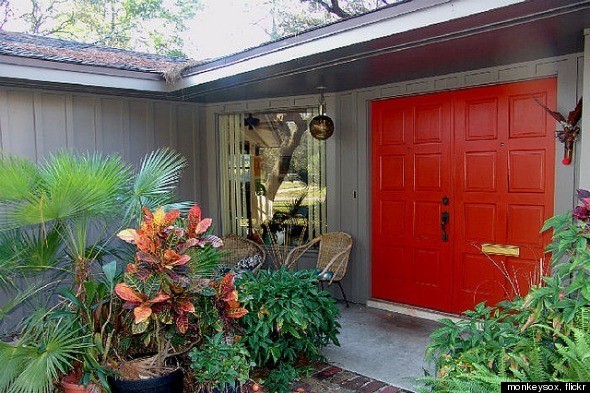 And, um...it also prevents the wood from rotting, something that most of us don't detect until things get really gross. Trust me, you do not want that happening. (But if it isn't too out of control, small bits of wood rot can be fixed with epoxy.)
The caveat: Enamel dries to a very glossy finish. So if you aren't a fan of the look, try an oil-based enamel, which has the same benefits of porch and floor enamel, but comes in eggshell finishes. Just be prepared for a slightly longer drying time.
I know, painting the front door is a chore. But you'll save time if you decide to tackle this project now, rather than later. Why? Because May is the ideal time to paint in most parts of the country. The general low humidity and friendly 50-70 temperatures present the ideal conditions for that coat of paint to dry quickly to a pristine finish. And if you're putting your home on the market, the fresh coat will signal to potential buyers that this home has been cared for, increasing its relative value.