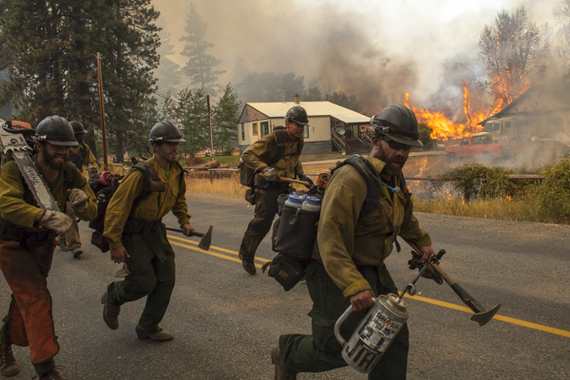 (Photo by David Ryder. Members of the Jackson Hotshots run from the Okanogan Complex Fire as it advances unexpectedly in Twisp, Washington on August 20, 2015. The fire is the largest in state history and has claimed the lives of three firefighters, in addition to more than 170 homes and 300,000 acres.)
In my limited experience covering wildfires as a photojournalist, I've learned a few key lessons that I would like to pass on to anyone interested in doing this kind of work. When I first started out, I remember feeling lost when approaching wildfires, and I don't want anyone taking needless risks. It can be dangerous, yet important work, and you should only attempt to do it if you have the proper gear and training. Here are a few tips to get you started:
Your first priority should be your own safety. Remember that, and then try to make the pictures.
If you're covering firefighters, your second priority should be their goals and their safety. Firefighting is the reason that they are there, and you don't want to impede that work.
Research the laws of entering fire zones. Some states allows journalists free reign in an area under level III evacuation, while others only allow residents and emergency personnel.
Marry a banker. You are going to need to invest in a lot of safety gear on top of that camera gear you own. You must have all of this if you want to protect yourself in addition to being taken seriously and gaining access to crews working: Fire shelter (new generation; look for the blue case), 8" wildland firefighting boots (look for "NFPA certified"), Nomex pants and shirt, hard hat with chin strap, leather gloves, and eye protection. You may also want to shop for a Nomex hood, a headlamp, and clear goggles. You can shop on Craigslist, Ebay, logging and work stores, or the following websites: nationalfirefighter.com, thefirestore.com, malloryco.com, Benmeadows.com, chiefsupply.com, wildlandwarehouse.com. I prefer The Fire Store.
Learn how to use your fire shelter. The Washington State Department of Natural Resources hosts a training for journalists every year in Seattle and your region may have similar resources.
Prepare for working in hostile environments and learn how to care for yourself and colleagues in a medical emergency. I have taken two hostile environment/crisis zone workshops and I highly recommend both: Reporting Safely in Crisis Zones (Columbia University) and Hostile Environment Training (Hawthorne Proactive).
When approaching a fire scene, know your exit routes and park your vehicle pointed in the direction you plan to escape. Leave your keys on the seat or in the ignition in case someone needs to move your vehicle. Make sure that you are out of the way and that fire engines can get by.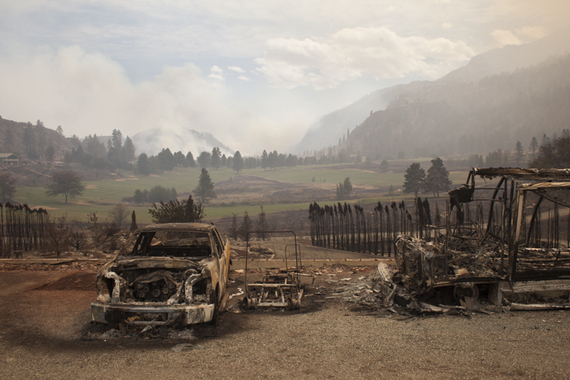 (Photo by David Ryder. A destroyed car, golf cart, and home are pictured near Alta Lake Golf Course after the area was overtaken by the Carlton Complex Fire, which can be seen burning in the distance, near Pateros, Washington on July 19, 2014. The fire was the largest in state history until this year's Okanogan Complex fire.)
Pack a lot of food and water in a backpack. Firefighters work shifts that can push 24 hours and if you really want to do this, you're going to have to be there with them. If you have the chance to embed with a wildland crew, practice sleeping while standing up and remember that it's hot during the day but may be ice cold at night! Be prepared.
Approach victims and scenes of devastation with care and empathy. The folks you'll meet have been through a lot and may not want to talk to you. Sometimes you've got to just leave them alone and walk away; other times they will invite you into their lives to witness something extraordinary. Also, never enter private property without permission. If no one is around at that burnt house you just found, you're going to have to photograph it from the end of the driveway.
Care for yourself if you experience symptoms of post traumatic stress disorder. If you experience things like bad dreams, poor sleep, wanting to sleep all the time, isolating yourself, feeling numb, feeling irritable, overreacting, drinking too much or using drugs, etc., you may need to seek help. The Dart Center for Journalism and Trauma may have useful resources for you.
Good luck and I hope this post can help photographers make good pictures and stay as safe as possible.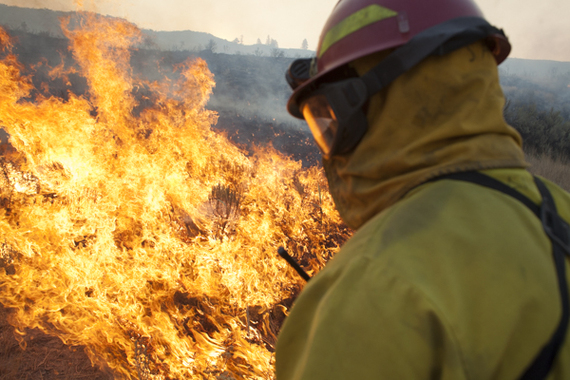 (Photo by David Ryder. Volunteer firefighter Ray Sandy ignites a controlled burn shortly before sunrise while fighting the Okanogan Complex fire near Brewster, Washington on August 15, 2015.)
Related
Popular in the Community