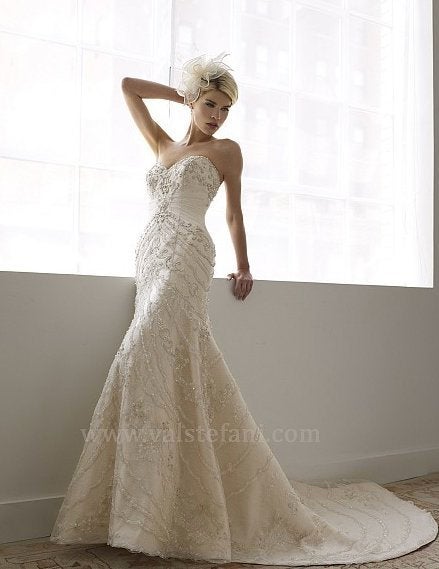 When you start your search for the perfect dress there are three key things to be on the look out for to finding "the one". You need to look for the perfect silhouette, proportion and fit. When you have these three elements it will make an impact and greatly improve how you look and feel on your big day.

1) Be open to trying all different types of silhouettes
Bridal gown silhouettes are not normal silhouettes you find in everyday clothing. Chances are you have never seen what a mermaid, trumpet, or ballgown looks like on you. When you see a dress in a picture it may not translate as to what looks good on your body shape. So be open to new silhouettes and be able to adapt and see what silhouette enhances your shape, then you will look and feel your best on your big day.

2) Understand your body's proportions
Choosing the right proportion goes together with the perfect silhouette for your body. Finding the silhouette with the perfect proportion for your body will help emphasize areas you want to show off, and minimize others. If the proportion is not correct to your body it can be unflattering.
Look at the gown in relation to your whole body, from the top of your shoulders to your feet. Divide your body into thirds from your shoulders to your feet. For example if you are pear shaped you do not want to have a gown on that cuts your body in half emphasizing your hips. Instead you want something elongating such as an A-line silhouette or trumpet silhouette, which will draw attention to your waistline and balance out your shape. If you are petite you should try to wear something that is elongating. A ballgown silhouette will be overwhelming for your shape because the width of the skirt will make you appear even shorter and disproportionate to your height. If you choose a mermaid shape the lines will create the illusion of being taller because of the long waistline. An easy way to accessorize your look and emphasize your waist is to add a sash, which will help to give you a defined waist and hourglass figure.
Every woman has parts of their body she is most proud of. By finding the correct proportion and silhouette it will make your figure appear balanced and enhance the best parts of your body, giving you confidence on your big day.

3) Make sure your dress fits
Alterations are the last step to making sure your wedding gown is flattering and worry-free. Skimping on your alterations is like getting a spray tan, but only on half of your body. Taking all the time to select your bridal gown and trying on different silhouettes and making sure the proportions are correct will all be lost if you do not get alterations done on your dress. You do not want to spend all night pulling up your dress because the bodice does not fit properly or risk falling down or tripping over your dress because the hem is too long. If you are getting a dress with straps or illusion sleeve detailing, you want to make sure they fit to your arms and are not falling off your shoulders. You want to enjoy your wedding day and look amazing in your pictures, so alterations are a must.
Click through the slideshow below for some of Val Stefani's gowns.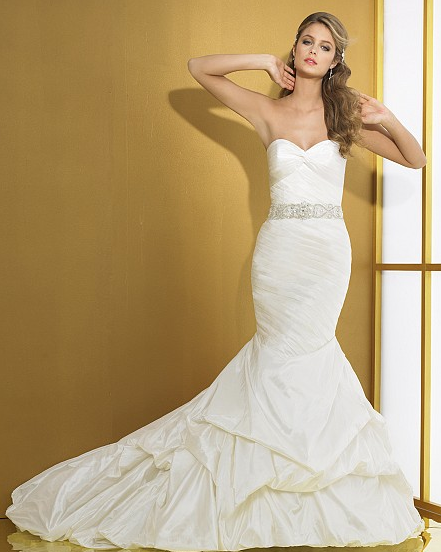 Val Stefani Wedding Gowns
Related