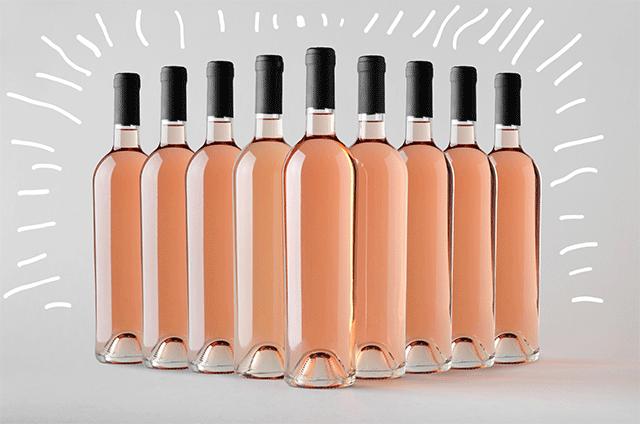 It's summer, and for better or worse, that means only one thing in the wine world: It's rosé season.
Despite its relatively small slice of the overall wine market ― rosé accounts for only 1.5 percent of the U.S. table wine category ― its growth rate has far outpaced other categories', according to Nielsen data. In the 12 months ending October 2017, sales of pink wine grew by more than 50 percent. In 2017, 1 in 36 bottles of wine that Americans drank was a rosé, according to Wine Access, a wine discovery platform. That's up from 1 in 510 in 2015.
"Every year we think it's not possible that we could sell more rosé, we sell more the next year," says Tom Geniesse, the founder and owner of New York–based wine store Bottlerocket. In the summer, he estimates, nearly 30 percent of the wine sold in his store is rosé.
For winemakers, rosé is a relatively easy product to supply, at least compared with their reds and whites. It can be made with any kind of grape and requires very little aging.
But for consumers, it's not an easy product to buy. In the rush to supply the world its pink, the rosé market has been flooded with less-than-stellar options, says Kristin Tice Studeman, the founder of the Rosé Project, a pop-up restaurant concept in the New York area that pairs high-quality rosés with its multicourse tasting menus.
"It's really not hard for people to produce rosé," she says. "But to produce it well is a whole different story."
The first step to picking a good bottle is understanding how rosé is made
Generally, winemakers rely on three methods to produce rosé: blending, bleeding and skin contact.
Blending is simply mixing red and white to create a pink wine. Victoria James, the author of Drink Pink: A Celebration of Rosé, describes this method as "one of extremes." It's most often used for low-quality wine, and if French winemakers use this method, they're not even allowed to call the resulting wine rosé. (The exception to this rule is Champagne, where blending is a common practice.) Blending is also used to make some of the best and most expensive rosés in the world. Go figure.
Bleeding, also known as the saignée method (from the French "saigner," meaning "to bleed"), is an Old World tradition that traces back to Bordeaux and Burgundy, according to Geniesse. To make red wine more concentrated and intense, winemakers sometimes remove some of the grape juice during maceration in order to increase the skin-to-juice ratio. The juice that is removed can be barreled and fermented to produce saignée rosé. The juice that remains with the skins goes on to become a big, bold red, he says.
Saignée rosés come from producers whose priority is red first and rosé a distant second. Their pinks are often a reflection of their reds; they're typically bigger, darker and stronger than most rosés.
Limited skin contact is the most common way in which rosé is produced. After grapes are picked, they are pressed to extract the juice. Then the juice is left in a vat with the skins and other grape solids, which add tannins and structure to the resulting wine. After two to 24 hours, the light pink juice is drained and fermented.
And then there are the outliers.
Many of today's rosé producers rely on questionable tweaks outside of these options, says James, who's also the beverage director at Cote, a buzzy Korean steakhouse in New York City's Flatiron district. Some rely on artificial yeast strains to give them the Instagrammable salmon color they're after rather than perfect their process or trust that consumers won't rely on color alone when choosing a bottle.
"All of these rosés that are styled to be a specific color and flavor profile are just laboratory concoctions. They're not even wine," James says. "It's not inherently bad. It's just Doritos versus artisanal potato chips."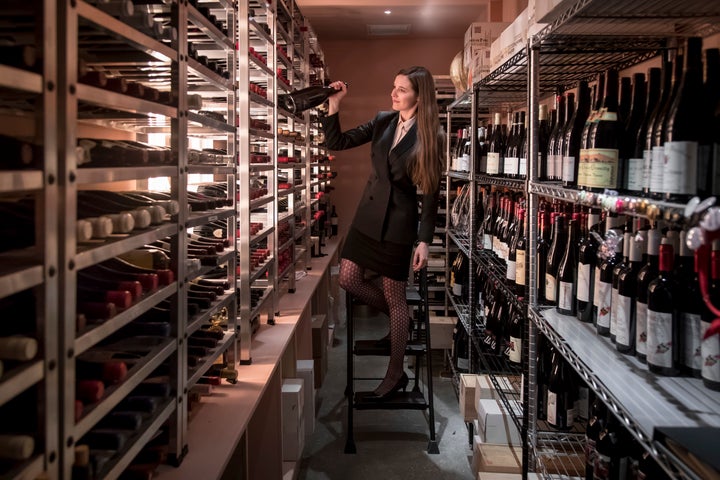 So if you're looking at a bottle of wine, how do you know which method was used to make it?
In the world of snack food, it's easy to spot yellow No. 6 dye. But it's not easy to spot which bottles of rosé are truly high quality and which ones are just winemakers capitalizing on pink's prolificacy.
Rosé packaging often gives little information aside from the vintage and the region. James recommends staying away from big, brand-name producers, which are often guilty of color manipulation and other less-than-savory methods, and sticking with grower wine (one that was grown and fermented by one producer).
"And if you ask the wine shop or the sommelier for grower rosé and they don't know what that is, you should just leave," James says. "Or drink beer."
By staying away from mass-produced brands, consumers can better predict what a given bottle tastes like and be confident that the characteristics are naturally occurring and not man made.
Rather than rely on method or even grape varietal, James recommends recognizing the climates of red and whites you enjoy and sampling rosés made in similar conditions. For example, if you love pinot noirs from the cool climates of Oregon, you'll probably enjoy a rosé grown and produced in a similar environment, like France's Loire Valley, if not necessarily from the same kind of grape.
Get to know rosé's most prominent regions and find out if you enjoy their wines
Despite pink's perceived luxury status, rosé is actually one of the most affordable categories of wine, with excellent options ranging from $20 to $30 per bottle, says Tice Studeman.
"You can find some really incredible rosés at very affordable price points, unlike, say, a super-high-end Bordeaux or Burgundy, where you're paying more just for the label," she says. "With wine, just because you pay more doesn't mean you're getting higher quality."
Finding a great bottle, though, is a matter of taste, says Geniesse, whose shop sells well-known flagship bottles of rosé as well as cheap and cheerful options packaged in cans and Capri Sun–like pouches.
"If you want to have a special or better bottle, you can certainly do that, but you don't need to," he says. "That's the heart of rosé."
For pink, personal preference often comes down to region. Here are some of the most popular areas.
Provence, France
The southern French coast has a rosé history that's nearly impossible to beat. Rosé's leisure and luxury reputation stems from its popularity in the Parisian summer spot, where, according to James, vacationers have been drinking rosé since the 19th century. Grenache, cinsault, syrah and mourvèdre are grown on France's Mediterranean coast, enjoying bountiful sunshine, cool evenings and little rain. The resulting wines are fruity and lean, with light aromatics, a distinctive saline minerality and a trademark pale salmon color.
Because of their popularity, high-quality Provencal rosés command slightly higher prices. Despite their popularity and history, quality control is a major problem there, says James, who says lots of "pink bathwater" is made in the region. To avoid buying swill, stick with smaller producers and use your head, she says.
"If something sounds gimmicky, it probably isn't worth drinking," she writes in her book. "Run when you see wine names that use words that are stuck in the 1990s, like 'angel' or 'whisper'"
Loire Valley, France
North of Provence and south of Paris lies the Loire Valley, a region that produces nearly every kind of grape in every kind of style of wine. For rosé purposes, it's home to Sancerre, one of the most popular subregions to produce pink wine. Because Sancerre is farther inland from the Atlantic Ocean than other regions in the Loire Valley, its vineyards experience short and hot summers and long, cool winters, making for rosés that are lightweight and savory as well as drier and lighter in color than their Provencal counterparts.
Abruzzo, Italy
Consumers can often find rosé options slightly cheaper than French ones, says Tice Studeman. Abruzzo, for example, is known for its dark, structured and bright rosés made from Italy's classic Montepulciano grape, she adds.
While these bottles tend not be as lightweight as traditional French rosés, their structure and weight allow them to stand up to heartier food pairings, like pork chops and even steaks, she says. Because this region's rosés tend to be darker in color, almost cherrylike, consumers often incorrectly assume that they're sweeter. Instead, darkness in rosé is usually a matter of skin-contact time; the longer the maceration process, the darker and more tannic a wine, not sweeter.