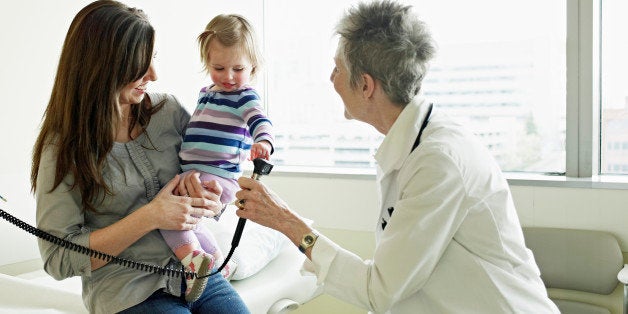 By Adam Weng for GalTime.com

The list of things to do before our first baby arrives seems eternal at times. Between setting up the baby's room and keeping doctor's appointments, my wife and I somehow lost sight of one of the most important prenatal assignments -- choosing a pediatrician or family practitioner for our new addition.
According to Peter H. Short, M.D., FAAP, (senior vice president of medical affairs and medical director of the hospitalist service for Northeast Hospital Corporation) new parents should begin the process of choosing a doctor for their newborn sometime after the sixth month of pregnancy. This allows time to research several doctors and facilities and in case the baby arrives early.
"As a new parent, you need to be comfortable choosing someone you can trust," Short explains. "You are asking them to help you care for the most important thing in your life. I tell parents that they will often speak to their pediatrician more often than they speak to most of their relatives, so they have to choose a physician that they are comfortable asking any question about their child."
Recommendations can be obtained from family, friends and their obstetrician. Once a few names have been compiled, parents should interview prospective pediatricians (or family practitioners) and tour the office/facility if possible.
According to Short, who oversees the quality and performance improvement departments, the medical staff office, the department chiefs and the medical directors, the following factors should be considered when evaluating a medical office:
How far is the office from your house?
Does the office have evening and weekend hours?
Do they accept your insurance?
When their physician is not available, who covers the practice?
Can they be seen the same day?
How long is the wait for physical appointments?
When you get to the office, how long do you wait until being seen?
Are there separate waiting rooms for well and sick children?
Another factor to consider is whether you prefer a solo practice or a group practice -- each has its own advantages and disadvantages.
Short explains each: "Solo practices obviously are smaller and more intimate. However that means when your doctor is away on vacation, or when they are not on call at night, someone you don't know (and who doesn't know you) has to answer your question or see your child. In a group practice, you get familiar with everyone, so if your doctor is not there, you still see familiar faces. Also, the practice has your child's medical record available every time you come in or call."

Once the newborn arrives, the pediatrician will typically see the baby at the hospital within 24 hours and spend time talking with the parents about all the things that will be changing in their lives and how to take care of their new, according to Short.

This is an extremely important decision, as your child will have approximately 10 well visits in the first two years. But the most important thing to consider, Short advises, is that the parents are comfortable asking their pediatrician anything and they choose someone whose advice they can trust.