Many years ago, one of my favorite editors bemoaned the loss of a loved shirt at the cleaners, explaining it threw off her whole Fashion Week wardrobe. As the shows were still a few weeks away, I puzzled through the idea. She had planned in advance what she was wearing to the shows every day? She wasn't waking up and having the feeling of "I have nothing to wear" to the nth degree? Brilliant! My outlook on planning shifted from that moment on.
So, how do you plan your fashion week wardrobe? It's a mix of a few things. A dash of your favorite pieces, a sprinkle of the coolest shoes you own, a splash of staring obsessively at the weather forecast, and more than a jigger of self-confidence. If you don't feel good and true to your sense of style, then how can you look good? (One of life's great lessons, I think). Not everyone is Anna Della Russo, and that's precisely what makes her so exciting. She marches to the beat of her own drummer, and you should as well.
Trends matter, of course, but it's all in how you pick the ones that make sense for your style and how you dress. Your style should be a slow and steady evolution, not a brand-new-you every time the March and September issues come out. For me, I'll keep incorporating in leather separates. I love my full black leather skirt that I bought last fall, and I've added pleated leather shorts and a new brown mini to the mix. And patterned denim is both functional for a long day of running around the city and stylish enough for the tents.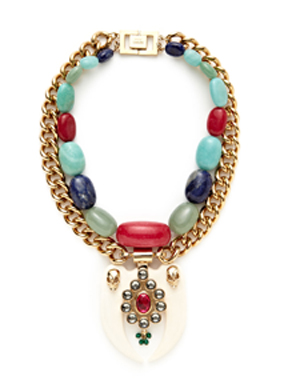 Oversized jewelry has been my trademark since I started collecting vintage at the age of sixteen, so big chandelier earrings, bold collar necklaces (I love this Mawi one that I just snagged on Gilt.com) and a brooch or two will be on deck -- I love this fall's baroque looks. For shoes, it's all about a pointed-toe pump, and I'm in love with the mirror metallic look of these Jean-Michel Cazabats.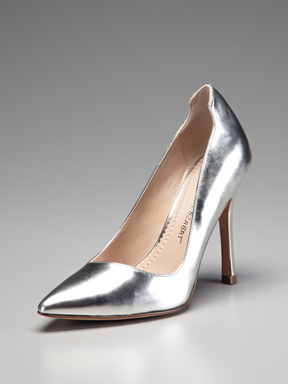 My wardrobe is mostly planned, it's true, but it all really comes together as I get dressed each day. Until then, I'll be obsessively checking the weather to see if those pesky clouds vanish, and hoping I get to wear all the gorgeous new suede pumps I have for the fall. Galoshes are most definitely not part of the plan.