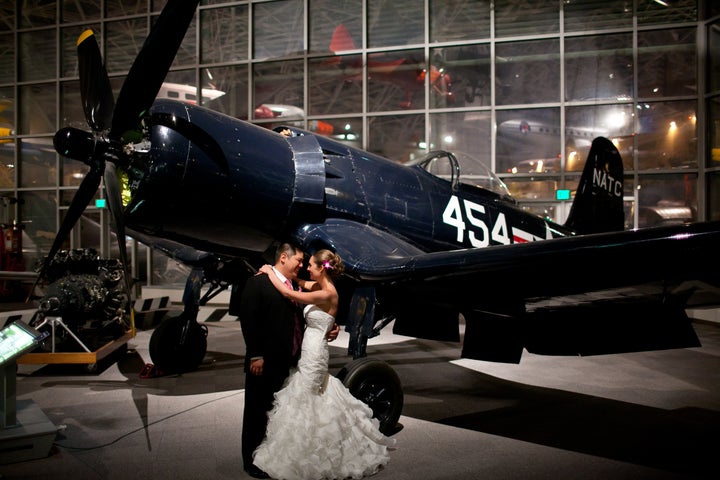 Recently, my husband and I celebrated our 5 year wedding anniversary. We are truly amazed with how much our life has changed in these 5 years: I quit my job, we had a baby, my husband changed jobs within his company a few times, we moved, and we had another baby. In between all this, we managed to travel to Hong Kong, Thailand, Mainland China, Italy, Greece, Maui, Kauai, Disneyland, Vancouver, Victoria, Sonoma and numerous local trips.
We spent our anniversary looking back at the fun times we had at our wedding. We love to travel and it's something that we wanted to incorporate into our wedding theme. I'm a big fan of vintage travel posters and memorabilia so that was a great jumping off point. Below, I have outlined how we created a travel-themed wedding.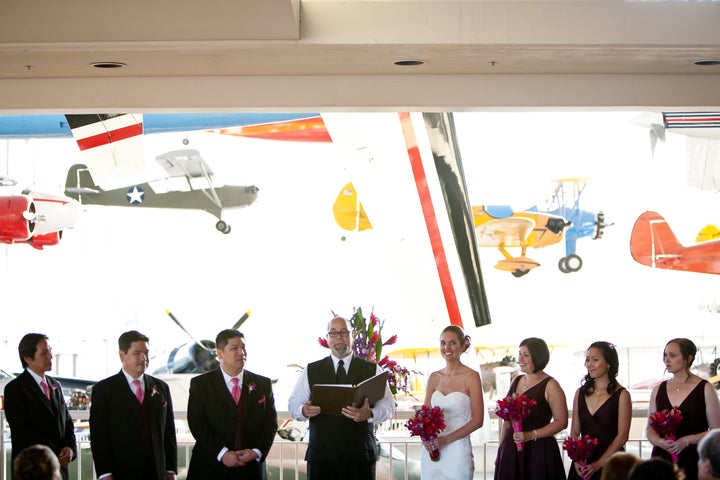 Venue: The Museum of Flight in Seattle
Because of our shared love for airplanes, we decided to hold our wedding at the Museum of Flight in Seattle, WA. We had the ceremony and reception overlooking their Great Gallery of planes, which made for a fun photo backdrop.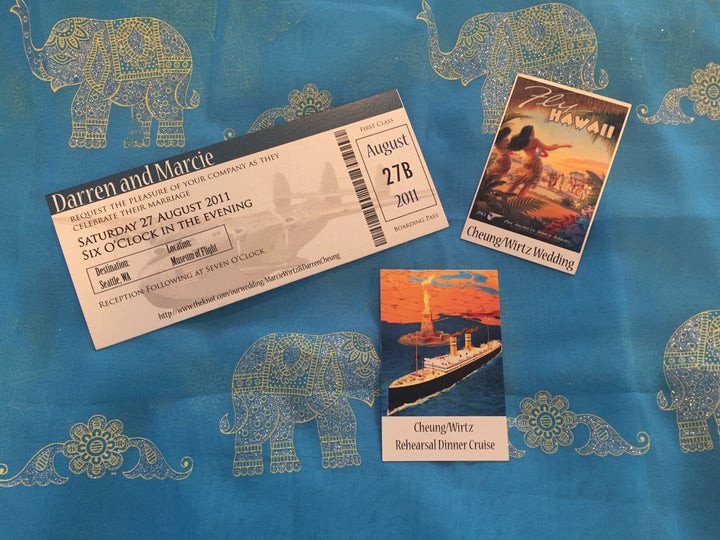 Invitations: Vintage Airline Tickets
We wanted our invitations to reflect the theme of our wedding, so I designed them using vintage airline tickets as the outline. I also incorporated a Hawaiian theme since that has been a big influence on my life. We also had small cards for our rehearsal dinner boat trip, also using a vintage travel poster for the graphic.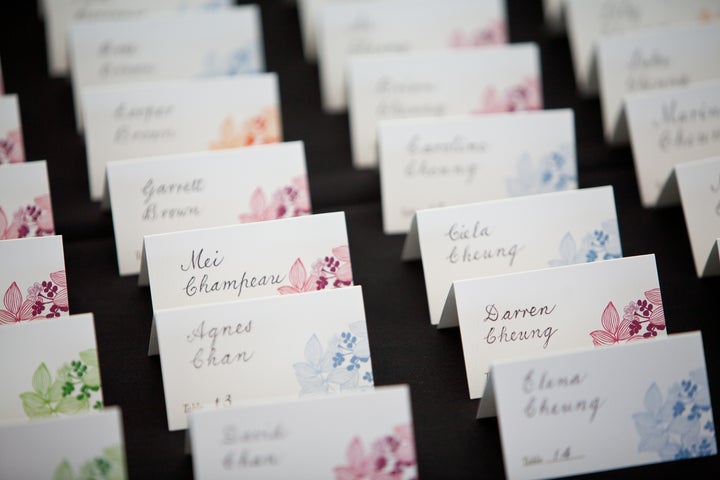 Name Cards: Tropical Theme
We incorporated the tropical flower theme into our name cards so they would be cohesive with the rest of our items (programs, guest book, etc.) We found blank cards online and had a family friend handwrite each name for a more personal touch.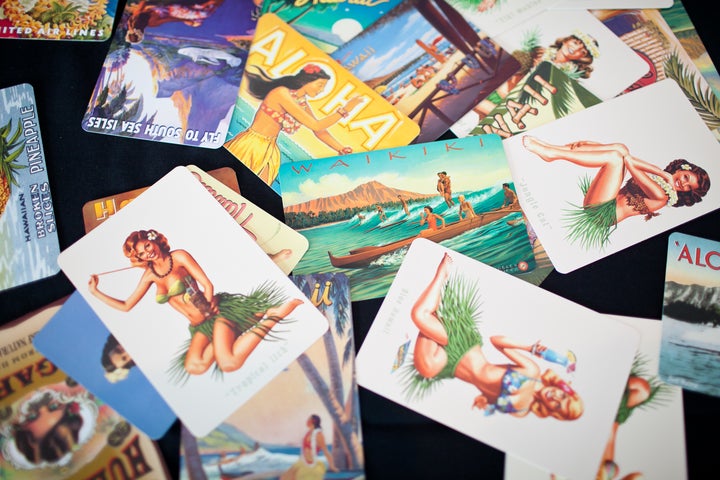 Guest Book: Vintage Hawaii Postcards
On one of my visits to Kauai, I picked up as many different vintage Hawaii travel postcards at gift shops and we scattered them on a table with pens and asked guests to write their messages on the postcards. After the wedding, we put the postcards in a photo album that also had a Hawaiian theme.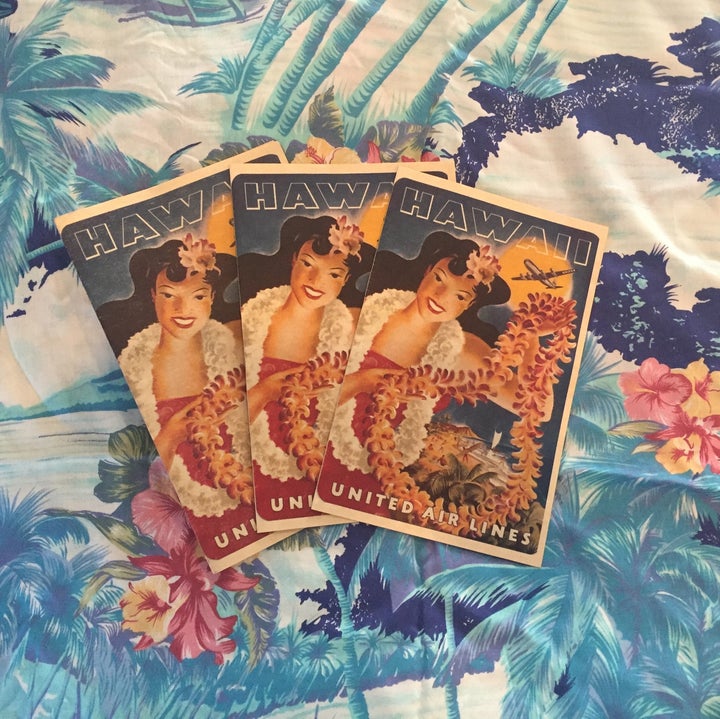 Program: Vintage Hawaii Poster
I put one of my favorite vintage Hawaiian postcards on the cover of our program. I chose an off-white paper for the vintage feel. I printed them at our local Costco, which made it very reasonable.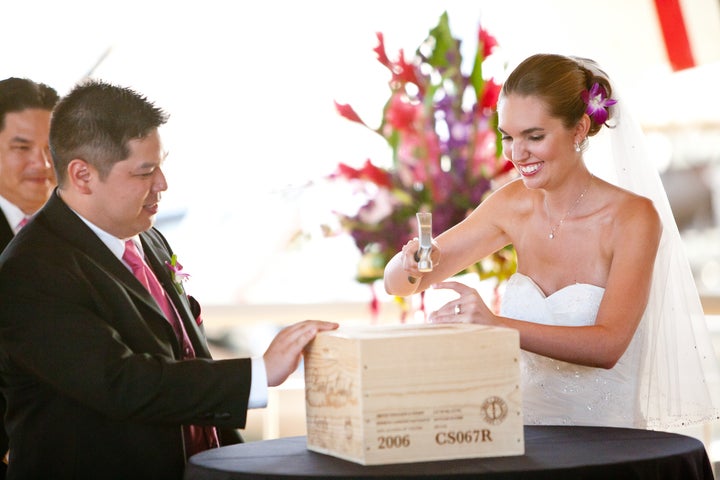 Ceremony: Time Capsule
As part of our ceremony, we created a time capsule to be opened on our 5th wedding anniversary. We included photos of our travels, love letters to each other, and special wine to drink. All the items were placed in a wooden wine box and we hammered it shut with real nails and a hammer. It added a fun, unexpected element to our ceremony. As it turned out, I was pregnant on our 5th anniversary, so the wine was saved until later.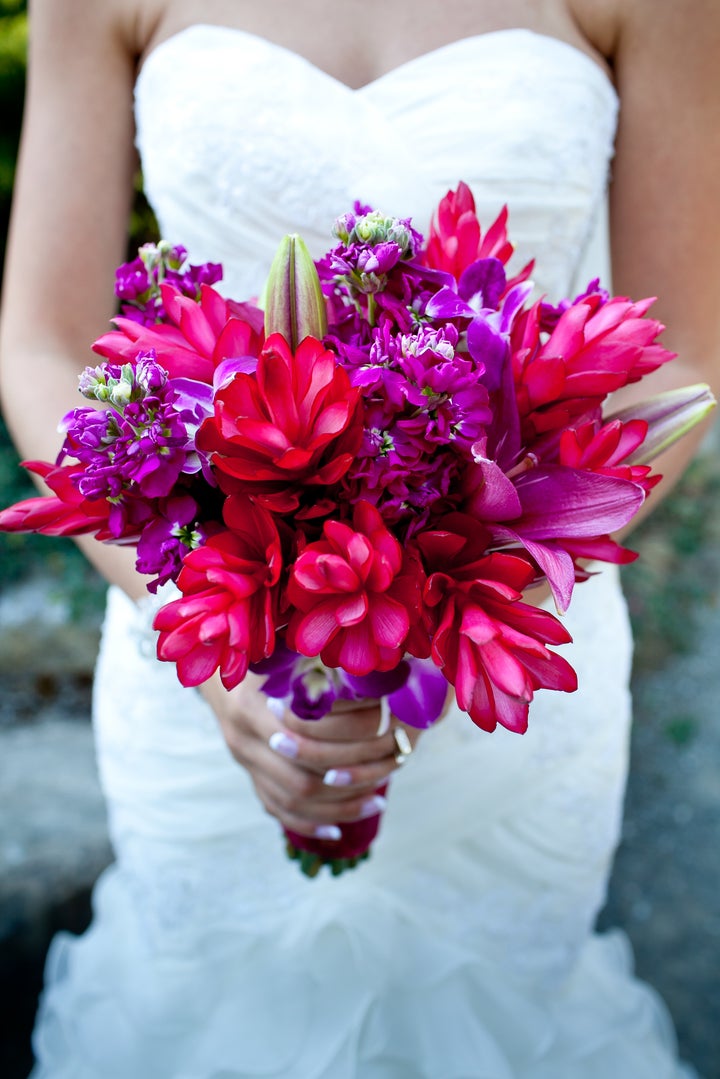 Flowers: Tropical Hawaiian
My cousin owns an amazing floral company called Contemporary Floral in the Seattle-area and when I told her the theme of our wedding, she created gorgeous centerpieces highlighting stunning tropical Hawaiian flowers. This added a much-need pop of color to our venue and tied in the tropical travel theme. I also wore purple orchids in my hair.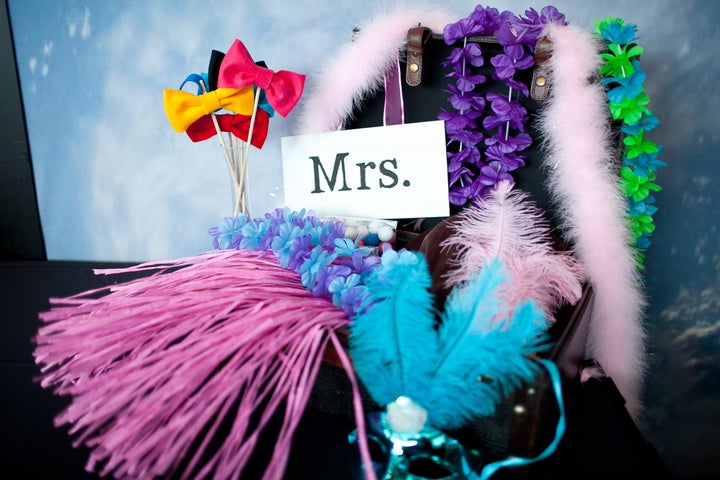 Photo Booth
I'm a sucker for fun photo ops, so I was determined to create a photo booth at our wedding. I had a blast finding fun props and displaying them in vintage reproduction suitcases I found at Marshall's. I found most of the props at our local party supply store, dollar store and I made several items.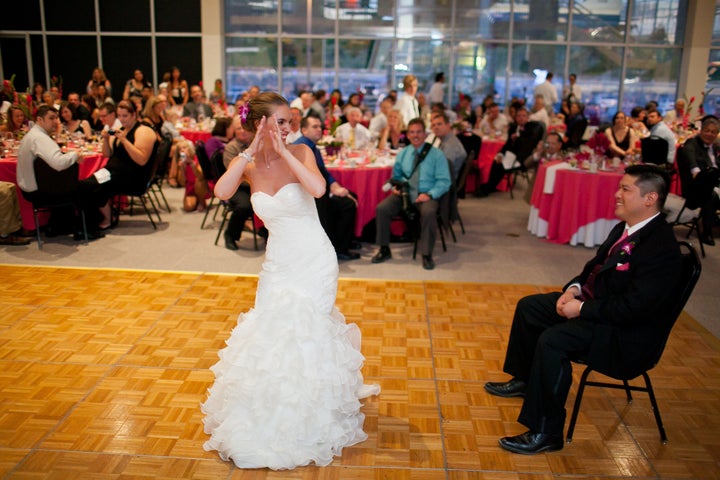 Reception: Hula Dance
I've been a professional hula dancer for 20 years and it's traditional for brides to dance a hula for their husbands at their wedding reception. Not only was this a great way to emphasize our travel theme, but it also added a unique element to our reception. I practiced for hours in secret and gave my husband the heads up right as we walked into the reception for the first time. It was a total surprise to my husband and our guests!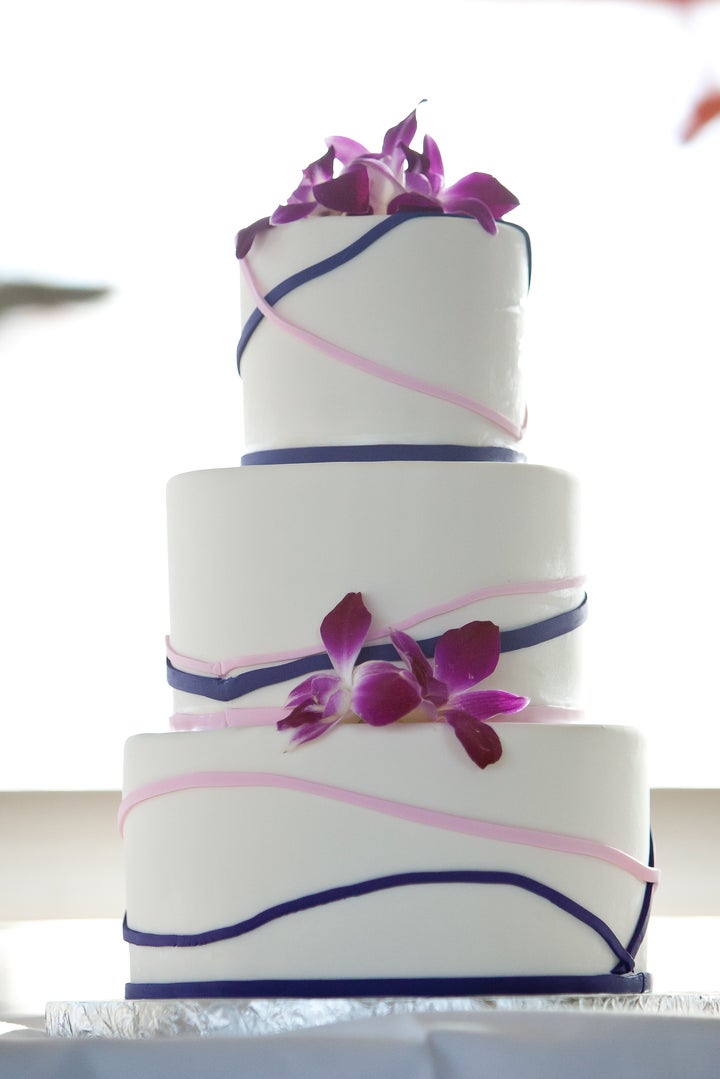 Cake: Tropical Flowers
We went with a small cake for the cake cutting ceremony and then got a large sheet cake of the same flavor. This way, the caterers were able to pre slice the cake and serve immediately after we cut the cake, eliminating any wait. We asked the florist for a few extra orchids so we could keep with our tropical travel theme.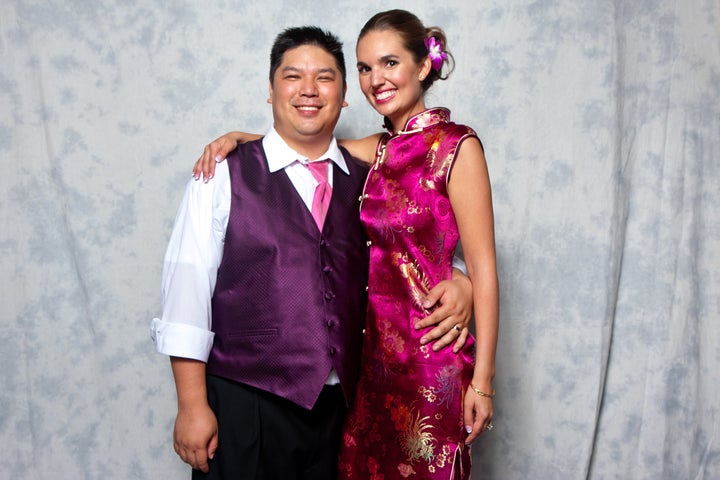 Dress Change: Chinese Cheongsam
To celebrate my husband's Chinese heritage, I changed into a cheongsam during our reception and our nieces changed into Chinese silk pajamas. Not only was it a nod to my husband's culture, but it was also much cooler than my layered wedding dress in the August heat!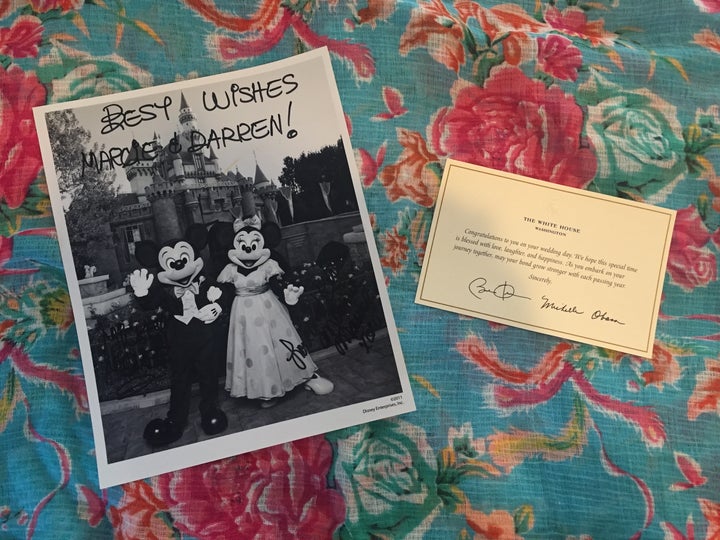 Extra Fun: Send Invitation to White House and Disneyland
When we realized we had some extra invitations, we decided to send one to the White House and one to Disneyland. We sent them about 2 months before our wedding and we received both greetings back in time to display them at our wedding. It added another travel element, which was fun!
The White House sent us an official greeting from President and First Lady Obama. It's a lovely feeling to find a letter from the White House addressed to you personally!
Disneyland sent us this congratulatory autographed photo of Mickey and Minnie Mouse. They also sent us a couple of celebration buttons, which were a nice touch. We also received a certificate from Cinderella and Prince Charming.
Additional Ideas to Add a Travel-Inspired Element to Your Wedding
Table numbers could be destinations rather than numbers (i.e. Paris, London, Venice.)
Postcards could be used instead of table numbers or in addition to table numbers.
The menu could consist of food from one region or from many regions. Additionally, the cake could be a traditional wedding cake from another country.
The music could be from a particular country or a global mix.
You could have a world map and invite guests to mark where they traveled from to get to the wedding. This is great if your guests are from out-of-town. Additionally, you could have guests mark where they went on their honeymoons.
The list is endless! Have fun planning your travel-inspired wedding!
Related
Popular in the Community