Valentine's Day is a great time to take a romantic getaway with your special someone. Love is the air and Valentine's Day happens to fall near a long holiday weekend. However, if you are going to plan that special weekend, you need to make sure it is really spot on.
I am a Professional Matchmaker and here are some tips for making your romantic weekend away perfect.
Location, Location, Location
You need to pick a place that is easy to get to without a lot of complications since it is only a weekend getaway. An island is great as long as there is a direct flight to get there or Florida is always a great old standby.
The key to a great trip is going to be the great weather. After all, if you take the time to go away, you want to be able to tke advantage of all the activities that are offered. Some people might say, that rainy day activities like breakfast, lunch and dinner in bed can rise up to true romance, but you can always do that at home.Pick a place like Mexico, Turks and Caicos or St. Barts where you have a higher guarantee of great weather.
It's incredible how staring into a sunset can make someone feel all lovey-dovey. Maybe it's the spectrum of rainbow colors or the ability to gaze off yonder and dream about the future. Whatever it is, a sunset really gets you in the mood.
If you choose to never leave it and spend the weekend just the two of you, you will be in bliss. Check out the villas at the Banyan Tree Mayakoba -- each one has it's own private swimming pool and outdoor hottub with no one around but you, your honey and some chirping birds. The villas are so secluded that you can swim in the buff and luxuriate in the hottub together. They will even have a dinner cooked for you in your villa or send a masseuse to you, so you don't have to leave at all. Or you can check out a suite at the Seven Stars resort in Turks and Caicos which seems like a full service apartment because it has a kitchen with every modern amenity in case you want to cook for each other or have them send in a chef . There is also a large balcony that feels like it's suspended above the turquoise waters of the sea where you can dine al fresco.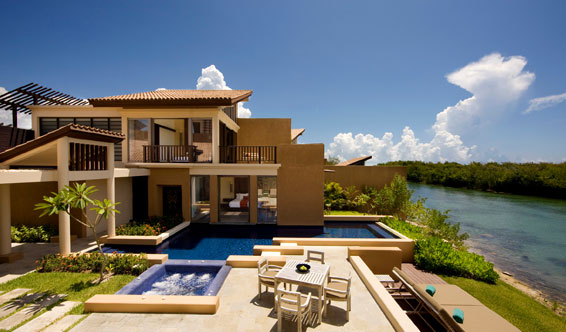 Private Pool villa at the Banyan Tree Mayakoba
A romantic getaway would never be complete without a couples massage, especially one right on the beach. If you stay at ta beach resort like the Seven Stars you can request your couples massage on the beach or in an outdoor cabana. They will set you up right on the beach or even under the stars and the two of you can get massages at the same time, even hold hands while you do it. Can you imagine anything more romantic?
You want to choose a hotel that have someone on staff whose primary job is to take care of you and your every desire, especially when it comes to planning romantic activities for you and your sweetie. Check out the romance specialist at the Banyan Tree Mayakoba who is staff at the hotel and will plan anything you want. If you have a special request, she will grant it, and if you are clueless but you know you want it to be romantic, she will come up with some ideas for you, like a private dinner for two on a boat around their mangroves or a private scuba trip for two with your own guide.
Spa
The spa is always key for romance on a weekend getaway. Choose a hotel that offers couples spa services and one of a kind signature services. At a hotel like the Viceroy Miami, there is a one of a kind spa that resembles a whimsical Alice in Wonderland theme-land; it's truly magical. There are multiple co-ed hot and cold soaking tubs, a killer view of the water and the two of you can luxuriate together staring up at the stars. Plus they offer exercise classes like Zumba, Yoga and Pilates that you can do together.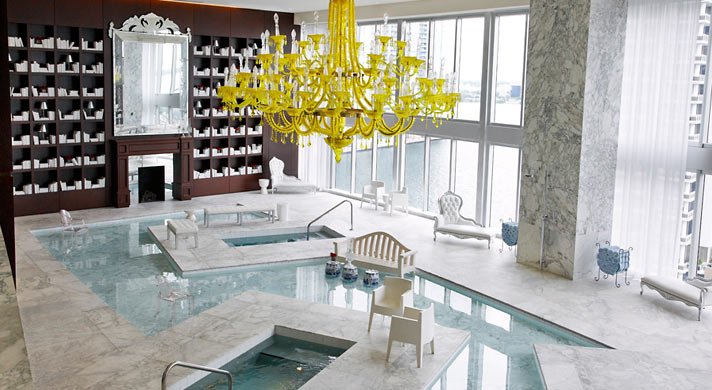 Spa at the Viceroy Miami
Outdoor Dining
When you are on vacation, dining under the stars is always a great way to set the mood. Your lady will be in a sexy cocktail dress, the wind will be blowing in her hair and the stars will reflect off her skin. Better yet if you can find a place for outdoor dining that has live music so you can also dance the night away, that will be the optimal romantic evening. Go ahead and try the Deck at the in Turks and Caicos. They have live music nightly, a great menu where you can try the islands specialities which are conch and local lobster. And then you can dance under the moonlight to one of their live singers. Feels like paradise.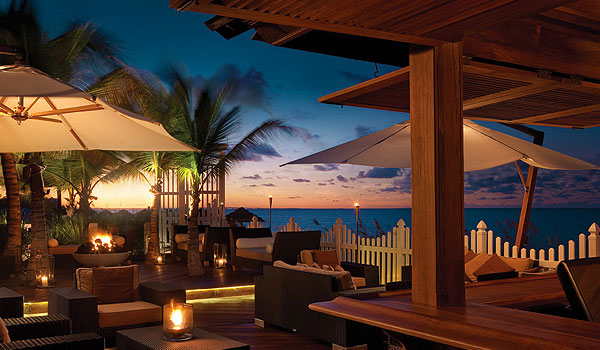 The Deck, outdoor dining at the Seven Star resort, Turks and Caicos
Have Fun
Sometimes the most important ingredient for a romantic weekend getaway is to connect with each other over silly things, act like playful children and just have some fun. Whether it's snorkeling on the barrier reef in Turks or bicycling around the Playa del Carmen or shopping for gifts for each other in Miami, just make sure you inject some fun into your romantic weekend and then it will be perfect.
Samantha Daniels is a well known professional matchmaker, President of Samantha's Table Matchmaking and the author of "Matchbook: The Diary of a Modern Day Matchmaker" (Simon & Schuster). You can read more from Samantha on her personal blog, Matchmaker in the Know. Follow Samantha Daniels on Twitter @Matchmakersd.

Related