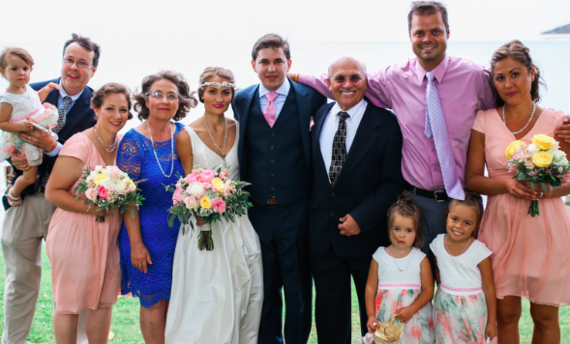 When my boyfriend proposed in June I had no idea that two-and-a-half months later we'd be married. I had always dreamed of a spring wedding and even though we got engaged a little later than we first planned, I just expected to wait another 10 or 11 months so I could have my dream wedding. But then we thought about it some more. Neither of us were thrilled about paying another year of separate rent (D.C. can be expensive), plus, why wait? We knew we wanted to get married anyway and we had already gone through premarital counseling. So just like that we picked a day in the next three or four months that we could fit into our work schedule and got planning.
1. Once you decide to have a short engagement commit to it and begin planning immediately. You cannot vacillate; there is literally no time for that. Try to pick a day that works as best as you can, knowing that no day is going to be perfect. Something always comes up. But you'll have that regardless of whether you choose a day in the next month, or 10 years.
Initially we picked a day that was about three-and-a-half months out. But none of the vendors we wanted were available that day, plus our work schedule wasn't ideal. So we did what any sane, logical couple would do -- we bumped up the wedding by a month! Ironically, this date worked better with possible vendors we were looking at, and work. Vendors, venues, photographers and even makeup artists can book up a year or two out, reminding me of my next point.
2. Choose two items that are most important to you and book those first. Unless money is no issue, you will not get your first choice of everything, and even if money were not an issue, I can't tell you how many times I heard, "So sorry, we're booked that weekend." I know a guy who postponed his wedding by a year-and-a-half to get the venue they wanted. In my opinion, no venue is worth waiting that long, but it just goes to show, book as early as you can. Fortunately for us the wedding and reception took place at a Christian Campground my parents own a cottage in so although it was very important to me, reserving it was not an issue. Food and photographer were also very important. Miraculously my dream photographer only had one weekend available in months -- the weekend of my wedding. We also found one of the best caterers in the area just happened to be available too. I can't give advice on how we booked them except to say that miracles do happen. During the process of wedding planning EVERYTHING will feel super important, but it's not, I promise. Pick a few things items to invest in the most, and early, and learn to be flexible with the rest. For instance, I didn't even go wedding dress shopping. I just bought mine on eBay for $500 (new with tags I may add) and called it a day. And I loved my dress.

3. Lists lists lists. We used Wedding Wire that gives you a handy and free checklist, but the Knot has been helpful for many couples too. (And don't forget about Avelist!) There are so many things I just wouldn't have thought of if someone didn't put it in a list for me. A few days before the wedding I was ordering a Jenga game on Amazon Prime for our guest book (which is a super cute idea, by the way) thanks to that checklist.
4. Be realistic. This is good advice whether you're getting married after a three-year engagement, or three months. If I had lived in Western New York and didn't have a job, you can bet I would have DIYed the heck out of my wedding. But that just wasn't an option so I had to be even more careful about how our budget was spent. For weeks I was obsessed with the idea that all the guests had to have fancy high-backed chairs, instead of the free ones provided by the campground. As it so happens, the decision ended up being made for me. The chair vendor I wanted to work with was difficult to reach and about time she did get back to me, told me all the chairs were gone. I'm actually glad this happened, as the chairs would have cost an extra $500 -- far over the budget -- and I doubt anyone remembers the chairs anyway. We invested in a great dinner instead. (As a bonus, the caterer also brought the chairs I dreamed about for my head table.)
5. Similarly, compromise often. With your ideals and especially your fiance! No one likes a Bridezilla.
6. Save time where you can. If you're planning a short engagement it will be very difficult to get out those cute Save-The-Dates and wedding invites in time. Instead, send out an e-mail Save-the-Date. We used Paperless Post. It was quick, pretty, and free.
7. Skip the RSVP card normally placed in your wedding invite as well. Instead of mailing out an RSVP card -- which we'd have to wait for people to fill out and return -- we put a card in our formal invites directing people to our website to RSVP. It was quick, convenient for our guests, and free. This idea worked so well for us I'd recommend it even for those with a longer engagement.
8. Divide and conquer the RSVP list. Getting guests to RSVP on time was a real struggle, a struggle I know that any recently married folks can understand. Besides Miss Manners being appalled, RSVP numbers are critical to planning the rest of your wedding. A few weeks out the caterer will be calling asking for final numbers and you still won't be able to place people at tables because you don't know who is coming. RSVP numbers are also critical in helping you budget. I particularly wanted to know how many people would attend to figure out whether I could afford those fancy, high-backed chairs. Besides the fact that some guests asked me if they could let me know the week of our wedding, I can't say I have a right to get angry. Prior to getting married I was a horrible RSVPer and I'd like to take this opportunity to say I'm sorry to all my friends for whom I RSVPed last minute, or worse, not at all. From here on out I will RSVP early, and commit to that choice. This is good news for any of my friends planning wedding or showers in the future. Miss Manners would be so proud and your friends will be so grateful.
So divide and conquer that list. Call, email or text your friends or family and have your fiance do the same. Most people will be sincerely apologetic and give an answer right away.
9. Wait for that one thing to go majorly wrong, and then just roll with it. For years I envisioned my wedding to be outside facing Lake Ontario, white chairs, and a slight breeze with lawn games and an outdoor cocktail hour to follow. But in the words of Alanis Morsette, it did rain on our wedding day. And it was ironic. I did think. Not just a few drops either, but poured.
Fortunately we had a backup and if you're planning an outdoors wedding you should too. The campground had a little tabernacle set up overlooking the lake and dinner was planned inside the dining room anyway. Fortunately again, God gave us about 45 minutes of clear skies in between torrential rains -- just enough time for my wedding planner, dad, brother in law, my husband's uncle and countless guests to take towels from my parents' cottage and wipe down all the benches to give me my dream wedding.
10. Remain grateful. This also reminds me of my last point. Wedding planning can be both equally fun and stressful. We happened to be doing it in an extremely short period of time, hundreds of miles away from the venue, and also while we looking for an apartment to move into after the wedding. There were many times I threw my arms in the air and said, "We should just elope!" Honestly, I still stand by the fact that it's not a bad idea.
But I wished I had enjoyed the process more, too. Yes, it can be stressful. Yes, it's expensive. Yes, you may get into a fight with at least 10 people over an idea and you're sure-as-heck not going to back down... but it's good to remind yourself also that at the end of the day, this is an exciting time in your life and the beginning of something beautiful.
Not only that, but I am so grateful for all the helping hands. Like I said, my parents did a lot of the legwork since they lived in the area and for that I am so appreciative. A friend did my hair and my bridesmaids hair, a family friend styled the flower girls hair, and a good number of guests helped decorate, move flowers, dry benches, write the name tags, donate hundreds of bunches of hydrangeas, place name tags on tables and about a dozen other items I'm sure I will never realize.
Be grateful that people want to help, show appreciation where you can (cards and gifts work great!) and when you have a chance to help -- pass it forward.
Want more great advice? Head over to Avelist. Learn from others. Adult together.