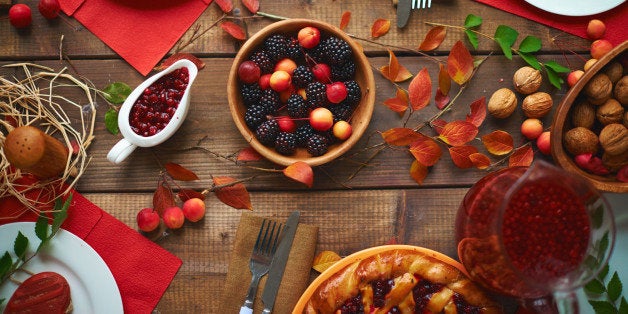 While Thanksgiving is a ritual that often involves a combination of relatives, rich food, football, travel and mandatory family togetherness, Friendsgiving is, by definition, an alternative to the traditional holiday. It can be whatever you want it to be! The two main ingredients are great friends and good food. From there, make it as formal or casual, traditional or trendy as you desire.
Whether you celebrate Friendsgiving in place of the conventional holiday or in addition to it, it's a great opportunity to savor the season in your own special way. Here are some tips to get started.
Choose the people you want to spend time with. At a family gathering, you may not have much say about who gathers around your dining table. At Friendsgiving, it's all about hand picking your favorite people, or those that don't have anywhere else to go during the holidays. The only rule is to ensure the guest list consists of people who bring you joy.
Pick a time that works for the group. The celebration may fall on the actual holiday, but it certainly can be a different day of the week or month. Try a champagne brunch on the Sunday after Thanksgiving or an early supper over the long holiday weekend. If you and your buddies are football fans, you can even tailgate in your living room on a pre-planned weekend.
Experiment with the menu. Thanksgiving is bound by particular culinary staples - turkey, stuffing, cranberry jelly and mashed potatoes are practically required. But the rules are looser at an alternative celebration. It's a great time to try out other recipes, cuisines or themes. This is especially fun if you are a vegetarian who is usually limited to picking at the mixed vegetables and dinner rolls at your mother's Thanksgiving meal. Now is the time to get creative!
Decide on the format. Maybe you are an aspiring chef, and this is your grand opportunity to prepare a gourmet feast single-handedly. If that's not your cup of tea, try a potluck style event where everyone brings something. As the host, you can also opt to prepare the main course and ask others to contribute sides.
Select the setting. Your home could be the gathering point. If that seems overwhelming, there are plenty of other options: consider a cookout and kickball game at a neighborhood park, complete with a picnic basket and thermoses full of hot cocoa. A favorite restaurant with a private dining room that you can reserve for your crowd is another alternative. If you have a neat freak friend who keeps an immaculately clean house at all times, ask her if she will host if you coordinate the other party details.
Set the table. Whatever your level of formality, a festive table setting will make it more special. If you are longing for an occasion to get out the good dishes, this is your moment. If it's a more casual party, mix-and-match place settings are perfect. A pretty tablecloth, nice cloth napkins and a festive centerpiece are worth the extra effort to elevate the experience. Place cards can help you mix up the crowd, so spouses and best friends are spread out to mingle with others and liven up the conversation.
Set the atmosphere with the playlist. The right music will create the mood you want for your gathering. Choose more playful, upbeat music for when guests arrive and mingle and more relaxed sounds during the meal. Keep the volume at a level that encourages conversation instead of drowning it out. This might be the time to pull out your vintage carols and get everyone revved up for the holiday that is right around the corner.
Enjoy. In our busy lives, we often wish for more time to relax and catch up with friends. Thanks to your efforts, you have created just such an occasion. Make this new tradition reflect your idea of a good time. If you are the kind of host who thrives on dazzling guests with details from appetizers to signature cocktails and party favors, this is your time to shine. Or, perhaps you would prefer to take a more relaxed approach with a simple menu followed by playing horseshoes in the yard. Whatever you do, make it a day to remember.