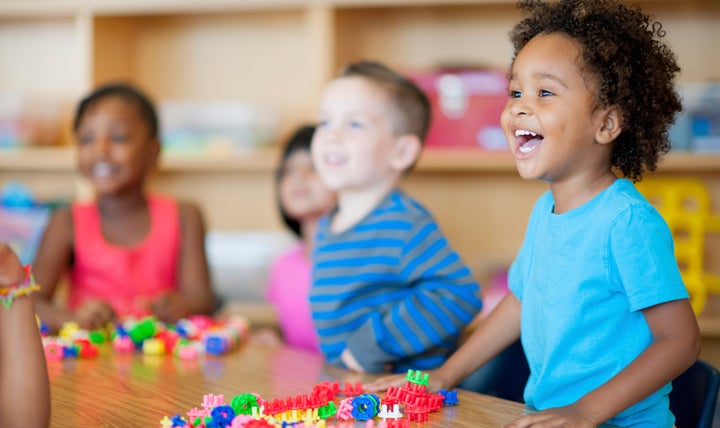 Watching a young child playing with others can reveal a great deal about who they are -- and who they'll be in 20 years. 
That's the conclusion of an eye-opening new study from Pennsylvania State University.
The longitudinal study, which followed 753 kindergarteners into adulthood, found that a 5-year-old's social skills are a strong predictor of their success later in life. Children who were able to get along with others were significantly more likely to have a college degree and a job at the age of 25. 
The findings suggest that teaching children emotional intelligence could set the stage for professional and interpersonal success throughout life. 
The cooperative kindergartener
For the study, the children -- half of whom were considered to be at risk for behavioral problems, and half of whom were not -- were evaluated by their kindergarten teachers. The children were assessed using various measures of emotional intelligence and social interaction, and then given an overall "social competence" score. 
The researchers followed up with the children 19 years later, obtaining information about their educational history, employment status and mental health. They also took note of any criminal history or substance abuse issues.
What did they find? For every 1-point increase in their social competence score, the child was twice as likely to have earned a college degree and 46 percent more likely to have a full-time job -- even after controlling for family, socioeconomic and other factors that often determine success in adulthood. 
Children with lower social competence scores were significantly more likely to have been arrested, to struggle with substance abuse issues, and to be living in public housing. 
"In a nutshell, young children who are better able to manage their emotions, get along with others (including adults), and accomplish tasks are on course for academic success and good relationships that will positively influence outcomes in the future," Dr. Damon Jones, a psychologist at Pennsylvania State University and the study's lead author, told The Huffington Post in an email. 
While the findings don't prove causality, they do offer an intriguing suggestion that social skills in childhood may play an important role in influencing the course of a child's life. 
Armed with this knowledge, parents and educators may be able to intervene earlier for children who are struggling with social skills and therefore at risk for challenges later in life. 
The good news is that social skills and emotional intelligence can be taught. Programs to improve social skills and emotional intelligence in young children could have long-lasting positive effects. 
"Social-emotional skills are vital in development, and integral for building relationships and helping children succeed in school," Jones said. "These skills are also malleable, and can be improved through effective programs or investments." 
REAL LIFE. REAL NEWS. REAL VOICES.
Help us tell more of the stories that matter from voices that too often remain unheard.