The Camp fire in Northern California's Butte County has burned more than 7,000 structures and killed 42 people, making it the deadliest, most destructive fire in state history. The town of Paradise was hit particularly hard, with Tim Aboudara, a representative for the International Association of Fire Fighters, describing it as "literally wiped off the map."
Given high winds and dry conditions in the forecast for the next week, officials worry that Southern California, where two fires have spurred mass evacuations, may see still more outbreaks before the current blazes are resolved. (Here's how you can help those affected.)
"We are really just in the middle of this protracted weather event, this fire siege," said Cal Fire Chief Ken Pimlott. "We are in this for the long haul."
While President Donald Trump has blamed the state's rash of highly destructive fires on "gross mismanagement of the forests," fire scientists say there's no evidence that's the case. Prolonged drought and increasingly warm conditions are leading to hotter, faster-burning fires that occur more and more often.
With that in mind, here's how to prepare for a wildfire: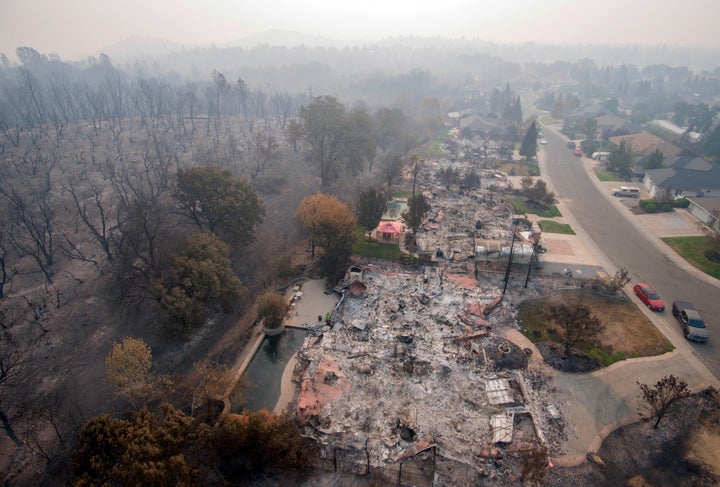 What To Do Ahead Of Time
Clear undergrowth, dead branches, leaves, log piles and anything else combustible away from your house. This is known as creating a "defensible space" ― it helps defend your home by acting as a break against encroaching flames. The Federal Emergency Management Agency recommends maintaining a clear swath of at least 30 feet on all sides of the house, but the larger this area, the better. For more information on how to "harden" your home in advance of a wildfire, Marin County, California, has a long list of suggestions. 
Don't give embers that reach the house any more fuel than is naturally available. Keep your roof and gutters clean.
Buy N95 (or higher) rated respirators for yourself and members of your family. If you're close enough to a fire that air quality is impacted, these masks will at least help filter out ash and other fine particulate so you don't inhale it. If anyone in your family has asthma or another respiratory ailment, make sure their supply of medication is adequate as well.
Is your insurance sufficient? Check your policy, and consider adding flood insurance, which is often an issue after a wildfire. In addition to your home, make sure your car is covered against fire damage ― it's often a separate option. If you have a business that could burn or be otherwise negatively impacted, consider coverage for lost income. Read more on that, and how to file a claim should the worst happen, here.
Figure out where to check for emergency alerts. In the event of a fire, knowing when to evacuate and what route to take can literally be life-saving information. In addition to the Emergency Alert System on radio, television and cell phones, and the National Oceanic and Atmospheric Administration's Weather Radio, check with your county and see if you can sign up for specific alerts via platforms like CodeRED and Everbridge.
Sort through your possessions and decide what valuables and important documents to take with you if you have to evacuate. Be prepared to move them to your car very quickly.
 Pack a go bag with water, food, a first aid kit and respirators that you can grab in case of an emergency.
If you anticipate needing to evacuate in the near future, ask friends and family outside the threatened area if you can stay with them temporarily. Figure out ahead of time what to do with your pets; the Red Cross has a guide for that here.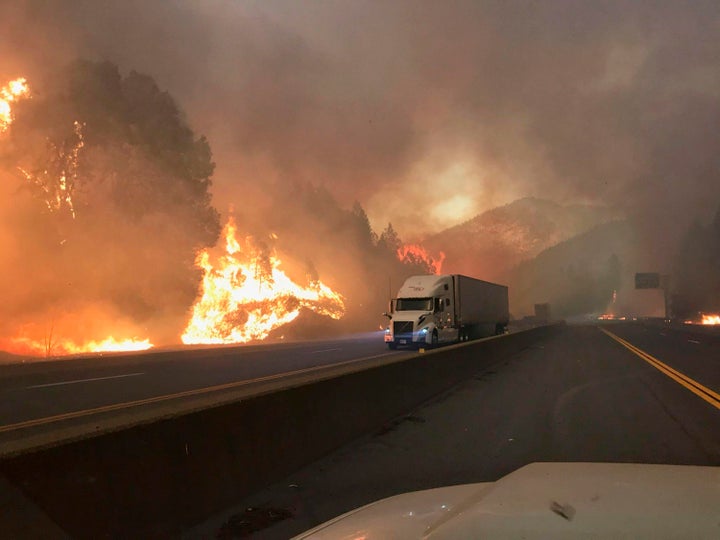 So You've Been Ordered To Evacuate
Do it. Every year some people live through hurricanes or other natural disasters by stocking up on necessities and staying put even when ordered to evacuate. But a wildfire is never something you should plan to face head-on. If you're instructed to leave, leave.
Move your valuables to your car, along with important documents and that go bag.
Check your route and where you're evacuating to. The Red Cross maintains a map of open shelters here. Service animals that assist people with disabilities are allowed in shelters; pets are generally not.
If your home is fueled by an external propane tank, turn off the supply valve on the tank outside. For metered natural gas provided by a utility, leave the system alone unless your gas company tells you to do otherwise.
If you find yourself trapped by the fire, call 911 and tell them your location. FEMA recommends that you turn on your lights to aid emergency responders in finding you.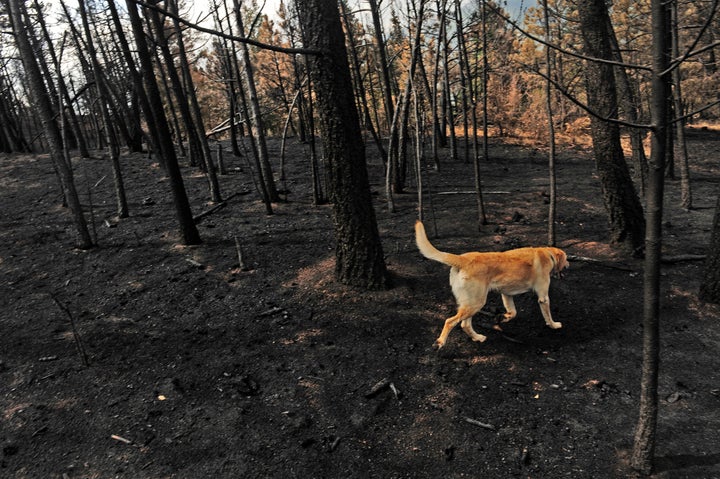 What To Do In The Aftermath
Be extremely careful in returning to your home. Falling trees, downed power lines and highly flammable leaking gas lines are all potentially fatal hazards. If you can't safely access your property, turn around.
Watch out for smoldering pits of hot ash, the remnants of burned stumps. Mark them so you and your family don't fall in.
Be aware that trees that are still standing may have charred and weakened root systems and could topple in the next moderate wind.
Don't use an open flame for anything, as it could ignite leaking gas and cause an explosion. Bring a flashlight.
Finally, check with your insurance company before you begin cleaning up, so you don't do anything that may hurt your ability to file a claim later. While you're on the phone with the insurer, add flood insurance if you didn't before. Wildfires destroy stabilizing vegetation and leave soil unable to absorb water, which can lead to floods and mudslides for years afterward. Read more on that here.
Calling all HuffPost superfans!
Sign up for membership to become a founding member and help shape HuffPost's next chapter