Everyone uses the term "wedding altar" but not everyone knows what it is, what it should contain, or who is responsible for bringing each item and setting it up.
As an officiant, I've set up hundreds of wedding altars for ceremonies reflecting many faiths and cultures, as well as personal and sometimes whimsical tastes of couples. These altars have included everything from candles, sand, stones, planters, seeds, crystals, and special icons of gods and angels, to a replica of King Arthur's Excalibur and a fairy wand, to photos of relatives or places that are meaningful to the couple.
When I begin the process of figuring out the rituals that will be in a couple's wedding, I begin to work with them to also identify the supplies they will need to bring or purchase for their ceremony.
I am used to helping the couple assess what is needed--and then setting up the altar myself on the wedding day and making sure all the supplies are in place--but not every officiant gets involved in that part of the process. Sometimes this task is done by your wedding planner or someone from the wedding venue who is supervising set up. In some circumstances--such as Hindu weddings, or Persian ceremonies that require very specific altar supplies and arrangements--I would always encourage the mom who hails from that particular tradition, and/or family members, to help ensure everything is in proper order.
Making sure the wedding altar is set properly in advance is key to a smooth sailing ceremony with no interruptions so it is a good idea to figure out who exactly is responsible for it all on your wedding day and assign roles to various friends or family if they are to be involved.
In many cases a the altar is actually a table provided by the venue, covered with a table cloth they place there or covered with a special cloth that you select and bring. This table may be under you wedding arch, or surrounded by floral arrangements. In the beginning it just looks like a simple table but it comes alive as a wedding altar once ceremonial supplies or sacred items are placed on it.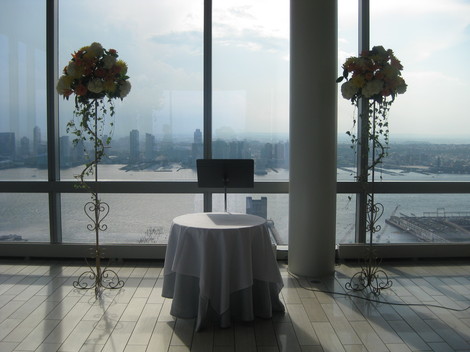 Couples should always have a check list of what will be needed for the wedding altar. It may look something like this:
One Unity Candle, unscented
Two taper candles, unscented
Unity Candle holder
Candle holders for tapers
Long lighter or matches
Small candle
Once you figure out what is needed, you might leave some of those supplies at the venue a day or two in advance if they allow it, or bring with you that day. On the wedding day, gather them all in one place, along with your wedding license, so you can give all items to your officiant (or person in charge of thes items) before the ceremony.
If you are setting the altar up yourself make sure you have a table and all your ceremonial and ritual items in place before the ceremony begins.
If you are doing a candle lighting, sand ceremony or wine ceremony, make sure all need elements are out of their packages on ready for use on the altar (candles out of boxes and plastic, wine out of the bottle, etc.)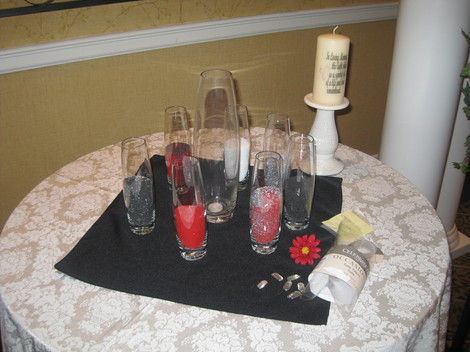 If you are reading vows, make sure the vows are on the altar (if not they can be carried in by the officiant, attendant, or the partner with pockets).
If you are breaking the glass, see that there is a wine glass or light bulb in a linen napkin and at the ready, to be placed on the floor when the time comes to stomp.
You can also use your wedding altar for spiritual support and extra blessings:
If you have a wedding scroll or Ketubah you can keep it on the altar to be blessed.
You can have items representing religious symbols.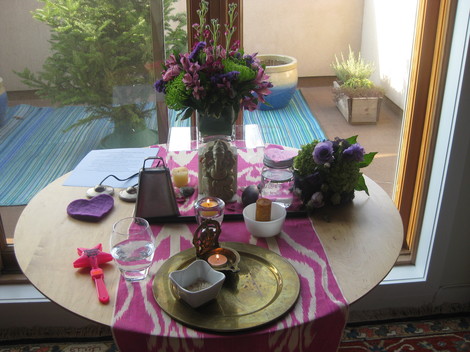 Or you might want elements of nature on the altar, honoring the ancestors and spirits of the four corners. Representing the east, you can honor air with a feather; in the west, honor water with a small cup of blessed water; in the south, honor fire with a candle; in the north, honor mother earth with a crystal or stone.
You can scatter rose petals on the altar to represent love and new beginnings
Photos by LSB are of the following:
Photo 1: Jodelle and Juan's Wedding altar table overlooking the Hudson River.
Photo 2: Wedding my hubby, Rev. Vic Furhman, officiated with sand ceremony supplies and memorial candle.
Photo 3: Valerie and Brad's beautiful altar with Ganesha, flowers, blessed water, brass ceremonial plates and items, and fun wand.
Popular in the Community