"I don't see how we are going to make it work. I just cannot agree to his terms." This is a common remark from people who are in the middle of contract negotiations. While the sentiment expressed above might seem deflating and insurmountable at first, such feedback and emotions actually provide an opportunity for growth and deeper relationship analysis.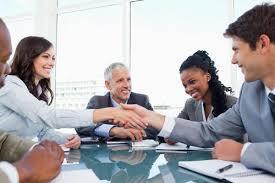 During any business relationship, there are bound to be instances where it feels like one person's potential value is not being maximized.  The idea is to sidestep confrontation with partners. I habitually tell my clients, "It's to your benefit to act more flexible than you feel." Reach out to people who share your overarching vision, because then you can forge ties that will take you far. 
Competition is good but so is cooperating. Every individual has a unique skill set and sharing brings abundance to projects. When each person's talent is able to thrive, the group's collective value is increased. It is sometimes better for business partners to view the world differently but arrive at the same conclusions. There is power in opposites. 
Successful people in business maintain a positive focus no matter what is going on around them. Positivity and passion are powerful tools for influencing others. They attract you to people you want to be associated with who are enthusiastic, constructive, and heartfelt. 
Additionally, being able to incorporate each person's value creates a feeling of possibility. In the contractual realm, parties are likely to have less problematic relationships if each understands and agrees to mutually support the other's interests.
The fundamental purpose of a contract is to enhance predictability in the relationship of the parties. As predictability increases, so does productiveness. People can be most productive when there is an understanding of goals. Having parties clarify their thinking and consider problems that could arise maximizes certainty in any relationship and leads to effective communication. 
If both parties place the highest value on the same items or terms, it can be more difficult to hammer out a deal. For example, in the entertainment law arena if one person is chiefly concerned with royalty calculations while the other places emphasis on writing credit, we can go somewhere.  When negotiating parties or business partners have different priorities, that leaves room for possibilities and hybrid problem solving. Wanting different things could be the end of a marriage; in a business relationship, it is an opportunity for advancement. 
I teach my clients to have Zen-like moments of reflection during times of discord in their professional lives. It is important to rise above the tension and take stock of what's at stake. Often the best way to move beyond a stalemate is to shift your perspective. A certain amount of openness and time for consideration of all options allow professionals to rise to the top. 
In the world of niche business, such as show business, it is beneficial to consider the larger picture. Actors, studios, singers, record labels, producers, agents, managers, and networks undoubtedly have an interest in the success of each other on a single project but also future endeavors. If you can see the forest through the trees, you open up your world in wonderful ways to a multitude of career-enhancing ventures.   
REAL LIFE. REAL NEWS. REAL VOICES.
Help us tell more of the stories that matter from voices that too often remain unheard.
This post was published on the now-closed HuffPost Contributor platform. Contributors control their own work and posted freely to our site. If you need to flag this entry as abusive,
send us an email
.