Ahhh, the anomaly of red hair color -- we go for reds because of their richness and vibrancy, and yet, they are the colors to fade and dull the fastest. Sigh...
Why does this infuriating phenomenon happen? A scientific explanation does, in fact, exist. You see, red hair molecules are the smallest of the hair color molecules which makes it easiest for them to penetrate the hair cuticle (yeay!), but also the easiest to exit the hair cuticle (nooooo!). This explains the immediate luscious vibrancy we achieve when we color our hair red and the quick fading of said color.
Recently, I performed one of my favorite hair color transformations. I took my client from a light brown with blonde highlights to a deep, rich violet-red with brighter red highlights for contrast. She looked smoking hot!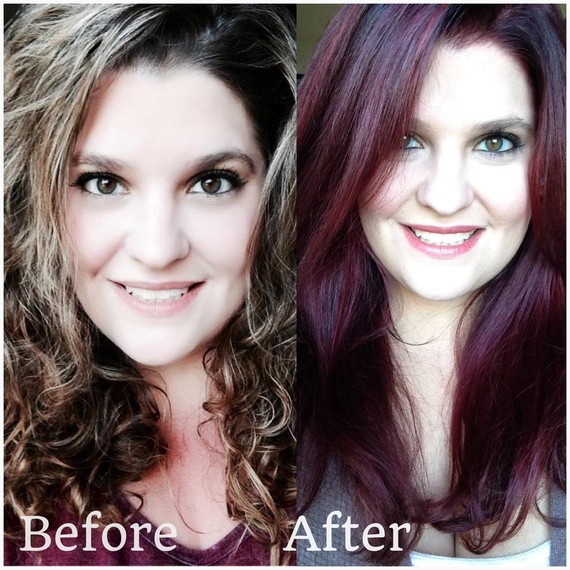 I used the Schwarzkopf Igora Royal color line, which is a high-end permanent color line of amazing quality. Schwarzkopf has a reputation of being true to their color swatches, and from my experience, their reputation is well-deserved. You know what you're going to get with their color. You're also able to cocktail color combinations more accurately, which allows us stylists to feel more at ease and confident with our color ventures.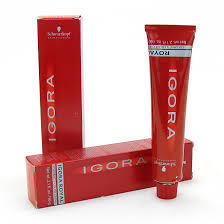 Because reds fade fast, I like to do anything in my power to conserve it as long as possible. I added Redken Shades EQ Clear Gloss all over her wet hair after I shampooed her color out. I left the gloss in for 10 minutes, rinsed it out, then conditioned her hair with Redken Color Extend conditioner. (Side note-I love Redken Shades EQ and use it for glossing and toning religiously. Their translucent formulas are perfect for adjusting your color to the perfect tone, and the lather their colors provide allow for full easy coverage.) The clear gloss not only adds shine, but also traps the color in the hair for a longer period of time. It's not magic -- your color will eventually fade, but it preserves it longer.


When my client left, I told her to use a color preserving shampoo and conditioner when washing her hair at home. I personally use Redken Color Extend, but there are plenty of other options out there. It's incredibly vital that you new redheads do not use a harsh shampoo; it will simply strip out your red at hyper-speed. I also recommend that you don't wash your hair daily. The fewer washes, the fewer chances the water and minerals in it can remove your reds. Also, though it may be painful, washing your hair in cool/cold water will also help to maintain your color.
To keep your red looking like it did when you left the salon, you have to get your hair colored more often. I know it can be a pain in the behind going to the salon every 4-6 weeks, but that's just what has to happen in order to maintain your desired color. Even though the upkeep may be a nuisance, the beauty and exciting hues that reds provide are simply delicious. You are a vivacious woman, you delightful redhead, so keep that sexy confidence and vibrancy going!
Images: 1st - published with client permission, Google Images, ebay.com, beautyofnewyork.com