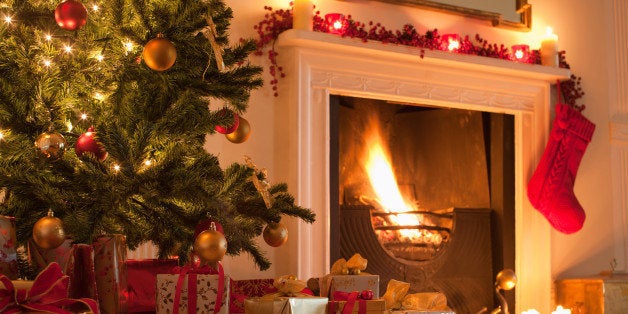 Ensuring a happy time with family and friends requires some preparation -- and some precautionary measures too. Follow these quick tips for staying safe as you're cooking and decorating this holiday season:
#1 No loose clothing in the kitchen.
Avoid wearing loose and hanging clothing when cooking in the kitchen. A sweater, cardigan or shirt sleeve can easily dip onto a burner and start a fire. Also, remember never to move a burning pot as this could escalate an emergency. Stay focused and be aware of your clothing when near an open flame.
Photo courtesy of GO Architectural Design, PLLC in New Bern, NC
#2 Be aware of the stovetop.
Anything near the stovetop -- linens, wood, paper towels, etc. -- is a potential fire hazard. Take care to keep anything flammable far away from the stovetop when you're cooking. Also do your best to keep kids and pets out of the kitchen; it's possible that they could knock something over on the stovetop and cause a fire.
#3 Absolutely avoid cooking fires.
Cooking fires are one of the top causes of holiday home fires. This is why you must pay attention to what you're cooking. Also:
Don't increase the temperature to make food cook faster.
Always keep the appropriately sized pot lid handy. If a pan fire starts, you can cover it and smother the flames.
Never, ever put water on a grease fire.
#4 Choose candle placement wisely.
Candles are a great, natural way to light up your home. However, they are also a
. Candles present a particular danger from Christmas to New Year's Day because many people use them on trees, menorahs and dining room tables. To stay safe:
Always keep an eye on the candle and put it out if you leave the room.
Don't let a candle burn to below two inches past the holder -- put it out.
Place candles far away from flammable linens -- curtains, drapes, etc.
Keep candles out of reach of children and pets.
#5 Decorate your tree carefully.
Tree decorating is a fun family activity. However, bad lights, frayed electrical cords or other fire hazards put your tree and home in danger.
:
Buy your tree early so you don't end up with a dry tree that's more flammable.
If you put the tree up closer to Christmas, cut off the bottom and then place it in at least a half-gallon of water.
If you buy an artificial tree, make sure it's fire retardant.
Do not put electric lights on metal trees.
Make sure your tree is at least three feet away from any heat sources.
Check your electrical cords, plugs and decorative lighting for any potential dangers.
Position your tree in a sturdy holder so it doesn't fall over.
Never use candles on your tree.
Unplug the lights before you leave the house or go to bed. Or put them on an automatic timer.
#6 Clean your chimney.
Fireplaces are great assembly areas for family and friends, but forgetting to open the damper or clean out the ash increases the risk of fire. Make sure you have a chimney cleaning professional clean your chimney once a year. Generally, the cost for chimney cleaning averages
. A professional can sweep out the ashes and clean out any flammable creosote. You should also have a screen or door in front of a fire to prevent hot wood and sparks from escaping. Keep children and pets at least three feet away from an active fire.
#7 Prepare for cold weather.
To keep your home warm and comfortable during the cold season and ensure optimal warmth without fire:
Have your furnace inspected.
Keep flammable items at least four feet away from your heating system.
Do not use an oven to warm the home.
Keep a working fire extinguisher near the heat sources on every floor of your home.
Related