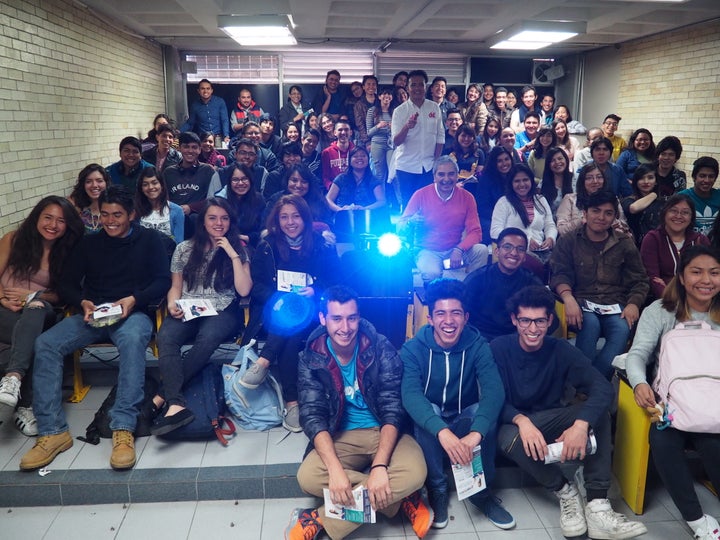 MEXICO CITY, Mexico — Health Counselor Victor Tapia Orijel starts his presentation almost like a stand-up comedian, humorously citing different situations in the reproductive life of a teenager, from first sexual relations to different contraceptive methods.
"If you get horny in school or your best friend's house, you need to carry condoms."
"If you make a booty call, it's obvious you need condoms."
"If you drink a lot and then have a one-night stand and don't remember if you used a condom or not, you should get emergency contraception and condoms.
His audience was a roomful of 65 high school students in the Iztacalco delegation of Mexico City. They were both entertained and educated.
"Most of these young people learned about sex from their friends," said Orijel. "It is difficult for them to talk about sex with their family. The women are the least likely to talk to their families, due to the burden of machismo that we live with in Mexico."
That lack of information is prevalent throughout Latin America and the Caribbean: Almost three-quarters of pregnancies among adolescents aged 15-19 in the region are unplanned, according to the Guttmacher Institute, and about half of those end in abortion. Among all women 15-19 who need contraceptives, 36% of them are not using a modern method. In Central America, 46% of sexually active adolescents who want to avoid pregnancy are not using modern contraceptives.
Orijel, 30 years old, is a counselor with DKT México, a non-governmental organization that uses social marketing to prevent HIV and promote contraception in Latin America and the Caribbean. This high school event is part of DKT School, which seeks to provide information on contraception and reproductive health to young people in high school, college and university. Since it started in February 2016, DKT School has reached 250,000 students.
DKT School is one example of how DKT México has completely revamped their approach to reproductive health education after their first campaign failed to meet expectations.
In 2015, DKT México launched a family planning campaign focused on increasing awareness of pregnancy among teenagers and young adults. They opted for a serious, medical campaign in traditional pharmaceutical company style — talking about the bad effects of unwanted pregnancy and the myths of various contraceptives.
Few young people attended their events or engaged their digital media. Their messages did not resonate with young people. This translated into poor contraceptive sales. The campaign failed.
At the same time, they were having a highly successful Prudence condom campaign with well attended events, a Facebook page with 2 million followers and a Twitter account with 47,500 followers. Their condom sales tripled between 2012 and 2016.
The contrast between the two campaigns showed DKT México they had to apply the same fun strategy of talking about sex in their family planning work as they were doing in their condom work. So they made major changes to their campaign:
They started talking about the positive results of contraception instead of focusing on the myths and the bad results.
They started talking about "unplanned pregnancies" instead of "unwanted pregnancies" after realizing that most Mexicans think of babies as a blessing from God, and how those unplanned pregnancies can disrupt education, travel and careers.
They started talking about "life planning" instead of "family planning" which does not resonate with this age group. Marriage and children are not even on their radar screen yet. What they are interested in is planning their education, careers and other life goals.
Above all, they stopped being preachy and boring.
"We started being fun, adopting the same entertaining messages and approaches we were using to market Prudence condoms at schools, concerts and fairs," said Karina de la Vega Millor, director general of DKT México. "The main message became 'Have sex, have fun, but use double protection against a sexually-transmitted disease or an unplanned pregnancy that will change the course of your life.'"
"These tools give fun messages about the importance of having a life plan and avoiding pregnancy until you are ready, said Millor. "There are plenty of ribald jokes, frank discussions and flirty talk full of double entendres to engage our audiences. Our Facebook page now has more than 1.1 million followers, and more engagement than any Facebook page dedicated to contraception in all of Latin America."
Good sexual and reproductive healthcare is hard to come by in Mexico, especially for adolescents, according to a recent study. That is why DKT México also set up RED DKT (DKT Network) a year ago to improve sexual and reproductive health and encourage use of long-acting reversible contraceptives like IUDs. RED DKT requires its clinics to be welcoming to adolescents and young adults.
DKT México learned from its first campaign. The new campaign has resulted in more young people viewing DKT websites and social media platforms, sharing information with their friends and coming to DKT events and clinics to get information and products.
And more of them are actually using contraception to avoid unplanned pregnancy. Millor says that DKT México has increased almost eight-fold its number of couple years of protection (the amount of contraception to protect a couple for one year) between 2012 and 2016.
For Millor, this work is personal. She got pregnant when was 23 and single, and had a terrible time getting the counseling she desperately needed. She is determined that other young women not go through what she had to go through.
"This is why I am so passionate about my work, and try to pass this passion with my team and our customers," she said. DKT México is now expanding into Central America, the Caribbean and northern South America and Millor plans to apply these lessons to those countries.
Related
Popular in the Community