Marketing with social media influencers is one of the most popular trends right now. And there's a good reason behind it. A recent study found that consumers now trust social media influencers more than they trust friends and family. 33% of respondents in the study said that they trust purchase recommendations from social media influencers. But only 17% said the same thing about friends and family.
This means that promoting your products with social media influencers is an excellent way to earn the trust of your target audience. At the same time, you don't want the promotions to be overly promotional because that could have a negative impact on consumer trust.
Have Them Tell a Unique Story
When a social media influencer features your product in their content, they should tell some kind of story to better engage their audience. The influencer can showcase how your product has helped them or what role the product plays in their daily life.
For example, one influencer may talk about how your energy drink refreshes them after a workout session. And another may talk about how your energy drink is a travel essential for them. They can each tell a unique story in a way that will resonate with their audience, and is consistent with their usual content.
Public Mobile, for instance, wanted to create a Canada-wide campaign to address a common problem among Canadians - unreliable coverage with expensive phone plans. Public Mobile partnered with Viral Nation, a Toronto & New York based, Influencer Marketing Agency, who then contracted Canadian influencers on social media channels like Facebook and Instagram to create and promote high quality image and video content.
Influencer Ray Ligaya created a short, funny video in which he talked about how some service providers give him, "receptionitus." He urged his fans to switch to Public Mobile to avoid the issue.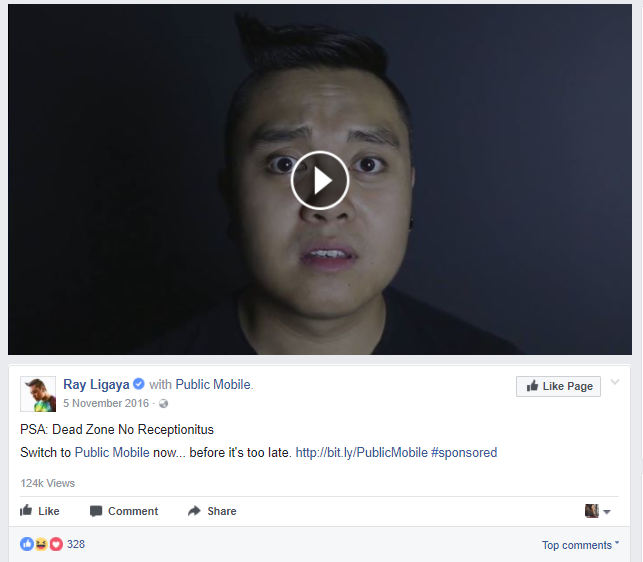 This video alone has been viewed 124k times, and received 300+ reactions.
According to a Viral Nation case study, the campaign resulted in 2.5+ million impressions. And the influencer content drove more than 439,000 interactions.
Have Them Give Their Honest Reviews
Before buying something online, our first instinct is usually to check the reviews. You like the product description, but you're not sure if those claims are accurate. So you want to hear what other customers have to say about the product before you decide to buy it.
But what if those reviews came from someone you admire, such as an expert in the relevant industry? There's a good chance an influential individual's review of your product will be deemed trustworthy. Since they're experts in the field, they can offer an expert opinion on the various features the product offers.
The previously mentioned study also found that product reviews were the most important types of content for consumers who trust social media influencers. So you can get influencers to review your product to sway the opinions of their followers. But make sure their reviews are authentic, and encourage them to share any negative experiences to maintain authenticity.
For example, Anatomicals UK sent some free products to makeup and beauty influencer Danielle Amelia, who has 9000+ Twitter followers. She created a YouTube video in which she reviewed the various face masks that were sent to her.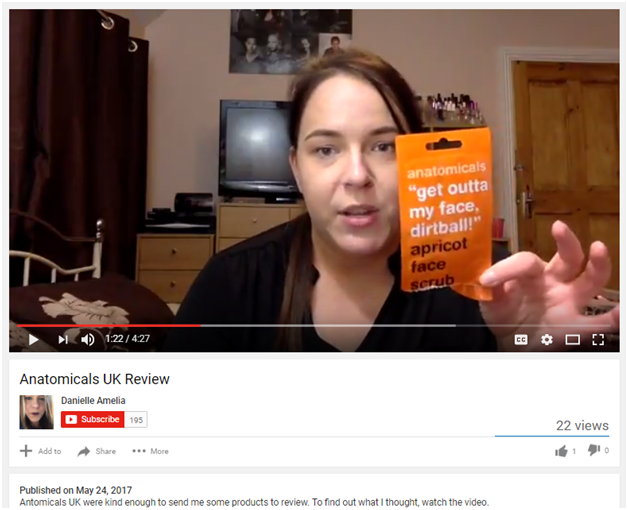 But instead of giving raving reviews, Danielle first talked about how one of the masks gave her a bad reaction. She then follows up with the other products that worked really well for her.
Have Them Generate Buzz for a New Product
With their reach and their ability to engage an audience, social media influencers are perfect for generating buzz for your new product.
You could give them an exclusive preview of the product so they could share their experiences with their followers. They could educate their audience about how to use the product, why it's important, and how they can use it in their daily lives.
And if you have several relevant influencers talking about the new product, they will be able to generate enough buzz to ensure a successful product launch.
For example, here's beauty influencer Jen of Beau Addiction giving a sneak peek of Too Faced beauty products that are yet to launch.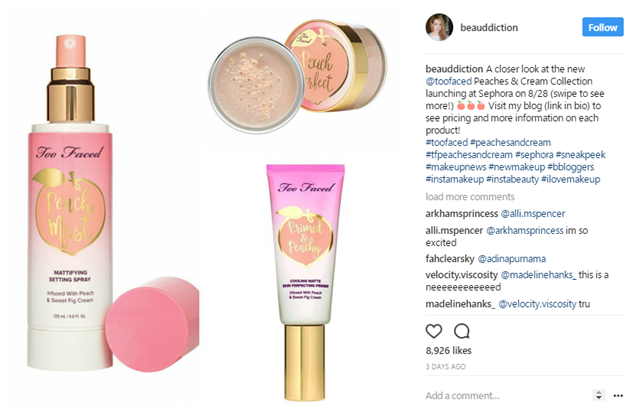 Have Them Promote Deals and Discount Codes
Who doesn't love a good deal? If you're willing to draw in an audience by providing them with deals and discounts, the best way to promote your offer is through influencers. It's not enough that you just have the deal displayed on your site, and you send out news to your existing customers. You still have to attract a new audience, and convince them to buy from you.
Social media influencers can help you achieve this. They will be introducing your brand to a new audience. And since there's a good deal for the product you're selling, many of the audience members may feel compelled to buy it.
You could always combine this with other tactics such as reviews, previews, tutorials, etc. So the influencer can drive awareness and interest for the product through the informational content. And the presence of a discount code or offer will then drive action that delivers actual ROI.
MVMT Watches has been implementing this tactic for a while. The brand has activated a mix of micro-influencers and mega-influencers to promote their watches across all industries.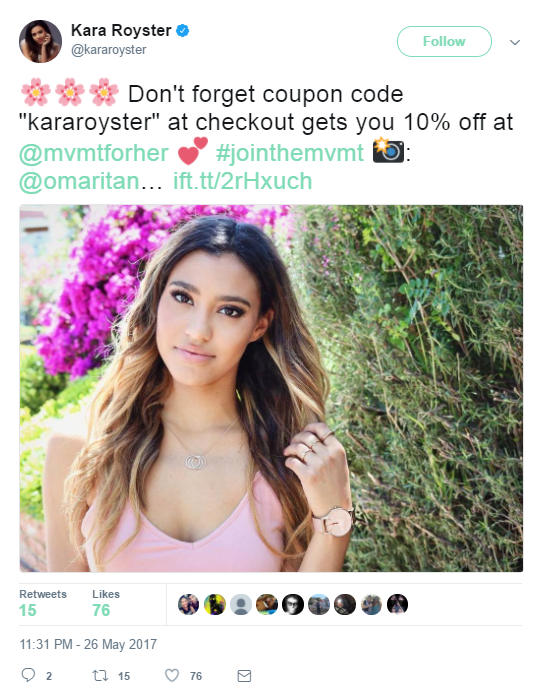 They have worked with comedians, fashion influencers, home and lifestyle influencers, and more. The screenshot above shows influencer Kara Royster promoting a discount code for 10% off.
Conclusion
These are some of the best ways social media influencers can help promote your product. So whether you want to build buzz for your new product, or drive conversions, these influencers can help you leverage your efforts. Got any questions? Ask them in the comments.
Related
Popular in the Community