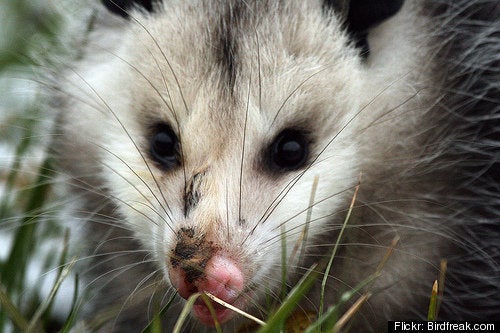 Pink Mama, the lady who channels the spirit of a dead squirrel and offers tips on how to give an opossum a pedicure, is at it again. A few weeks ago I blogged about this wildlife rehabilitator-turned-psychic-medium and internet edu-tainer, and she's been a favorite on my Animal Oddities blog for Animal Planet.

In her latest video, Pink Mama reveals some sad news. Peach, the star of many a video on opossum care, has passed on. (This is not altogether surprising, given the strangely short lifespan of these odd North American marsupials.) Naturally, Pink Mama has decided to make the most of this sad situation by making a video dedicated to the proper way to dispose of a dead opossum.
Like I said in my first post about Pink Mama, I'm not making this up. And, really, who hasn't wondered about this age-old question? Watch the video below to learn what your options are if you're faced with the death of your very own opossum (and then learn more about opossums in this article from National Wildlife magazine). R.I.P. Peach!
Related
Popular in the Community