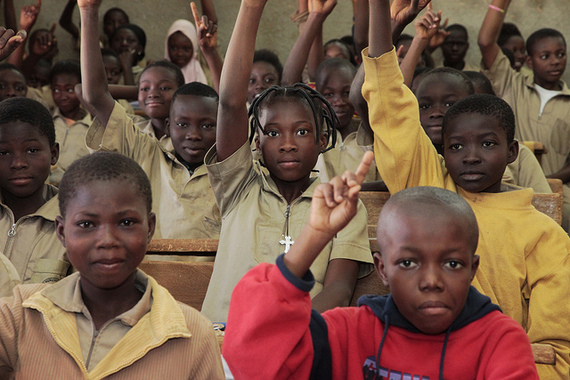 (Jessica Lea/DFID)
On Saturday 6th February, the world will mark the International Day for Zero Tolerance to Female Genital Mutilation (FGM). As a global health and women's rights advocate, I join the call for zero tolerance for FGM and other harmful traditional practices because the practice has a drastic impact on health and strips young girls of their agency when committed without informed consent. The harmful effects of FGM on women's health are both physical and psychological. FGM can cause infertility, maternal death, infection, and post-traumatic stress disorder, impacting the future of the 200 million girls and women globally, living with the effects of FGM.
A UNICEF report released today revealed that the number of women affected by FGM was 70 million higher than previously thought, emphasising that despite legislative changes across the world, FGM is practiced more widely than we know. Global Goal 5 has included the elimination of all harmful practices, such as child, early, and forced marriage and FGM within its targets. This inclusion will go a long way to encouraging countries that continue to permit FGM in making the requisite legislative changes to protect girls. However, making legislation a reality will require community sensitisation and mobilisation against FGM. In 2015, Nigeria banned FGM but a quarter of Nigerian women have already been affected by the practice. Legislation must be accompanied by cooperation with community and religious leaders to change cultural perceptions of FGM. Encouraging community reporting and vigilance will protect adolescent girls and women as we work together to enact this law.
As a women's health issue, we must also mobilise midwives as part of community responses to FGM and other harmful traditional practices. Across the African continent, local midwives are active in their communities and well respected by both men and women. As community focal points for health, midwives can educate communities about the importance of banning the act. Midwives can also be trusted confidantes for adolescent girls and women at risk of FGM and help communities 'self-report'.
But how do we take this further and embed the rights of adolescent girls and women within our societies in more than just zero tolerance for FGM? For me, this starts with adolescent children. As a mentor for the Girl Effect and proud signatory to the Girl Declaration, I believe we must empower young girls to lead and change the cultural attitudes that have put them in harm's way. Their empowerment will fundamentally transform community perceptions on girl's education, on women's health, on FGM, and on women's rights. Their empowerment will mark a shift in consciousness within our communities, proving once and for all, that gender equality benefits every member of society, in every way. In empowering young girls through the Girl Effect, we must also consider the 'boy effect' and make UN Women's He For She campaign a key part of all national education programmes for community cohesion and gender equality in line with Global Goal 5. If we can engage young boys, we can raise male allies who, alongside our empowered young girls and women, will protect future generations from FGM and harmful traditional practices.
Related
Popular in the Community