"I've fallen and I can't get up!"
You may've laughed along with millions of other Americans in the '90s when the catchphrase from a particularly cheesy Life Alert commercial was parodied over and over again on sitcoms and in the media.
But now that your parent is at an age where a fall can mean serious injuries and catastrophic implications for their quality of life, the overused line becomes less amusing by the day.
Clearly, there's nothing funny about the 2.5 million people aged 65 and older who are treated in emergency rooms across the U.S. each year for fall-related injuries, receiving treatment for everything from broken hips and arms to traumatic brain injuries. Many seniors who suffer these types of injuries face a tough recovery and are unable to live independently afterward. And the financial costs can be staggering -- with average fall-related hospital costs totaling $35,000.
In a recent Caring.com survey of 500 adults with aging parents or grandparents living alone or with a spouse showed that most respondents -- nearly eight in 10 -- are worried about those relatives' safety. And they're right to be - statistically, one in three seniors suffers an unintentional fall each year, and more than half of those falls happen at home.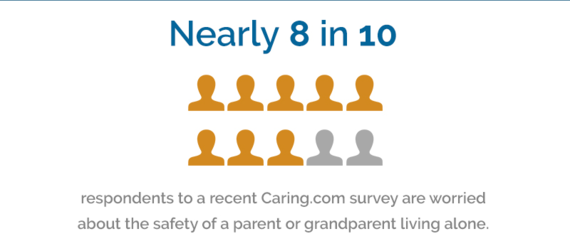 Yet, despite their concerns, more than 60% of survey respondents said that their aging loved ones living alone lacked several basic in-home safety features including raised toilet seats, entrance ramps or emergency response systems.
Stop Worrying and Take Action
The good news? Most senior falls are preventable. And since a lot of falls happen at home, one of the best things you can do is to ensure your loved one's house is as fall-proof as possible. With the holiday right around the corner, many adults are planning to visit their aging parents' home. This year, set aside some time during your visit for a home safety check.
Here's what to keep an eye out for.
1. Take a longer bathroom trip.
According to a 2011 CDC report, the bathroom is an especially dangerous part of the home for falls. Its slick surfaces make the bathroom a likelier spot for unintentional falls, so grab bars in the tub or shower and next to the toilet can be an important safeguard. Raising the toilet seats in your parent's home can also help prevent falls, especially for seniors with muscle weakness or disabilities.
2.Make sure the home is well lit.
Many senior falls are caused by poor lighting, so ensuring that the home is equipped with strong lighting is key, especially if your parent has vision problems. You'll also want to make sure that your loved one can easily turn on the lights when they get up in the middle of the night.
Notice any loose carpeting or rugs, or clutter on the ground like boxes, clothing or books? Secure or discard loose rugs or carpet, and clear away clutter on the ground that can be tripped over.
4. Are stairs and entryways safe?
Inspect any stairs or entranceways in your parent's home to check for any broken or uneven steps. Make sure stairways have two secure rails and arrange to fix any steps that are uneven or in disrepair. You might also consider having an entrance ramp to the front doorway installed if your parent has difficulty getting to and from the door.
5. Ask your parent about the last time they saw their doctor.
A number of health conditions can impact your aging parents' likelihood of falling. Vision problems, osteoporosis, Vitamin D deficiency, and the use of certain medicines such as anti-depressants or sedatives are all factors that increase a senior's risk of falling. Make sure your parent is getting their regular checkups and encourage them to have their doctor evaluate their risk of falling.
6. Gift your parents with an emergency response system.
While an emergency response system won't prevent falls, having one can be a literal lifesaver in the event of a fall. Personal emergency response systems, usually worn as a wristband or around the neck, connect users to a 24-hour call center with the click of a button. Most of these systems are set up so that users can speak with call center staff from anywhere in their home. Once a user pushes the button, call center staffers assess the situation and decide whether to send a designated friend or family member or an ambulance.
For many adults, a visit to a parent's home can be a wake-up call that their living conditions are unsafe. Keep your eyes open, talk to your parents about any hazards you see and take action where necessary. It could end up saving their lives.
REAL LIFE. REAL NEWS. REAL VOICES.
Help us tell more of the stories that matter from voices that too often remain unheard.