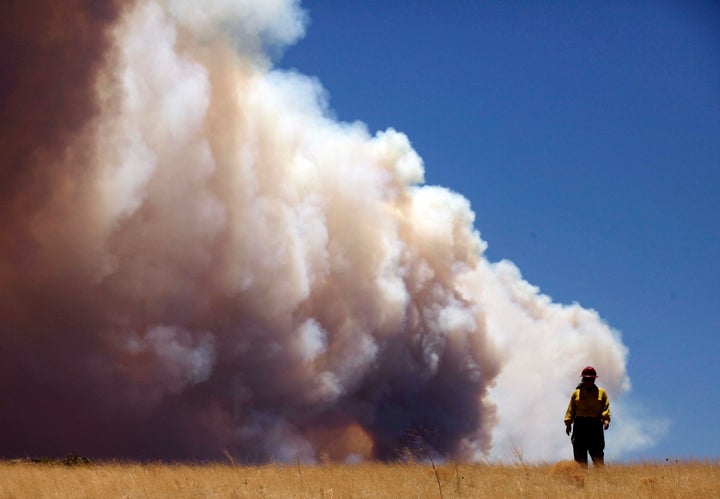 The massive wildfire raging across eastern Arizona is a vivid reminder of how suddenly and rapidly fires can erupt and take over this time of year. As of Wednesday, the blaze -- known as the Wallow Fire -- had burned more than 600 square miles and caused as many as 5,000 people to evacuate their homes, reports Reuters.
According to data from the NOAA National Climactic Data Center, there has been above-average fire activity in parts of Oklahoma, Texas and New Mexico, where several large fires decimated millions of acres and destroyed thousands of structures earlier this year. The NOAA stated that by the end of April, most of the high fire danger in these regions had subsided. But in states like New Mexico, Arizona and California, fire season is still revving up. If you're in an area prone to wildfires, here's how to make sure that your community is prepared.
Create Defensible Space
CAL FIRE defines "defensible space" as the "buffer you create between a building on your property and the grass, trees, shrubs or any wildland area that surround it." Having adequate defensible space can keep wildfires from jumping to structures and provide a safe area for firefighters while they protect homes.
Some states, such as California, mandate a specific amount of defensible space; check with your local fire department for the law in your area. In general, make sure that the space extending 30 feet away from your home -- buildings, porches and decks -- is clear of all dead plants, grass and weeds and that your roof and rain gutters are also free of dead and dry leaves and pine needles. Reduce flammable plants and shrubs (such as juniper, holly and cedar) in this area, and create space between vegetation and items that could catch fire, such as wood piles. For the 70 feet beyond that, be sure to mow grass to a height of no more than four inches, remove all tree branches up to at least six feet from the ground (to prevent "ladder fuels") and ensure adequate spacing between trees and shrubbery.
If you maintain your defensible space but a neighbor doesn't, you're both still at risk. Work together to reduce wildfire fuel and maintain defensible space throughout your neighborhood.
"Harden" Your Home
In areas where homes are often threatened by wildfire, a combination of defensible space and "hardening" your home is recommended, says CAL FIRE. By using ignition-resistant materials for roofing, siding and decks, covering vents (which can create openings for flying embers) and installing dual-paned windows, you can maximize the odds of your home surviving a wildfire and stopping it from spreading to other homes.
The University of California Center for Fire Research and Outreach has developed a Homeowner Wildfire Assessment you can use to determine your home's vulnerability to wildfire. If you're part of a homeowner's association or other neighborhood group, encourage everyone to do an assessment.
Check That Your House Insurance Policy Is Up to Date
If you might be in the path of a wildfire, get in touch with your insurance company, says executive director at the Arizona Insurance Council, Ron Williams. He tells ABC15 that homeowners should make sure their insurance covers the cost of replacing their house (not just what the house is worth) and that the policy covers evacuation costs, such as meals and hotels. And tell your insurance company about any recent updates or remodels to the house, to ensure the most accurate replacement cost of your home if it does undergo damage.

Make an Emergency Plan
Get together with neighbors and discuss what to do if a wildfire approaches your community. Designate specific people to assist neighbors who are elderly or disabled in the event of an evacuation. Make sure everyone knows where evacuation shelters are typically set up in the surrounding area. Within each family, designate an emergency meeting place outside of the area, and know at least two different routes to get there. Ready America also recommends choosing an out-of-town contact with whom to check in if local phone lines are down. Make sure all family members have that person's contact information in their cell phone.
Keep an Emergency Kit Handy
If you do need to evacuate, the American Red Cross advises taking the following items with you:
A three-day supply of water (one gallon per person, per day) and nonperishable food, a flashlight, a battery-powered radio, extra batteries, a first aid kit, a seven-day supply of any medications you take or medical items you need, sanitation and personal hygiene items, copies of personal documents (medication list and relevant medical information, deed/lease to home, birth certificates, insurance policies), cell phone and chargers, family and emergency contact information, cash, a blanket, a map of the area and any other essential irreplaceable items.
Popular in the Community