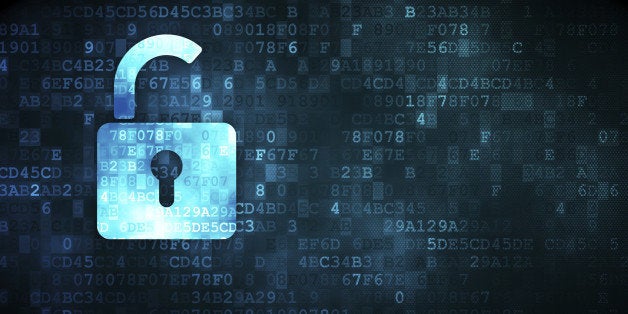 "Can't I date online more privately?" my client Michelle* asked. She's an executive working in a male-dominated industry and is wary of bumping into people from her boardroom. It happened once on The League, an exclusive, invite-only dating app. Awkward.
As an online dating coach, I get asked about digital dating privacy often. My client Allie* is the editor of a magazine for a small community, and last week her Match.com date said a few things throughout the evening that raised red flags for her. The details he referenced weren't in her profile, so it was clear he had Googled her before meeting up. "I was glad I hadn't given him my number yet," she said. But after their date, he sent her a thank you ... to her work email address. He seems harmless, potentially oblivious to how unsafe this could make a gal feel, but needless to say, she's making some changes to her online dating approach now.
The truth? We're living in a hyper-connected world where the above scenarios could happen to anyone. So frankly, you should be concerned with privacy! The more information that exists about you on the web, the more measures you need to take to keep yourself sane and safe. There's nothing to be afraid of with online dating -- you can still meet fabulous matches in a safe way! -- but you need to be intelligent about the information you post and the actions you take. Use my privacy checklist to keep your digital dating domain a little more intimate:
•Know What They Know: You might be surprised what appears in a search engine even without your last name. So once you write your profile, sit down and create a list of the top five terms that someone has access to about you -- the words right there in your profile. One which we find commonly pulls up someone's identity is: your first name + your job description + your alma mater.
When you get a hit that is, in fact, you, stay calm. Staying under the search radar is often as simple as deleting a few words from your profile. For example, with my client Allie, it was her job that set off the Google search. Even when she simplified the way she described her career, it still resulted in her identity. So she nixed it from her profile entirely, opting only to select an industry drop-down from the dating site instead.
You might get a lot of hits if your name is unique, so in extreme cases, you may want to consider signing your messages with a different name. I don't mean lie, but instead protect yourself by using only your first initial ("B"), a different spelling of your name ("Bettie" instead of "Betty"), or a nickname ("Bette" instead of "Bettina"). It's unlikely a man would fault you for being savvy and safe.
•Go Incognito: For clients concerned with seeing coworkers on a dating app or site, I usually suggest they rethink this worry of theirs. If the other person is a member too, what do you have to be embarrassed about? But for clients like Jennifer who find the concern insurmountable, there are new, special features that allow you to pick and choose who sees your profile.
Match.com's "Private Mode" makes your profile invisible to everyone you're not communicating with -- so, essentially, you pick and choose each person that's able to see you. When someone you message views your profile, it looks just the same as any other -- no special call out that you're keeping things under the radar. OkCupid's newly-launched "Incognito" feature works the same way. Other sites and apps use Facebook Connect to automatically remove people already in your circle from your view. The idea is that if you already know them, you have other ways to flirt with them -- or maybe it hasn't happened for good reason! This feature is most common on sites where the community is more curated experience, like the dating site Sparkology, and the app The League.
•Create a Digital Bodyguard: Once you've made plans to get offline with someone, you need to exchange phone numbers so you can communicate if he is running late or there are other logistics that don't go according to plan. Or perhaps, most guys want to chat with you before you even plan your date. But a lot of women tell me they just aren't comfortable giving someone their digits until after they've met since... well... they're still a stranger. Catch 22.
Google Voice is the best solution -= you can create a new, free phone number that still rings on your cell. Using the app, you can send and receive texts, accept and listen to voicemails, and even block numbers from your matches who get a little unruly. Some dating sites also have their own calling systems, which are available for a fee.
And if you're using a dating app, check your Facebook settings! Since apps pull in your Facebook data, that often extends to your phone number if it's listed in your information section.
Remember that safety should extend into the real world, too. You've heard all the dating safety tips a million times =- meet in a public place, never let someone you're unsure of into your home and let someone know where you're going. But to take it up a notch, get some pretty jewelry with a tech touch. My favorite new wearable is Cuff. Among other features, a discreet button on your necklace or bracelet will notify an emergency contact of yours that something isn't right, and send them your location via GPS. I hope you'll never have to hit that button, but knowing it's there should give you peace of mind and keep you focused on flirting.

* Names have been changed for confidentiality purposes.
Laurie Davis is the CEO & Founder of eFlirt, a personal branding service that helps singles navigate the online dating world and create lasting relationships. She's also the author of the best-selling book, Love @ First Click: The Ultimate Guide to Online Dating. Recently, Laurie wed her tweetheart, who she eFlirted with in 140 characters on Twitter.
Support HuffPost
The Stakes Have Never Been Higher
Related
Popular in the Community