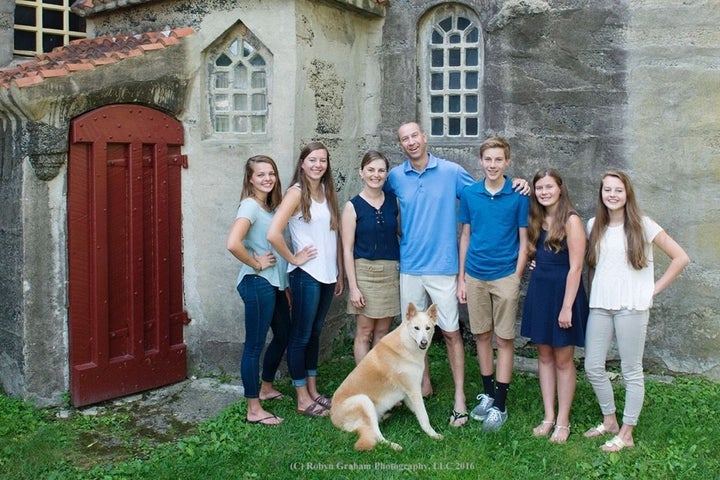 As part of our Blended Family Friday series, each week we spotlight a different stepfamily to learn how they've worked to bring their two families together. Our hope is that by telling their stories, we'll bring you closer to blended family bliss in your own life! Want to share your family's story? Email us at divorce@huffingtonpost.com.
When social media consultant Jennifer Gardella began to get serious with her boyfriend Dave a few years ago, she hoped their two sets of kids would hit it off right away.
At some point during those first few "crazy" years, she realized that blending a family wasn't going to happen as effortlessly as she'd hoped.
Below, Jennifer, who lives in New Jersey with her kids and Dave, who is now her husband, shares how she learned to let go of her expectations and simply love her family.
Hi Jennifer! Please introduce us to your family.
There are seven of us. Eight if you count our dog Cassy! There's my husband Dave and his two children, Will (15) and Sara (12). I have my three daughters, Allie (19), Vicki (16) and Stephanie (15).
Dave and I have been together for three years. We were married this past July.
What are some of the biggest challenges of blended family life so far?
When we first got together, it was really important to me that we started off as one family and honestly, that feeling ebbs and flows. There are times when we are moving in the same direction and then other times when there is a divide. The kids tend to align with their own parent in our home for direction which is natural. Even though we try to say "our kids" the two sets usually stick together in activities and then to and from their other parent's home.
I stewed about this for a while, but I've really learned to let it all go. I cherish the times when we do feel like "The Brady Bunch," though ― when we're are all around the kitchen table or crammed into the minivan (yes, all seven of us, including the dog) headed for family vacation.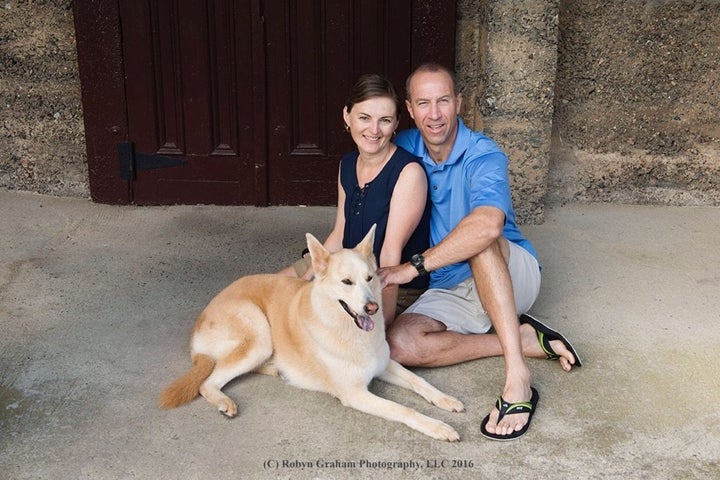 What's the best thing about being part of a blended family? What makes you proudest of your family?
I love the hustle and bustle of so many of us in the house. I love to see the kids goof off together in our home or when they drive off as a group to get ice cream or go shopping. Allie is off at college and keeps in touch with Sara via Snapchat ― they have a streak going.
Our kids are genuinely proud of each other when something happens. My girls were thrilled when Will made the soccer team. Will and Sara will come and support Vicki at a swim meet or Steph as she cheers at a football game. Last year we drove down to see Allie at college.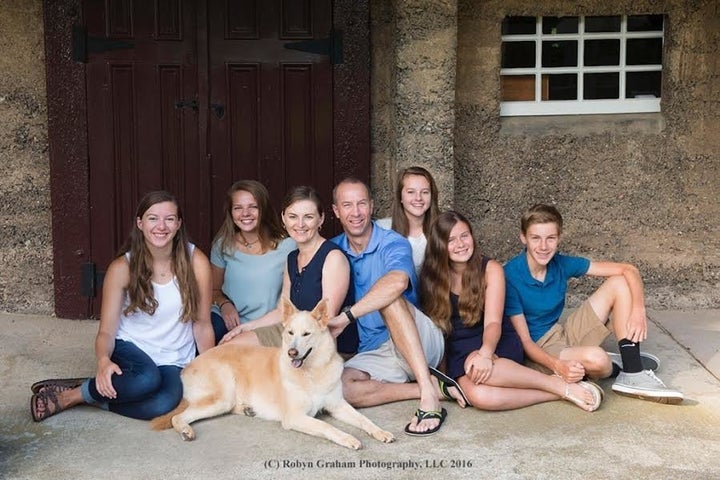 How do you deal with stress in your household?
We try to look for the reason for the stress. For instance, the kids get stressed about studying at night and Dave and I are quite loud. That causes problems when we are all home at night. He and I go for walks and talk about our day and give the kids a bit of peace. When we return, they are usually all together talking which is really awesome.
What advice do you have for parents struggling to raise their kids as one family?
Take a huge step back. Children did not ask for the world of divorce and certainly did not have any say in the blend. They might not be ready to look at you as "family," so don't rush them. It can be helpful to find common ground with each stepchild individually. I took tennis lessons with Dave's daughter (she is much better than me) which gave her endless opportunity to laugh. Dave drives my daughter and her friends around. It is the little things where they see each of us making an effort that can make a difference.
Realize that no matter how much you love your partner and how much you want the blend, it is not going to be easy. We thought that since we had this amazing relationship and agreed on all aspects of life, it was going to be easy. It was not at all, with five kids in four different schools (one off to college), in four different sports and our two careers. It was a lot to juggle and fit together. The dog, who witnesses all of the insanity, can attest that while there are more people to pet and walk her around, it has been a whole lot of work.