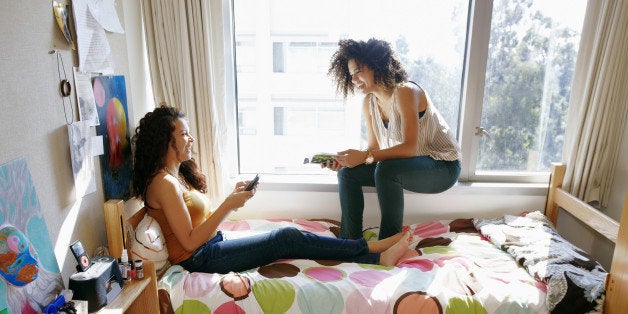 It's the summer before your freshman year, and we know that you're more than excited about all the things college will bring. But of all the things that excite you most about college, your future roommate (or roommates, if you're assigned more than one) is probably near the top of that list!
At the same time, rooming with a stranger can put many people on edge, especially since you'll be rooming with her for a whole year. But getting to know your roommate before you move to campus can help with a lot of worries you might have. Read on to find out how you and your future roommate can reach out to each other and start on the right foot!
How should I contact my roommate?
Many colleges assign roommates randomly, and when they do, they usually give out some contact info for you to get in touch with whomever you're living with. If the college you'll be attending does that, how should you start talking to your roommate?
Colleges that do give out roommate contact info usually give you your roommate's email address, and email can be a great way to introduce yourself! Because you've never met or spoken before, it's fine if your first interactions with each other are more formal since you're just trying to establish some sort of contact with your roommate.
While some roommates don't talk to each other all that much before college starts, others want to talk way more. If you and whomever you're living with fall into the second category, there's going to be a point where you might want to move away from email and get the conversation going elsewhere. Email is great if you want to keep up a steady dialogue, but you may want something more conversational and lively as time goes on.
If you and your roommate are more eager to get to know each other, start chatting each other! This is where Facebook, Gchat and any other chat service comes in. Chat conversations are more informal, but they also give both of you enough distance since you're not super close yet. In cases where you and your roommate talk constantly, you're likely going to want something more personal than email, which means chatting online is a great way to stay in touch.
Many colleges don't actually give out roommates' phone numbers, but if they do, you're going to want to save it for way later, once you're actually comfortable with your roommate. Calling your roommate as a first point of contact could be a little too much since you don't know each other yet, so definitely avoid phoning her up until you've gotten to know each other better!
Popular in the Community