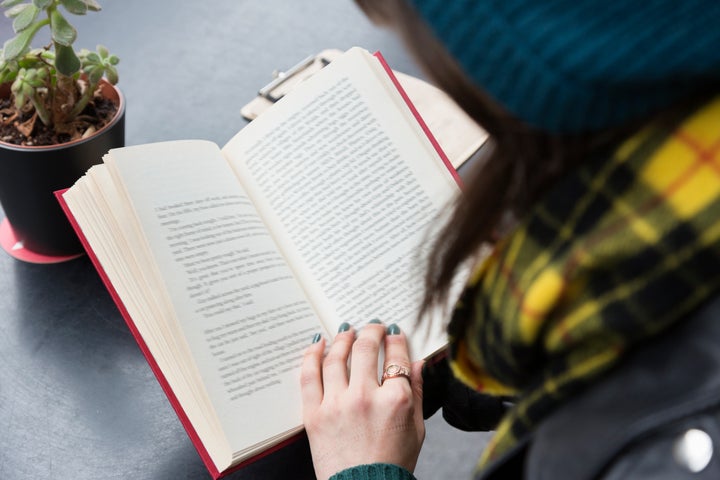 We're less than three weeks into the new year, and if you're like many people who set a New Year's resolution, you might already be struggling to maintain it. But if reading more is really important to you in the new year, you can rest easy. We've got some tips for the wannabe bibliophiles out there, whether reading was part of your resolution or not.
We spoke to experts and book lovers about what you can do to carve out time for reading and make it more enjoyable so you'll actually want to make that time. While some mentioned the importance of creating a relaxing space and others noted the value of reading groups, one detail they all mentioned was the importance of being patient in learning your preferences when it comes to genres and authors.
Allyson Lewis, a time management and productivity expert and creator of "The 7 Minute Life" training, told HuffPost it's difficult to create a habit (involving reading or otherwise) if you don't enjoy, or at least appreciate, the focus of it.
"If you're going to read, read about things that you love, read about things that are already interesting to you rather than create an obstacle," she said.
American Library Association President Jim Neal echoed those thoughts and suggested that reviews are a helpful starting point for determining what genres and books you should seek out. He also noted that libraries offer a way to easily explore your preferences.
"The library is a way to try new works that are out there," he said. "It's a way to test a new author without having to invest in the books."
If you already know what genres you enjoy, but reading on your own isn't your thing, there's a large Instagram community known as "bookstagram," a space for reviews, recommendations and perfectly color-coordinated photos of books that you can find under the #bookstagram hashtag. Rima Rashid is a London-based member of this community and has more than 10,000 followers on her Instagram account. She calls herself a "mood reader."
"When I've read a handful of heavy material, I tend to choose a young adult fantasy," she said. "Or if I've watched a wicked crime show, I want to 'whodunnit' all the thrillers on my shelf."
Rashid encouraged readers of all levels to create a Goodreads account to keep track of what they read. Once you add books you have already read, the site will recommend similar books, taking care of part of the work for you.
Warda Hamza is another influential member of the "bookstagram" community with her 11,000 Instagram followers. She also dubbed herself a "mood reader" who reads on her morning and evening commutes as well as on her lunch break, before going to bed and on the weekends.
For reluctant readers searching for that spark to open a book, Hamza suggested "readathons," which are popular within "bookstagram" and with book YouTubers or "booktubers."
"It's nice to also get involved in 'readathons' that happen around the book community, where everyone's aim is to read as much as they can within a specified time period," she said. "The encouragement is motivating and enjoyable."
Small details can also make a significant difference in your reading experience. Lewis suggested having a "physical space where you like to read" dedicated to flipping those pages. Rashid sometimes keeps distractions at bay by putting her phone on airplane mode and turns to the space around her for added motivation.
"Essentials can always help to set the mood," she told HuffPost. "In fact just yesterday, I enjoyed a big mug of tea and a slice of brownie with my current read while a candle burned in the room."
As with many goals and resolutions, try not to be too hard on yourself and be open to variations. Neal encouraged readers to not rule out audiobooks or e-books, while Rashid noted that her idea of reading includes more than just novels.
"I know a lot of people may view reading as a luxury in a fast-paced, digitized world (one where everyone is on their phones!), but reading for me is the same as eating three meals in a day. It's a daily habit," she said. "When I can, I try to isolate myself and enjoy a 'reading session.' But it doesn't always have to be a novel! We read so many words in a day and my eyes are always glued to news headlines or tube posters."
If you've made it this far, you can even count this article as part of your reading time. Well done.
Related
Popular in the Community