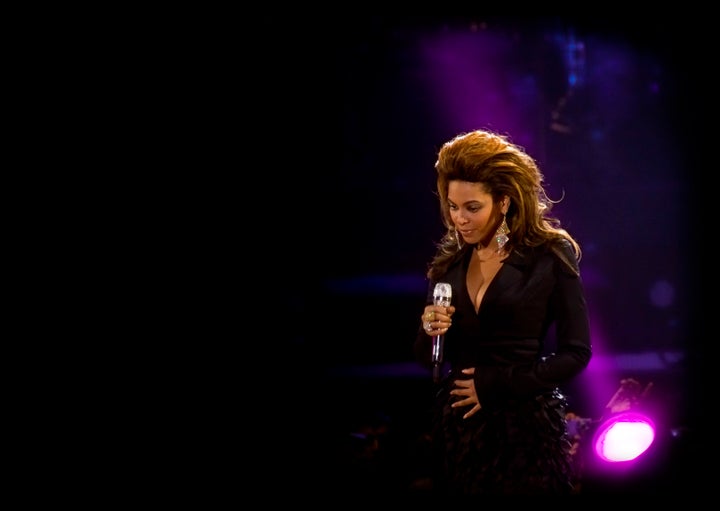 Can a personal brand transform successfully from one extreme to another? Beyoncé did it. She changed her personal brand identity from sex symbol to feminist. She could have lost her credibility and the trust of her loyal fan base. But it seems like she knew exactly what she was doing. She rebranded at least five times. And her fans loved it. It was an important part of Beyoncé's branding strategy. Her fan base grew bigger and stronger because of it. How did she manage to rebrand so drastically without loosing her credibility?
This question was raised during a talk at #OnBrand17, an annual branding conference in Amsterdam. Although the list with speakers was impressive, there wasn't a lot featured about personal branding. The only talk I could find covering it was called 'What brands can learn from Beyonce' by Alain Sylvain from Sylvain Labs. His talk inspired me to write this blog post about Beyoncé's successful rebranding process.
1997 - Destiny's Child: shaping the brand
Beyoncé started her career in 1997 as the lead singer of girl band Destiny's Child. During her time in the band, she started designing and building her personal brand. With her father being the manager and her mom the stylist, Beyonce's brand identity started to take shape. She positioned herself as an empowered sex symbol. This especially appealed to female fans who wanted to identify themselves with her.
2003 - Dangerously in love: taking the first steps as a solo artist
Probably the best move in Beyonce's branding strategy was partnering up with influencial hip hop artist Jay Z. This put her on the map as a solo star. The romantic relationship between the two was kept a secret for a long time. They waited until 2004 to confirm what everyone already knew.
2008 - Sasha Fierce: transitioning from single lady to talented performer
Beyoncé developed Sasha Fierce as an alter ego. She used her whenever she needed her. But it was also a way to slowly shake off her sexual image and brand herself more as the talented and hard-working performer with a fantastic voice.
2010 - RIP Sasha Fierce: loosing the sex symbol image
In 2010, Beyonce declared Sasha Fierce dead. She no longer needed to hide behind her alter ego, who according to her, had nothing to do with who she is in real life. "I don't need Sasha Fierce anymore, because I've grown and now I'm able to merge the two," she explained.
2013 - Mrs. Carter: becoming a wife and a mother
A few years after she married Jay Z, Beyoncé announced she was pregnant of her first child. She revealed her pregnancy 'en plein public' at the end of her performance at the MTV Video Music Awards. After she dropped her mic, she unbuttoned her jacket and rubbed her belly. The internet exploded over the news. A new brand identity - Mrs. Carter - was born and Beyoncé again exploited it by creating a campaign and tour around it.
2016 - Bee: being an icon and a role model
There is a time limit on being a pop star and Beyoncé knew that. During an interview with Marie Claire U.K. back in 2008, she said: "I'm over being a pop star. I don't wanna be a hot girl—I wanna be iconic. I feel like there comes a point when being a pop star is not enough." She realized that, to become an icon, she had to step up and act like one. That's exactly what she did. She became a symbol for the new feminism, supports movements like 'Black Lives Matter' and donated millions to the victims of Hurricane Harvey in Houston, her home town.
As you can see, Beyoncé rebranded at least five times. She managed to do that and keep her credibility. There are five lessons we can learn from her successful rebranding process.
Lesson 1: Don't rush it
Rebranding from sex symbol to activist and philantropist is not done overnight. In fact, Beyoncé spent twenty years to do it. She developed five successful brand identities over the years.
1997 - 2002 Sex Symbol
2002 - 2008 Single Lady
2008 - 2013 Wife and Mother
2013 - 2016 Feminist
2016 - now Activist and Philantropist
Lesson 2: Be authentic
Over the years, Beyoncé shared more authentic content - like behind the scenes images - on social media. And her music became more authentic. Where it was R&B, pop and hip hop in the past, her album now covers a variety of genres such as funk, soul, blues, reggae, country, rock and gospel.
Lesson 3: Be frugal
At the beginning of her career, Beyoncé' s private life was off-limits. Over time, she allowed her personal life to become more public. At one point she even made her family life her new defining feature. But again, she did not rush it. Yes, she gave us more insight in her personal life, but she took her time and didn't reveal everything at once.
Lesson 4: Be intentional
Beyonce has a great sense for what is happening in the world - especially the world of branding. We no longer live in a time where we want things to be forced and scripted. It is about bringing value and being real. Beyoncé gets that. She is the early adopter by intention.
Lesson 5: Stay humble
We are no longer impressed by celebs who present a 'perfect picture'. We want to see their human side by learning about their personal struggles. Adele was open about the anxiety attacks she suffers from before she has to go on stage. Taylor Swift shared details about her sexual assult case and Lady Gaga confessed being bullied 'for being ugly' when she was younger. Beyoncé shared her family struggles such as miscarriage and infidelity.
Beyoncé proves that it is possible to transform a personal brand dramatically. But if you want to be successful, you have to take a few things into account. Don't rush it, take risks, stay humble and authentic. Oh yeah, last but not least, Beyoncé seems to be able to predict the future. So find yourself a cristal ball and get going!
Related
Popular in the Community