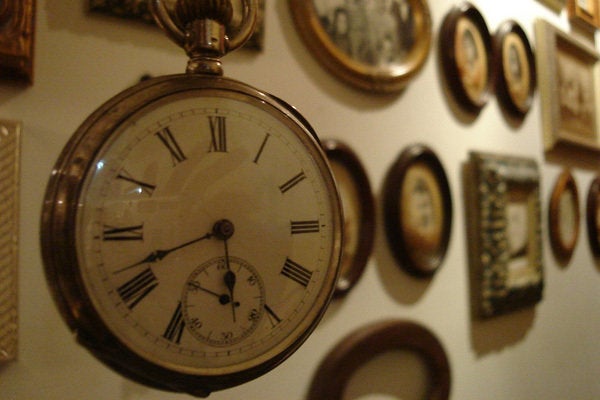 Do you find yourself sinking under the blaze of busy? Are papers marching across your desk in such a mad frenzy that your mind is goes blank the moment you sit down? Ahhh. What to do? I face this challenge myself on a daily basis, and asked fellow Huffington Post blogger Karen Leland, author of Time Management In An Instant: 60 Ways to Make the Most of Your Day to share tools to untangle your day.
Write It Don't Fight It
All those undone items tug at you to get done today, or be as far off in the future as retirement. The trick is to gather them together by writing them down so that you don't have to waste valuable mental real estate trying to keep track of them.
Think of your brain as a computer hard drive - it can only hold so much memory. When a hard drive reaches it's capacity, it starts to slow down and wonky things happen. (What are your weary wonks? I know we will all get a laugh out of sharing them.) By capturing your open items on a list your brain is freed up to focus on what's in front of you right now. The ideas and to-do items that comprise these lists come from a variety of different sources including:
• Conversations with family, friends and business associates
• Something you read (book, magazine, business brief, research paper etc.)
• Items you receive in the mail (a brochure, invitation, pamphlet etc.)
• Emails
• Classes you take
• Conferences you attend
• Voicemail
• Professional groups you belong to
• Meetings you attend
• Your in-basket
• Your desktop
• Your file drawers
• Your closets, cupboards and cabinets
Just taking the time to capture all the open items in your life and write them down can dramatically improve your ability to focus and get things done. You can do this all in one sitting (in which case you will need at least a day) or in short spurts. Please do this and let me know how you feel at the end of the process. My bet is that you will feel far more focused and far less stressed. Please let me know!
Drain Your Brain
Go Through Your Spaces At Work and Home.
Look through your desk drawers, desktop, in-basket, closets, cupboards, shelves and file drawers and make a master to-do list of anything that needs to be done based on what you see. For example: As you look in your file drawer do you: Need to clean out last years financial file and store the receipts, make file folder labels for the most recently added documents, follow up with a potential client, whose business card you found stuck in one of the folders.
Go Through Your Electronic Spaces.
Look through your email in-box, PDA and voicemail messages and add any action items to the existing master to-do list that you are not going to handle immediately and are not recorded elsewhere. For example: An email from a colleague requesting you make a few changes to a report you wrote, a voice message from your brother about possible dates for a family reunion, an email from the professional association of crawfish-catchers announcing their annual crab feed fund raiser.
Go Through Your Brain
Look through your own mind and using the list above write down any relevant to-do items. Once you have done this final emptying out, you can keep this system squeaky clean by adding to your master to-do list anything that pops into your head.
Reinvention Tip:
Some people prefer to keep a master list of all these various and sundry to-do's and transfer them to a daily or weekly to-do list as needed. Others prefer a detailed breakdown of the master list into more defined categories.
Get Hands On Help:
Go to:http://www.amazon.com/Time-Management-Instant-Career-Press/dp/160163014X to get more information.
Eli Davidson is a nationally recognized executive coach and motivational speaker. Her book, "Funky to Fabulous: Surefire Success Stories for the Savvy, Sassy and Swamped", (Oak Grove Publishing) has won three national book awards. Eli is a reinvention catalyst, who can transform your professional and personal life from Funky to Fabulous with her ten, trademarked Turnaround Techniques that create rapid and remarkable results. Check out her blog at http://funkytofabulous.blogspot.com/