Powder rooms are often the last spaces people focus on in their homes. They pick a color scheme, buy some towels and a soap dispenser, and call it a day. However, designing a small space doesn't have to be so... lackluster. Spicing it up can be as easy as picking the right tiles. By designing with tiles, you can easily reinvent a small bathroom that is visually appealing while remaining functional. There's a reason tiles have been used in design since 4,000 BC!
I love incorporating tiles into my designs for multiple reasons. They are durable, easy to clean, versatile, and can be made from a range of materials--glass, stone, metal, porcelain, ceramic, plastic, and even leather. Providing aesthetic variety with color, patterns, and shapes, tiles can turn dull into fantastic, boring into exciting. They can also help a space appear more expansive and balanced.
Don't Be Distracting
In small spaces, it is best to use the same size tile all over. Too much distraction with different sized tiles will make the bath appear smaller.
Be an Illusionist
If the ceiling height is low, paint the ceiling a light reflecting white, even if the wall tile is a light color. It will give the illusion of the ceiling being higher than it is.
If you are using a strong graphic pattern, consider using it on the back wall or back wall and floor, so that it makes a strong statement, but does not become overwhelming in scale. Placing it on the floor and back wall also creates the illusion that the space is deeper than it is. In other words, it adds depth.
Keep Things Straight
All joint lines should line up in every direction if possible. Another reason to use the same size tile in a small space.
If the tile has a specific direction to it, consider how it will play out in the room. For example, if the direction is distinctly horizontal and the wall is narrow, that will make the room appear wider.
Try using a border that runs continuously around the bath to create interest and continuity by tying all the walls together, even if the pattern is slightly different.
Be Bold But Balanced
Use bold color to make an impression, but use it sparingly. Offset bold with quiet and subtle. Remember - Balance is key!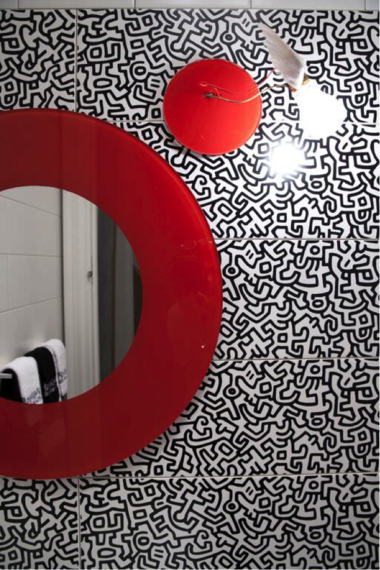 Credit to Lucea Spinelli Photography

For additional powder room and bathroom renovation ideas, check out this helpful article on Freshome.com. I love Cynthia Bowman's "cool, sleek" ideas!