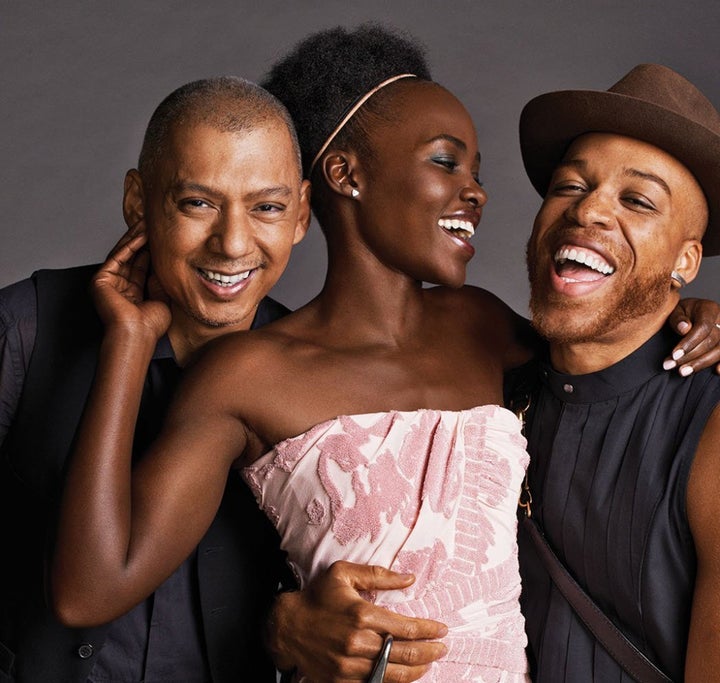 Celebrity natural hairstylist Vernon Francois and his natural haircare product line, The Vernon François® collection, will rejuvenate your overly flat-ironed, moussed up natural hair in no time. Apparently, we've been doing it all wrong. Hair shouldn't be treated like a piece of greasy chicken. Vernon says that "with conditioner, you only need enough to cover your strands; it's not productive to overload it because eventually this can lead to build up." And with his new conditioners that smell like Parisian palace, your hair will be thanking you after the first wash. Go inside our conversation about natural haircare, terrible "texturizers," and the difference between Hollywood hair and natural looks.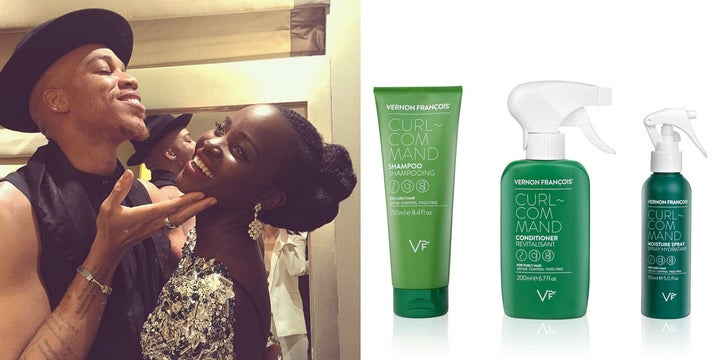 Can you tell my readers a little bit about your background? Where are you from? How many years of experience do you have with doing hair?
I'm from Huddersfield in the UK, but now live in Los Angeles and my work is very international so I travel regularly; I'm often in London or New York. I grew up in a Rastafarian family and textured hair has always been my true passion, ever since I can remember. Sundays in our household revolved around two things; my mother cooking and us five brothers taking it in turns to have our braided for the week. Having my hair done was always quite painful and one day Mum had enough of me complaining so said I should do it myself. I was eight years old at the time and that exact moment was the start of my journey in exploring the possibilities of textured hair. I became completely fascinated with braiding, locing, twisting, creating and spent hours practicing with anything tasselled I could find; fringing on the living room rug, Grandma's beaded curtains, you name it. My first set of box braids were on a mop head! My first job was at a salon on London's Oxford Street when I was 14 and I've been working in the industry for 18 years now.
Who was your first big break as a celebrity hairstylist?
My big break, recognition-wise, was winning my first industry award when I was aged 17; and the double gold medallist Olympic champion Dame Kelly Holmes was the first celebrity whose hair I styled, which was in London many years ago.
When called to do hair for a celebrity, do you always have a hairstyle in mind or do you collaborate with your clients?
When I style a celebrity's hair, particularly if it's for a special event, the approach is almost always collaborative. The client needs to be happy, comfortable with and excited by the vision, plus all elements – wardrobe, hair, make up – need to work in harmony to create one overall look that's going to have exactly the right impact for the occasion.
I've heard around town that "Hollywood hair" or always red carpet-ready hair is hard to maintain/style. What would you say is the difference between Hollywood hair and normal hair?
Hollywood hair needs to have major staying power; because at whatever point during an event the celebrity is photographed the look always needs to be consistent. Attention to detail is also important for Hollywood hair; not necessarily neat and tidy (if that's what you're going for) but finished from all angles because you know every side will be on show. You want products that will support this, without the result appearing heavy or over-dressed; which is why I love Sebastian's Zero Gravity Shaper, it's wonderful for holding delicate looking styles effortlessly in place. I think that there is less pressure and more flexibility with 'normal hair' because it can transition during the day if required and less product is needed. I'd say that generally the focus is usually more on keeping hair well moisturized during the day rather than dramatically shaping and holding.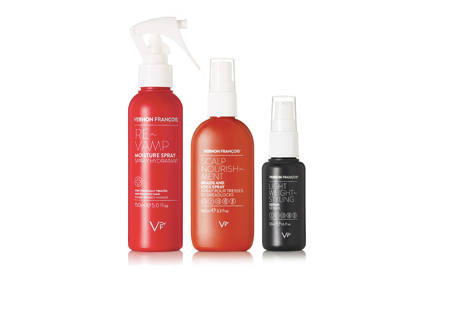 Congrats on your product line and the expansion with the new Whipped Conditioner! Tell me more about it the product line and what we can expect from the Vernon Francois collection in the future.
My collection is for all types of textured hair, from kinky to coily, curly to wavy, and damaged hair that's been heat-styled, color or chemically treated. There are three color coded ranges plus graphic icons on the front of each bottle, which make it extremely easy to identify what's going to work best for your own hair. The current emphasis of the collection is on getting the foundations of textured hair care right; with sulfate-free shampoos, spray-on rinse-out conditioners, detangling moisture sprays, a co-wash, finishing products like a non-sticky lightweight serum, a braids and locs spray which nourishes the scalp, plus accessories. The new Whipped Deep Conditioner perfectly complements this line-up, for all types of hair, particularly very dry or damaged. It contains a potent blend of 15 amino acids which penetrate the strands, actively building strength and repairing from within. In the future? There are lots of exciting new products being worked on as we speak - you'll have to keep checking my social media for announcements!
Which of your products do you use on Lianne La Havas/ Tracee Ellis Ross/ Ruth Negga?
I always use the Moisture Spray from my collection best suited to the hair type of each of my clients. With Lianne La Havas and Tracee Ellis Ross it's PureFro and for Ruth Negga I will mix and match the Curl and ReVamp varieties. They are all excellent for detangling as well as hydrating thirsty hair with a much-needed moisture boost, so hair looks instantly more refreshed yet the finish is not at all heavy or greasy. You can use them after shampooing and conditioning or in-between washes to revive style.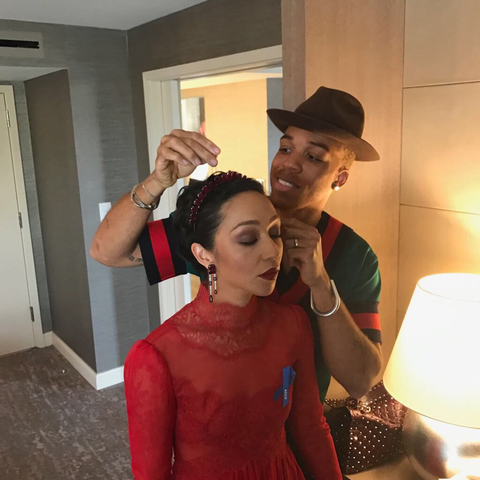 What are some of the recurring problems you see in the natural hair care realm?
A problem that I'm regularly asked about is breakage. Hair with any kind of curl pattern to it, be that coily, kinky, curly or wavy, is generally drier than straight hair because the natural oils produced at the scalp have a longer journey to take, winding around twists, turns and kinks.
A myth, that may lead to problems, is that applying more product gives greater benefits. With conditioner, you only need enough to cover your strands; it's not productive to overload it because eventually this can lead to build up, which in the long term can make hair dryer because the good stuff from future applications can't get through. Loading the hair with heavy butters or pomades can weigh hair down and mask the curl pattern. If you do use these, try using half as much as usual, working it properly through the hair and seeing if the lighter amount allows your kinks and curls to show more personality with natural movement.
I gave my hair a Just For Me texturizer a few months ago, and now my hair has outgrown the texturizer and is shapeless. How would you handle and what do you recommend for me to help transition my hair back to it's natural state?
Using any kind of keratin straightener (relaxer or texturizer) on the hair will change the natural texture and curl pattern of the hair. As long as the straightener doesn't contain formaldehyde the hair will eventually go back it's original state. If you continue to straighten hair or place heat on the hair, that will also take a toll on the curl pattern. Hair holds memory and continual straightening will make it harder for your curls to "remember" what their natural pattern and state was. I would recommend not using heat on your hair as much. Wearing your hair natural will slowly but surely get your curls back to their original texture and pattern.
Do you have any travel haircare tips?
Travelling on an airplane can be dehydrating for both your body and your hair. Choosing water over drinks with caffeine or alcohol not only helps with jet lag, but it benefits your hair too. Slip a silk scarf into your hand luggage so that you can wrap your hair during the journey, which will help to preserve moisture. Also, a bottle of serum is essential; just a couple of drops can make the world of difference in refreshing and hydrating your style on the go, which will help you to look and feel good even if you're tired!
Support HuffPost
The Stakes Have Never Been Higher
Related
Popular in the Community