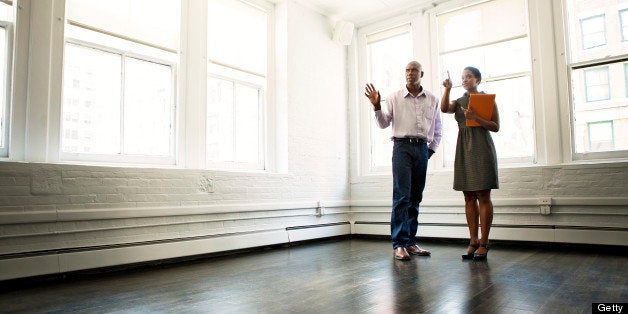 One of the most painful times of the year for New Yorkers is the end of the apartment lease. Whether "one-percent"-ers, parent-endorsed hipsters, desk slaves or hustlers, all are too familiar with that special feeling of the apartment hunt anxiety; meeting brokers on street corners, clutching your wallet for dear life, anticipating the impending doom of a rent increase. All New Yorkers want the best space for their buck, whether chasing the mystical rent controlled apartment or the "deal" (even if that "deal" is $10,000/month). But, when the apartment hunt leads to the real fear of homelessness, exhaustion, and fury at your craigslist-hired broker, the same questions remain unanswered: "What about those rent regulated places?" "Why is my rent so high?" and "Can't I at least have a professional, if I'm going to shell out a broker's fee?" Living in Manhattan is an art form, perfected by savvy New Yorkers with well connected brokers. Don't be surprised if your dream place gets swiped from under you, be prepared!

1. When most people speak rent control, they usually mean rent-stabilized buildings (both are known as "rent regulated"). Rent control is for some pre-war buildings, where tenants have lived continuously in the unit since 1971. So unless you are risking identity theft, pretending to be a long deceased relative to score the low rent, this option is not very realistic.

2. Realize that even the sky is for sale in Manhattan (air rights), and if you want to secure your place here, be prepared to pay, but know exactly what you are paying for. When you pay the 15 percent of annual rent, make sure you are working with a broker that you would actually trust with that sum.

3. Luckily for renters, stabilized apartments are more common and accessible with a good broker, as they know which landlords participate in the tax abatement perks, and exactly what it gets you. Most apartments are "de-regulated," and are subject to "open market" prices. To determine if a specific unit in a building is rent stabilized; you can also call the government directly (more info on www.housingnyc.com).

4. Do not sign a lease with the same finesse you use in clicking the agreement terms of an online purchase. Read the fine print! (Ask the residents of Stuy Town who didn't read their leases, and had to pay higher rents mid-lease legally this past April, in the aftermath of CW Capital's $68.75 million settlement due to illegal rent increases to prior Stuy-tenants). By law, landlords are required to give you information that tells you exactly why your rent has increased. In stabilized buildings this is found in the lease rider called "Rent Stabilization."

5. If you make less than $200,000 in income you can benefit from a rent stabilized unit. This means, for a new "vacancy" lease, rent cannot be increased more than 18 percent on a one-year lease and 20 percent on a two-year lease from prior rent. The landlord cannot increase rent more than once in a calendar year (January 1st - December 31st) and you can research the past four years of rent prices with public records.

6. Know the Reality of Trickle Down: When operating and maintenance costs go up, so will the rent. More developments are needed to meet the demand of renters, however many developers feel the financial benefits are not sufficient. Some developers are still recovering from the economic hits; paying the vacancies given unemployment, and increased fuel prices. The inventory of apartments is low and the demand for new homes is unmet.

7. Politics Matter: Politics is a major factor in determining taxes and rent prices. Every year the Rent Guidelines Board (RGB), appointed by the mayor, determines the rent increases for the coming year. New Yorkers should pay attention to the mayoral primary on September 10, 2013 (with candidates such as Jimmy McMillan and Anthony Weiner, it is sure to be at least entertaining!).


Note: This is a general summary of New York public records, much more detailed information can be found at www.nyshcr.org, and www.housingnyc.com. These rules do not apply for non rent-stabilized apartments, lofts, and special exempt properties. Get information at the websites above or consult with a professional. If you feel your rent has been illegally increased, they will also inform you how to proceed.
REAL LIFE. REAL NEWS. REAL VOICES.
Help us tell more of the stories that matter from voices that too often remain unheard.