 Atlantic City's Revel Casino Hotel closed this month after just two years of operation. Once seen as an investment is revitalizing the struggling city, it is now a $2.4 billion reminder of promises unmet.
Mayor Don Guardian is trying to stay positive: "This might be Revel's last chapter, but not the last one for this building."
He suggested the structure could become a business or even a new college. Others are having a harder time envisioning how to repurpose 6.3 million square feet of floor space on twenty acres of the city's beachfront.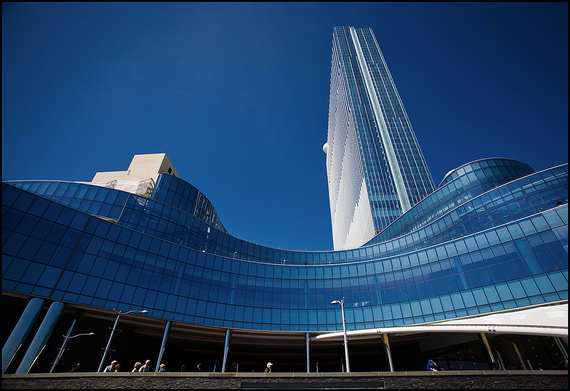 Casino adaptive reuse may well become an architectural movement in the future. Revel joins three other Atlantic City casinos that have closed or are set to close this year. According to a recent report, more could follow.
Analysts say the market is saturated, particularly in the Mid-Atlantic and New England, as states look to legalized gambling to create jobs and tax revenue. Atlantic City's decline in gambling revenue is largely attributed to the opening of 17 casinos in Pennsylvania and Maryland since 2007 (with two more planned), plus a video slots parlor in New York City.
Meanwhile, New York is on track to award four casino licenses this fall, and Massachusetts hopes to join the fray with three more. Massachusetts's first license went to MGM in June to build a casino in downtown Springfield. A second likely will be awarded this week to either Wynn Resorts or Mohegan Sun for their billion-dollar proposals outside Boston.
But even as states bet fiscal futures on legalized gambling, some policymakers seem to be hedging. Among 211 questions on the Massachusetts casino license application, potential operators were asked to:
Describe the design features that will allow other uses of the buildings in the gaming establishment complex in the event that the applicant decides to cease gaming operations in the facility at some future date.
Applicants weren't quite sure what to make of a demand that undermines their own commitments:
MGM Springfield anticipates operating the gaming establishment beyond the useful life of the buildings. Therefore, we view this question as more theoretical in nature.
Each applicant nonetheless described alternative uses as conference and convention space, or destination retail and dining. Mohegan Sun suggested its complex could become a satellite campus for a Boston university, housing dorm or athletic facilities.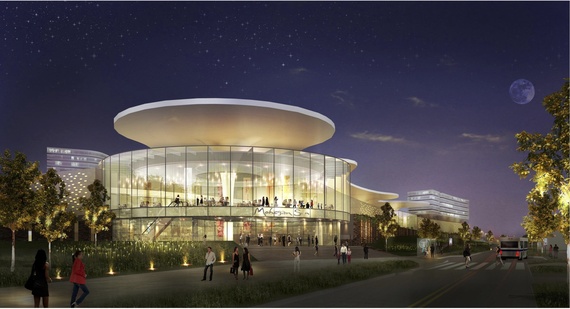 College dorms of the future? (Mohegan Sun Massachusetts gaming license application, Kohn Pedersen Fox Associates, 2013).
With the longevity of the casino boom coming into question, what other kinds of retrofitting make sense? Here are some ideas I'll add to the list:
Office space: Casinos participate in global financial networks where digital connectivity drives dealmaking. Rows of slot machines manned by zombified gamblers pushing buttons easily convert into rows of cubicles occupied by white-collar workers punching computer keys.
Prisons: Vice industries tend to pop up in struggling, postindustrial cities that are eager to believe promises of economic development. In Chester, Pennsylvania, a former manufacturing town outside Philadelphia that has a 31 percent poverty rate, the Harrah's Casino sits next door to a state prison. Like prisons, gambling floors are nearly windowless, limiting visitors' interactions with the outside world. They also employ state-of-the-art surveillance technologies, making for a smooth transition.
Warehouses: Stripped of their glitz, gambling halls are cavernous spaces that share much in common with the "shed" designs of warehouses. Casinos also often locate near highways in order to easily shuttle customers in and out of the properties. Remove the felt tables and slot machines and the buildings are well-situated to send and receive durable goods rather than redistribute players' money. Parking lots designed for casino buses nicely accommodate 18-wheelers.
Affordable Housing and Grocery Stores: Step away from the boardwalk and visitors to Atlantic City confront neighborhoods failed by the promises of urban revitalization that were attached to New Jersey's legalization of gambling in 1976. Atlantic City has gone decades at a time without a major grocery store, which combined with a 30 percent poverty rate officially makes most of the city a food desert. Adapting closed resorts could address the inequalities that plague many American cities by converting luxury hotels into affordable housing and opening supermarkets on casino floors.
A multinational casino corporation might leave town for more profitable business opportunities elsewhere, but it cannot take the buildings. Could these multi-million-dollar structures represent opportunities for new uses that benefit the communities in which they are located more directly that gambling ever will? I'll let readers decide which of the suggestions above fits that bill.
Massachusetts's voters could decide in November not to take the risk at all. A measure on the state ballot would, if passed, repeal the state's gambling law and the licenses.
Operators have decided to wait until then before beginning construction.
What are your ideas for repurposing casinos?