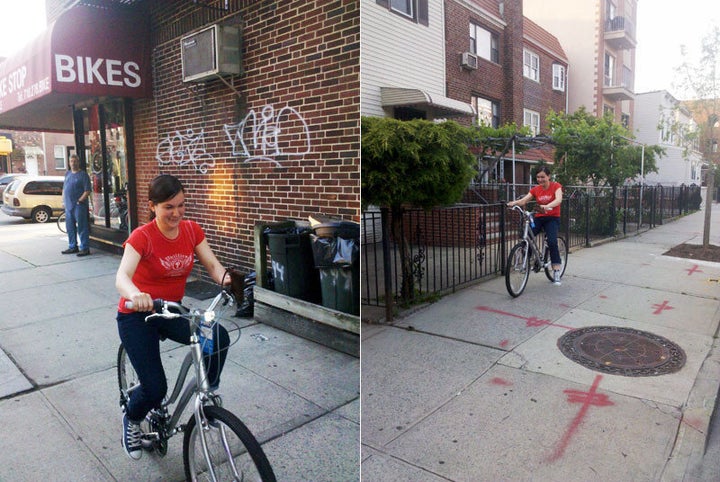 People love to say that you never forget how to ride a bike. No one ever tells you that you might actually not remember the learning part. That's what happened to me when during a recent work meeting on National Bike To Work Week -- I blurted out that I just never learned the skill. HuffPost Healthy Living's fitness editor's eyes widened. It was time for me to take a lesson.
With a little push from my team, I did some research and called Bike NYC, a local non-profit whose mission is to encourage bike riding and safety, asking if they could squeeze me into one of their "learn to bike as an adult" classes. When I didn't hear back, I took it as a sign that maybe biking just isn't for me. Like many people, I'm no stranger to those feelings of inadequacy in personal fitness. For 20-plus years, I never ran, but that all changed last summer when I spent the majority of my mornings tracking miles around my Queens neighborhood. The memory of beating that fitness fear put this all into perspective.
I then remembered Bike Stop, a neighborhood bike store near my first New York apartment in Astoria. Before losing my nerve, I made the call, with mental pictures of the comforting corner building's red awning floating in my head. An easy going man named Francisco answered and, within seconds, he was telling me that I'm lucky because I was on the phone with the coolest bike store in New York. I had to agree with Francisco after just minutes of easy banter, and we cut a deal for me to stop in later that day for a private lesson. (They don't even give lessons there, they just sell bikes.)
When I showed up at Bike Stop, I knew the tall and relaxed dude standing right near the entrance had to be Francisco. "Is it that time already?" he asked. I heard him in the store's basement telling his mechanic that there's a girl upstairs in a red T-shirt who is waiting to learn how to ride a bike. I pretended I couldn't hear their conversation by staring at a wall of locks and wheels and faking interest. I started to make small talk with a guy in a Jimmi Hendrix T-shirt at the register when Carlos, the mechanic, appeared.
Carlos asked me how tall I was, and as he was personally fitting a bike for me, Francisco explained the very reason for his easy going nature at my strange request.
"We hear this all the time," he said. Sensing my inner panic, he further explained that people always think they don't know how to ride a bike until the minute they get on. At that point, Carlos was done fitting my bike and together we were wheeling it out onto the sidewalk. As he was explaining about brakes, an undeniable surge of familiarity was rapidly circulating through my veins, starting at any part of my body closest to the bicycle and spreading out all over.
Wait a minute -- I know this. I've felt what it feels like to mount a bicycle and position my feet on the pedals before. My eyes darted over to my innocent bike instructor with a nervous feeling in my gut. What was going on?
I exhaled and fully tuned into Carlos's voice, which was now telling me to start with my left leg. He started to guide me on the bike and we both smiled at the emerging truth. I knew what I was doing.
Acting as my 20-something training wheel, Carlos let go and I took off on a slightly hilly block. "Student driver!" I yelled at a couple of unfortunate passers-by trying their hardest to get out of my way. At one point I had a close call with an open door and basement steps, but with Carlos's help, I didn't crash. I was doing okay. I didn't master a straight line, but I could hold my own on a bike. I was riding with a permanent grin. It was fun, really. But how could I not remember this?
According to cognitive psychology, my experience is an example of implicit memory, something present but not pictured. Nowhere in my brain's storage was a recollection of toddler hands gripping handlebars, so I spent my adolescence and young adulthood in bike-riding denial.
I called my mom after my lesson to fill in the blanks. She can picture my childhood self outside on bikes with the other neighborhood kids in Northeast Philadelphia. She went on to tell me how my brother and sister received bikes as Christmas gifts but I didn't. "You never asked for one." My sister's bike remained a fixture in our shed, just like the cans of leftover paint. It was something our family felt necessary to keep, but never to actually use.
My "lesson" at Bike Stop came to a pleasant close with me at the register scanning the cost of bikes. When you're a kid, no one mentions the years that might fly by before you pick-up a seldom used hobby again. The fact that you'll keep some activities close to your heart, but ditch others, is a reality of childhood. However, it doesn't really matter if you forget a favorite activity from your younger years, because you can always relearn with a different, perhaps more adult, perspective. It's just like riding a bike.