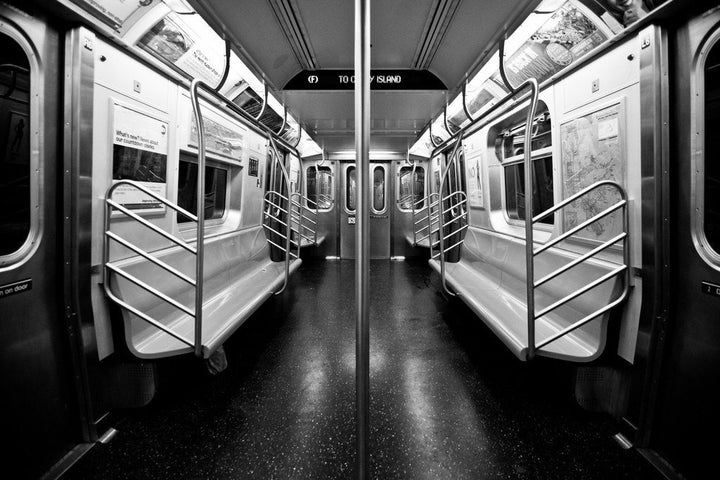 If you're ever lucky enough to be sitting on the subway next to a round-faced, bald man in a pressed white shirt, suspenders, large glasses, and a pocket full of pens, his head on a subtle swivel, scribbling in a small notebook then there's a good chance you're witnessing on of New York's most imaginative draftsmen hard at work.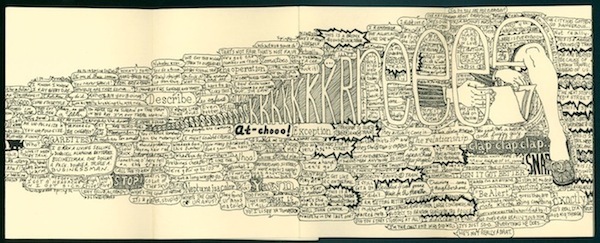 Martin Wilner, Journal of Evidence Weekly, Vol.150, 2009
artist's book with 31 folded pages: pen and ink on paper
5 5/8 x 116 3/4 inches (14,3 x 295,3 cm) open, 5 5/8 x 3 3/4 inches (14,3 x 9,5 cm) closed
Courtesy Sperone Westwater, New York
For years, Martin Wilner, a New York city native and practicing psychiatrist, has been drawing during his daily commute from lower SoHo to his Uptown office. As part of an ongoing project, Journal of Evidence Weekly, Wilner literally draws that which he witnesses and, on the darker days, confronts in the New York city subway, carefully interweaving text -- conversations overheard -- with facial expressions, inanimate objects, shoe laces, and a myriad of other "things" into a flowing tale that spans foldable books over six-feet in length. Writing in nearly microscopic text, Wilner's non-linear narratives document and reflect both the literal and tonal surplus of stimulation we experience every day. Each book's dizzying effect and non-sequitur nature account for hours of enjoyment scanning page after page, re-assembling fragments, and being drawn into the fairyland of freaks that surround us each in the city.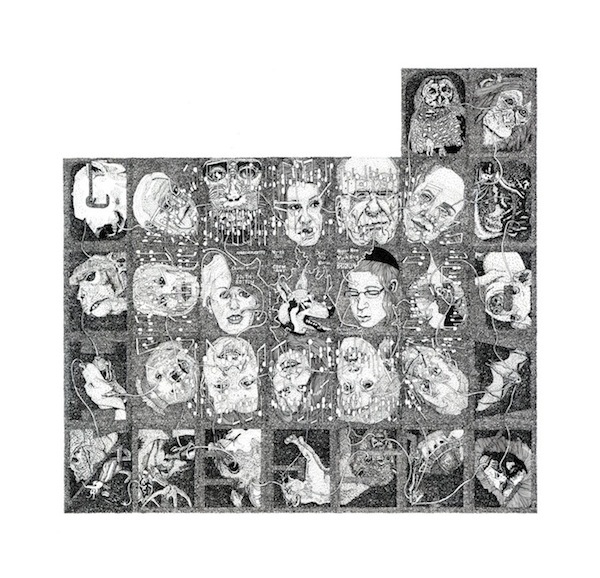 Martin Wilner, Making History: July 2011, 2011
ink and graphite on paper
12 7/8 x 13 ½ inches (32,7 x 34,3 cm), 15 3/4 x 16 3/8 inches (40 x 41,6 cm) frame
Courtesy Sperone Westwater, New York
And if that weren't enough, every evening, Wilner settles down to a wood workbench that serves as his desk to labor over a solitary calendar drawing measuring not more than 2 square inches as part of his other ongoing study, Making History. Here, Wilner creates a set of parameters or thematic issues to address over the course of a year in a series of monthly calendars roughly 13 x 12 inches. Always involving text and a sense of lyricism, sometimes over such as 2010 which features staves of musical annotation. At the moment, Wilner has been collaborating with various friends and fellow artists, extrapolating ideas and inspiration each and every day for a drawing that reflects the inner workings of a single figure in our society.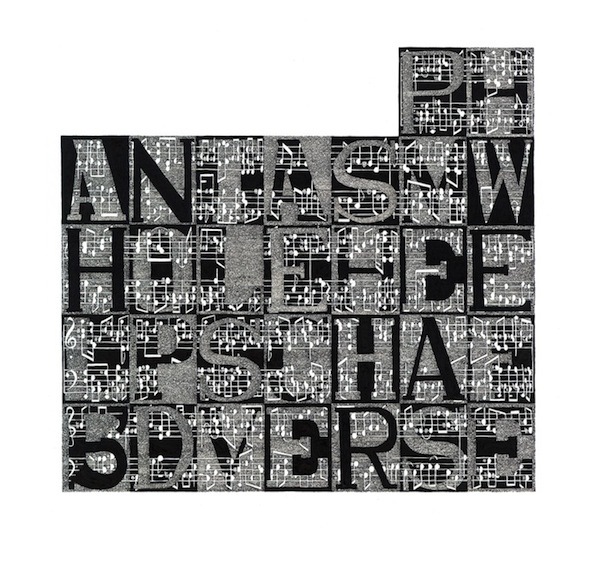 Martin Wilner, Making History: October 2010, 2010
ink and graphite on paper
12 7/8 x 13 ½ inches (32,7 x 34,3 cm), 15 3/4 x 16 3/8 inches (40 x 41,6 cm) frame
Courtesy Sperone Westwater, New York
Conceptually akin to those such as Baldessari, whose work often relies on a set of parameters, Wilner likes to impose constraints on his work including but not limited to size of drawing, number of drawings per day (one in the case of the calendars), and sticking to a consistent theme (such as much or a single persons personal narrative, the Zodiac, musical annotation, etc.). As a psychiatrist, Wilner learned certain methods and ways of thinking, generally accepted principles, and "solutions" to fundamental human issues. But in order to succeed, Wilner privileged the notion of throwing out the book and improvising. Making work whilst constrained by medium, lack of color, and thematic issues, Wilner forces himself to fashion something new out of the old and worn while perfecting a discipline.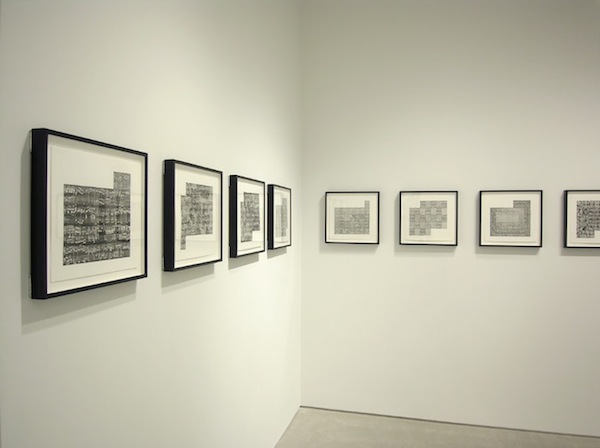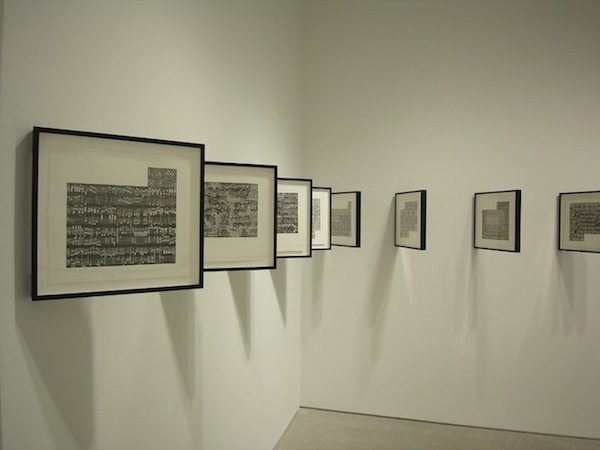 So what if each and every commuter became so productive? Imagine the challenge of focusing and drawing on a crowded subway during rush hour. Each of us has been bumped, grinded against, ridiculed by a passerby moonlighting as a diva, or serenaded by a vet. Whilst we try to block these things out of our mine, the fact remains that he subway is a daily adventure and a facet of Wilner's life that he's wrangled to make his own. Watch out for Martin and, if you see someone matching the description, approach with caution and try to peek over his shoulder, you won't be disappointed.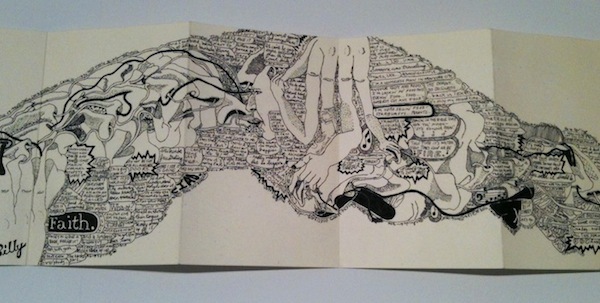 Martin Wilner, Journal of Evidence Weekly, Vol. 157, 2010
artist's book with 31 folded pages: pen and ink on paper
5 5/8 x 116 3/4 inches (14,3 x 295,3 cm) open, 5 5/8 x 3 3/4 inches (14,3 x 9,5 cm) closed
Courtesy Sperone Westwater, New York
Related
Popular in the Community