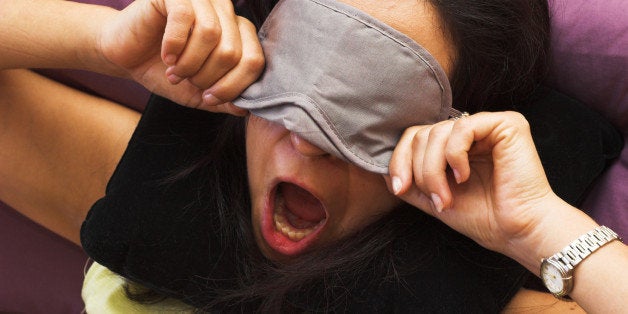 If you travel between the U.S. coasts and Europe, just reading "redeye" probably makes you cringe. But unless you want to kill a big part of your day flying, overnight really is the only way to go East. While there's nothing like a good night's sleep in your own bed, there are ways in which you can make the redeye more bearable and get some rest inflight. Travelle's here to help you bite the redeye bullet so you can enjoy a full day before and after your flight!
Here are Travelle's tips for how to survive and sleep on a redeye flight:
Take The Latest Redeye Flight You Can
Unless you have to get to a meeting first thing in the morning at your destination, try to stick to your normal body clock even if it means landing later. Falling asleep at 6:00 p.m. will be close to impossible, and your 5 or 7 hour rest time will quickly turn into 2 or 3 hours (ouch).
It sounds counter-intuitive, but if you're exhausted, you're actually more likely to get sleep on a redeye. Don't make me twist your arm to have a fun night out the day before your trip!
Eat Healthy Before You Board
Not only will this help you steer clear of awful plane food, but you can spend the maximum amount of time sleeping, rather than waiting for inflight service to get started on your zzz's.
Hydrate For Wellness, But Don't Go Overboard
The goal here is to get uninterrupted sleep on a redeye. No one likes to wake up three times to go to the loo. Coconut water or water is best, as the last thing you want to have is sugar before bed.
The window seat means no getting up when your neighbor wants to stroll around. If you have a favorite side that you normally get you beauty sleep on, try to replicate that setup on the plane.
Pack A Travel Blanket To Keep Warm
The airplane often turns into a fridge 20 mins into the flight. An extra scarf or warm fuzzy sweater is the way to go. Unless you fly Business Class on a regular basis, you might want to invest in a nice travel blanket made of microfleece or cashmere. Airlines cutting costs means you are lucky if you get a cheap pashmina lookalike at best to cover up.
There's nothing like waking up with your eyelashes stuck to your eyelids, right? Ugh. We know the feeling all too well. We hated using eyemasks until we found the no pressure kind from Dream Essentials, which don't touch your eyes at all and leave your makeup in place. With the lights turning on and off during the redeye flight, blocking it all off is the way to get some beauty sleep while traveling.
Travel With Noise Cancelling Earphones
Flying is no quiet time with engine noise, carts moving around and people walking up and down aisles. It's important to hear all the initial announcements, but once in the air, as long as you're buckled up, they can leave you be. Bose QuietComfort noise cancelling earphones with soothing music or meditation podcasts can do the trick, or good old earplugs to block off the other passengers as they go about their business.
Bring Your Own Travel Pillow
The crew may hand you a pillow that's great for support of your lower back, but unless you are looking to get a neck injury or flying Business, you have to bring your own. They're the worst waste of carry-on space so go inflatable if you're tight on room.
Pick your poison if you have to. Some people swear by a glass of red before hitting the pillow. For flights over 5 hours, natural sleep assistants like melatonin can help relax your body. We generally would avoid those on flights that are any less than that though, unless you want to touch down as a cranky zombie.