There I was, keeping up with comments on my Instagram — when I was attacked for a photo I'd posted years ago: Smiling proudly next to a chained tiger.
Let's make something clear — no one is heading out on their honeymoon, bucket-list trip or backing-packing around the world with the intention of promoting animal abuse. Most travelers book animal encounters for the opposite reasons... because we LOVE animals. The excitement and the thrill of being close to exotic animals in a foreign country is AMAZING. So much so, that I'll often book a trip to a destination, just for the animal encounter.
While I'm not an animal expert, nor do I have any experience as an animal activist — I am a "travel expert," (check out my travel blog, TravelBreak). This title comes along with a certain responsibility — to have difficult conversations about the impact of that "bucket list check."
Because animal encounters stimulate tourism, some people around the world drug, abuse and manipulate animals to get that extra dollar.
I've introduced my best friend and popular animal blogger Carly Brooke, from the Featured Creature to co-author a look into ethical animal encounters. Together, Carly and I traveled through Zambia, Zimbabwe, Botswana and Tanzania to uncover the best animal experiences in Africa.
Animal encounters to avoid:
Riding elephants
Walking wild animals on a chain
Petting cubs
Posing for photos with sedated animals
How to Research an Animal Encounter:
Research where the money from your experience goes.
Find out how and where the animals from the experience were attained.
Research the animals' living conditions at the park.
And while beaten and doped out animals aren't cool, there are other ways to get that elephant photo for the 'gram. These are our favorite ways to safari smart.
1. Get within 3 to 5 feet of wild animals on a safari river cruise.
Move over Florida cruises. There is NOTHING in the world like watching elephants, hippos and buffalos from a motorboat.
We took a day trip to Chobe National Park from our stay in Victoria Falls, and our hotel, the Royal Livingstone arranged the experience.
Check out this raw iPhone footage:
2. Do a Big 5 Game Drive and observe from the safety of your car.
The safest and most ethical way to experience an animal is in their natural habitat, without disturbing them. Big 5 Game Drives are a great way to do this! There's no guarantee which animals you'll see, but local guides are a knowledge-base of how these animals live (and where to spot them).
We traveled to Serengeti National Park during the wildebeest migration and saw more game than we could imagine! Our life was a real-world episode on the Discovery Channel.
Swipe to see some of the animals we spotted while touring through Serengeti National Park with the Four Seasons Safari:
We also did a Big 5 Game Drive in Chobe National Park, as a part of our day trip experience through the Royal Livingstone Hotel.
3. Check out speciality conservation centers.
A Big 5 Game Drive is perfect for untouched animal encounters; however a specialty conservation center can be just as spectacular. These types of experiences foster rescue animals. The area imitates their wild habitat — you cannot touch them or get too close. However, the animals are monitored and protected.
What's great about a conservation center, is that unlike a Big 5 Game Drive, you're almost guaranteed to see the animals you're looking for.
Through Bushtracks and the Royal Livingstone Hotel, we also drove into an lion conservation camp. While getting off the tour car was not allowed, we could closely and clearly observe the lions in their habitat.
4. Stay at a luxury hotel in Africa.
The highlight of our experiences as bloggers is living with our favorite animals in our new favorite destinations! And we have a LOT of amazing experiences to compare it to!
During the first part of our trip, we stayed at the Royal Livingstone at Victoria Falls in Zambia.
Not only is this hotel a ten minute walk from Victoria Falls, a five-minute motorboat ride to the Devil's Pool, and on the border of Botswana and Zimbabwe (ideal for day trips) — you can LIVE with your favorite animals. Zebras, giraffes, antelope, monkeys and more frolic around the hotel freely.
You can't touch or feed the animals, but they are used to people and have lived wildly in Livingstone for decades.
Check out this live iPhone video from the Royal Livingstone Hotel:
And a snap from our stay there.
Feel free to tease me about the heels, but the Royal Livingstone offers all the opulence of a five star luxury hotel — the giraffes and zebras just happened to be there on my way to dinner!
Alternatively, consider our stay IN Serengeti National Park. Elephants, antelope, zebras and more came to the watering hole.
5. Admire the wild with a bird's eye view.
If scouting your fave animals by land and water doesn't cut it — go aerial. Helicopter tours are popular in Zambia and Botswana, and the Hot Air Balloon Safari is a hype for Serengeti National Park.
I opted to do micro-lighting over Victoria Falls. I could spot hippos, crocodiles and elephants without disturbing their habitat.
Swipe to see more photos!
Are you planning an African Safari?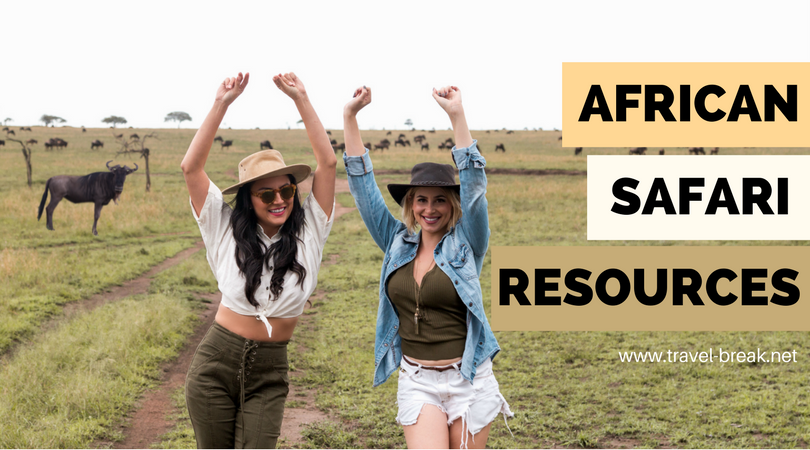 Read more on the TravelBreak Blog:
DISCLOSURE - We traveled throughout Africa with partner hosts - Anantara Hotels, the Tanzania Board of Tourism and the Four Seasons Serengeti for the TravelBreak blog. Anything included in this article is our own opinion and not arranged with any brands. We wish you the best on your African adventure, feel free to drop a comment if you have any questions!
Calling all HuffPost superfans!
Sign up for membership to become a founding member and help shape HuffPost's next chapter
This post was published on the now-closed HuffPost Contributor platform. Contributors control their own work and posted freely to our site. If you need to flag this entry as abusive,
send us an email
.