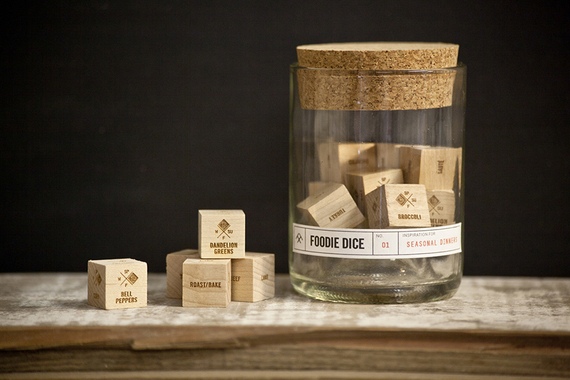 By Liz Downey, Foodie Dice
Last year, my sister moved to California to start a business with me. We didn't know what we were going to do, but we liked the idea of working together. When she first got here, we created an adventure box with different day trips on little pieces of paper--the Glass Beach, the Redwood Forest, etc. One day, she had the idea to incorporate that sense of random adventure into food. Foodie Dice™, a set of dice meant to inspire creative meals made from fresh ingredients, was born. We launched a store on Shopify to sell our product.
We loved our idea, but wanted to find out whether or not other people would too. We began a campaign on Kickstarter last October, hoping to raise just $7,500 to make our first production run. If we were successful, we planned on assembling them (maybe 300-500 sets?) in our studio and easily shipping them all out in time for Christmas.
During our first two days on Kickstarter, we raised about $4K, and we were happy. On the third day, Foodie Dice was the Project of the Day and our pledges skyrocketed. People loved it. It felt amazing. Friends and family were following the campaign, watching the counter tick higher all day long. We raised around $42K on that day alone.
And then we had our "Oh, sh*t" moment. Could we make that many sets of dice and do it fast enough? We had pledges for about 3,000 sets already and had promised them for Christmas. At that moment we didn't know if we could do it, but we knew we were going to do everything in our power to make it happen. And we did. We rallied new suppliers and a fulfillment team, and by the time our campaign ended, we were confident we could ship everything promised before Christmas. We ended our campaign with $156K, 3,676 backers, and around 6,000 sets pre-sold. We're one of the very few grossly over-funded campaigns to actually ship rewards on time. But behind the scenes it was a little -- ok, a lot -- chaotic.
We did many things right, but there were definitely things we could have done better. Here's what we learned:
Vet your suppliers well.
Our single biggest source of frustration was in sourcing our materials and finding vendors who could handle larger quantities on a short timeline. We had partners lined up to provide materials on a small scale, but in our wildest dreams we thought we might raise $25k, and that was the most we planned for. Most of our vendors couldn't handle the larger quantities we needed, and that left us scrambling to find new ones without the time to properly review their capabilities.
Almost everything we received had quality issues, and we made the mistake of not reviewing things ourselves more than once. We had our cotton pouches delivered to the screen printer, only to realize after they were printed that they were the wrong size and didn't match the quality of the samples. We had to sort through them by hand to select the ones we could use. Also, our costs were higher than what we estimated, leaving us with slimmer margins.
Before the campaign, many companies wouldn't even talk to us about a quantity of 1,000, but in hindsight, if we had approached them and asked for quotes for much higher potential quantities, we might have been able to get more realistic pricing before our campaign, and had larger vendors lined up in case we needed them.

Don't spend too much time planning.
The time we spent planning was important, but it was limited by our decision to launch our campaign before Christmas season. If we had tried to write a perfect business plan before we launched, we'd still be writing and planning. At a certain point, it's more valuable to put something out there, see if it can be successful, and then regroup once you know it's worth pursuing. You're going to make some mistakes either way, and you'll learn from them. Just get out there and do it.
Invest in design.
I'm a designer so of course I'm going to say this, but here's why: In my 10+ years creating brands for other companies, most of the time I've been restricted by client budgets. There have been very few instances when I was able to put the full amount of time into a project that I thought it deserved.
When designing our own product and creating our campaign video, it was the first time I was truly able to put 100% into it, and the response validated my belief that if you spend the time and money that it takes to design something to the highest level, you'll get a solid return on your investment.
Design elevates, differentiates, and communicates. Without good design, a great idea may never get noticed.
Take advantage of momentum.
It will be a thousand times harder to regenerate it later. Even if you think you don't have the time (like we did), reprioritize or hire someone so that you can take full advantage of media buzz.
Use your connections and mentors.
We were lucky to have a small network of mentors and entrepreneurs who were generous with advice and integral to our early success. Forget the notion that if you don't do it on your own it's not true success. You're still the one putting in the long hours. You'll have a chance to pay it forward later.
Learn to roll with the ups and downs.
Starting any business can be a rollercoaster, and if you're crowdfunded, it can be even more intense. There's a great deal of pressure that comes with promising to deliver a product that's already been "paid" for on a set timeline (especially if it's Christmas!), and the bumps in the road are more pronounced when you're under pressure. We've learned that you simply can't get emotional every time you hit a stumbling block. You just do the best you can to problem solve and move forward -- knowing that every other entrepreneur has gone through the same thing at some point -- and make sure you take a moment to enjoy the ride.
PS: We just launched another Kickstarter campaign for our Mixology dice - take a look!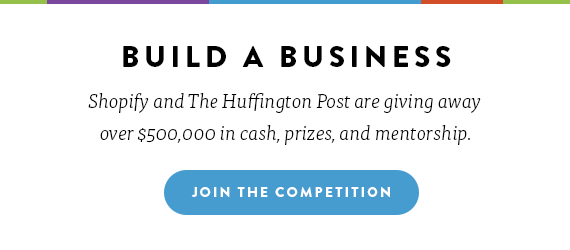 Liz Downey is the co-founder of Two Tumbleweeds, where she and her sister create uniquely crafted goods inspired by everyday life. Before launching Two Tumbleweeds, Liz spent 13 years as a designer helping companies define their brands and messaging. She has managed the redesign and development of websites for world-renowned green architecture firm William McDonough + Partners, Allegro Coffee and others, and redesigned the brand and packaging for Nona Lim, helping to take the company's retail sales to the next level. With a passion for food, design, and natural products, you can often find her comparing package designs at the grocery store or making raw dairy kefir at home.
This year, Shopify's Build A Business Competition is bigger than ever. Shopify is giving away more than $500,000 in cash, prizes and mentorship in its fourth annual competition. Contestants create a store and try to sell the most in their category for a chance to win $50,000 and a VIP trip to NYC to meet their mentor.
REAL LIFE. REAL NEWS. REAL VOICES.
Help us tell more of the stories that matter from voices that too often remain unheard.