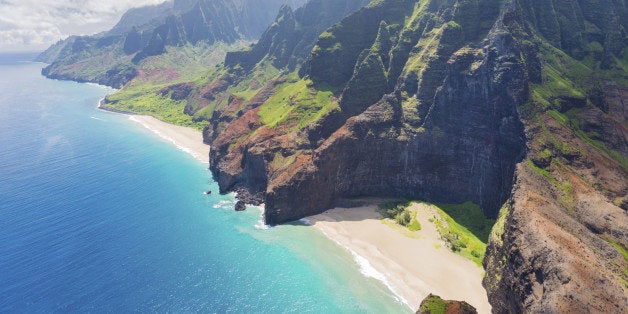 Whether it's an overnight, a long weekend or a major trip, keep your valentine trip a surprise, plan it right, and you'll score big.
Give the trip your valentine would want (not necessarily the one you would want)
There's a whole world out there, but try to choose a romantic destination your significant other would enjoy. You may love skiing the Alps; your valentine may prefer water skiing on an Alpine lake. You'd enjoy an exhibition of nude sketches at the Met, but your valentine may prefer exhibiting to fellow nudists at a naturist resort. And so it goes in the world of travel. Or, if you really must, give them the opportunity to travel where they like on their own. In either case if you put your SO's desires ahead of your own, that shows real affection.
Once you decide on your destination, splurge as much as you can. We all have different means, but upgrading a bit can make a romantic splash big enough to swim in. Maybe opt for a luxury cruise or a ride on a deluxe train. A flight to Paris is ultra-romantic, but flying first class, or even coach premium if it's not the norm, makes a memorable trip even more so. Hire a taxi to the airport instead of taking a bus; or a car and driver instead of a taxi. And don't forget that room with a view, a balcony to kiss on, and a king-size bed. And I'd stick with inns or boutique hotels which offer a sense of place.
Some travel planners specialize in romantic escapes. Google them. (And they can often find deals that cover their costs.)
Present your gift romantically
You can surprise your loved one without saying where you're going until the last minute. Some people love the idea of not-knowing. Just suggest the type of clothes to pack (warm weather, cold weather, dancing shoes, fancy pants), and off you go. This works especially well if the destination is spectacular, or it's a place your partner adores. If you're not sure, expectations may become too high and the surprise, nice as it may be, could disappoint. You: "Starts with "B." Valentine: "Bora Bora?!" "You: "No ... um ... Bangor?"
And some people just don't like surprises. So judge carefully whether you want to work with your Valentine, or set it up all yourself. Consider risk versus reward.
In any case, present the gift romantically. Instead of handing over tickets you could hide them in a guidebook. Or rent a movie about the destination and then surprise with tickets at the end of the movie. Or find, or better yet, write a poem about a destination and recite it, and then hand over the ticket. Or buy some new luggage or a travel gadget and have the trip tickets inside. You can come up with something even more romantic, I'm sure.
It's lovely to offer a trip, but if you've checked ahead and have a date on the tickets, and you've cleared both calendars, it's even more exciting. Being whisked away is part of the romance. At least make the trip in the upcoming months, versus years! (And while you're still a couple!) And if you're not focusing on escaping bad weather, I like shoulder-season when crowds are fewer.
A few super-romantic starters if you don't have a clue:
Romantically speaking some faraway places with strange-sounding names, include: Agra (Taj Mahal), Zanzibar, Seychelles, Myanmar, Bali, Madagascar, Oman, Fiji, Bora Bora, Namibia, Cuba, Capetown and Rio. And a bit closer to home, "romance" comes to mind in San Francisco, Carmel, Santa Fe, Nantucket, Manhattan, St. Lucia, Sun Valley, Quebec City, Hawaii, Lake Louise in the Canadian Rockies, San Miguel de Allende in Mexico, Paris, Lisbon, Barcelona, Prague, Corfu, Bruges, The Amalfi Coast, The Riviera, Venice (in winter), "The Romantic Road" in Germany, Morocco.
In any case, this Valentine's Day or anytime you're thinking of romance: look at a map, find a place, follow through -- and score!
Popular in the Community