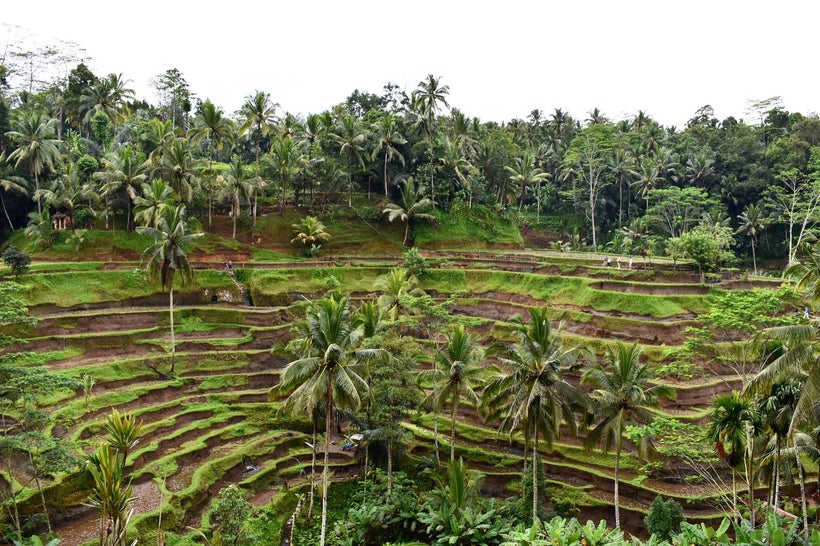 Bali has long been a bucket list destination for travelers. With its white sand beaches and equally stunning jungles, the island is pure bliss for backpackers and honeymooners alike. And ever since Elizabeth Gilbert wrote Eat, Pray, Love in 2006, soul/love searching individuals have been flocking to one town in particular: Ubud.
While many have complained that the newfound popularity of the inland hub has brought in an avalanche of inauthentic tourists, I was happy to find a place filled with unspoiled beauty, delicious food, and an overarching sense of spirituality during a recent trip there. But, just how do you sift through some of the touristy attractions to get that idealistic experience your almost certainly coming for? Well, here's how I did it in just three days.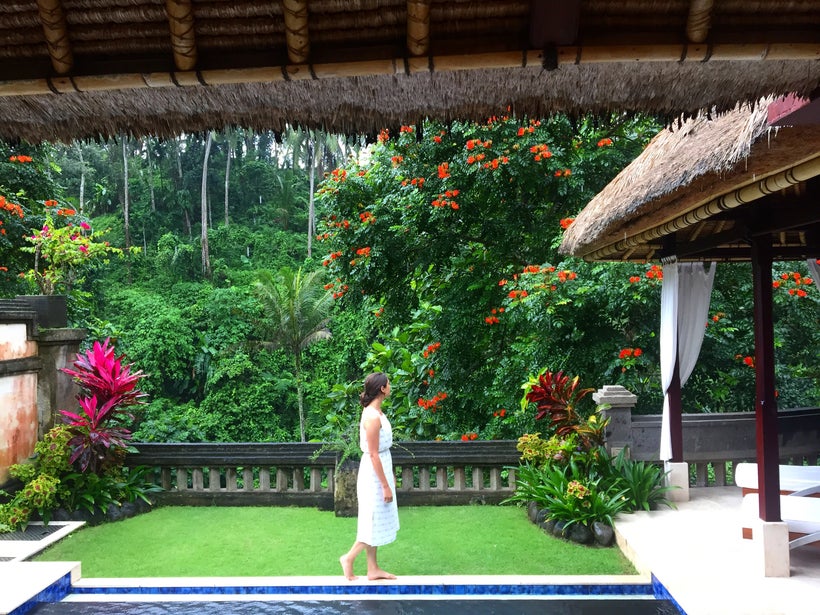 Ubud and the surrounding areas are filled with a variety of accommodations ranging in comfort levels and prices. A yogi backpacker could certainly walk down the main street of Jalan Monkey Forest road and find any number of homesteads offering a cheap place to stay. But, since I (and my husband) were beyond our backpacking days we wanted a place that was scenic and away from the hustle and bustle. After all, isn't a trip to Bali supposed to be about disconnecting from the world and reconnecting with yourself and loved ones? That's why we chose Viceroy Bali.
The intimate villa-only resort (only 25 villas available) is perched in the heart of the Valley of the Kings, so you get an unobstructed view of the jungle from every room and public area. There's no blasting music, only the sounds of birds chirping and a nearby waterfall. Although we had just come from a week cruise of island hopping around Indonesia, it was lounging beside our private plunge pool with no other human insight that made us feel truly relaxed. We weren't on our honeymoon, but it certainly felt like we were.
And though you never have to leave your room if you want (there's a pool, garden, and 24-hour room service after all), the resort has its own fine dining restaurant, CasCades, where we saw a number of legitimate honeymooning couples enjoying candlelit dinners. There's also an onsite spa, gym, and infinity pool to lounge by. But, if you want to reconnect with society a bit, there's a free shuttle to take you into the heart of Ubud in just 10 minutes.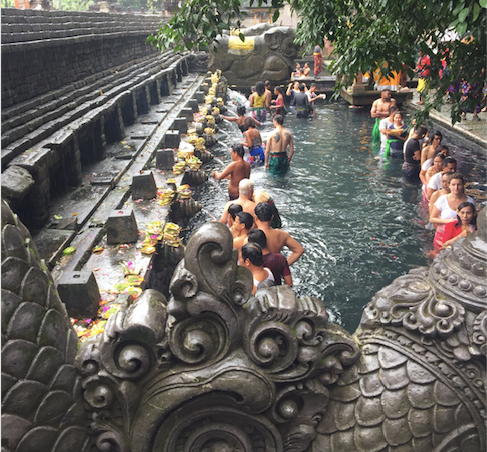 Since we only had three days in the area, we had to be very strategic with what we were going to see and do. First, we spent an entire day literally doing nothing but hanging in our villa, something I highly recommend. The next day we did our sightseeing.
While you can certainly rent motorbikes to get around, you should be warned the traffic tends to be a nightmare and a newbie might want to avoid the stress of navigating it. You're supposed to be relaxing, right? You can hire cabs to take you from place to place, but we opted to use our hotel to set up a personalized half day tour for efficiency and informational sake.
First, we visited the Tegalalang Rice Terrace. Though there are other tourists wanting to snap pictures of the same stunning view, it's definitely a classic stop and worth a visit. Next, we headed to the Tirta Empul or the Holy Spring Temple. It was really helpful to have a guide at this point because he explained the whole spiritual bathing process and why it's done. The temple is very busy, but mostly with locals and it's an incredible site to watch. You can participate, but we opted to observe and learn about the ritual instead.
Then, we asked our guide to take us to some local craft shops. In this area, a number of the towns are known for particular trades. Nagi is known for its elephant carving, Pasar Seni is a treasure trove of local handicrafts, Celuk is home to Bali's top gold and silver smiths, Batuan is the center of classic art paintings, and Mas is known for their creation of beautiful wood carvings.
We ended the day in Ubud, where we grabbed lunch at Taco Casa (yes Tacos in Bali) and wandered the streets popping into shops owned by both locals and expats. You could easily spend hours here testing out yoga classes or Ayurvedic treatments while sipping on green juices.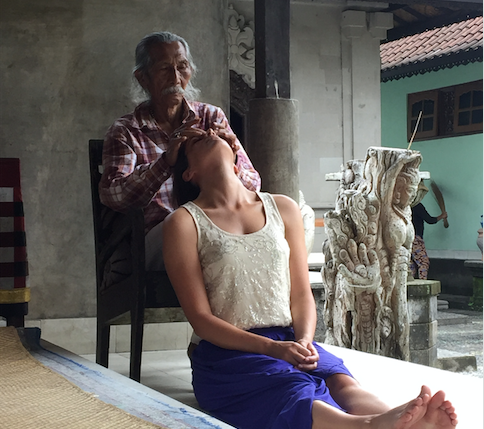 Bali has long been known as a spiritual place and many visitors come to experience some eastern healing practices. We too wanted to partake in some of these practices and asked our hotel again for some authentic things to try. While people flocked to see medicine man Ketut Liyer after Gilbert revealed her life-changing interaction with him in her book, he has since passed away and developed a reputation over the recent years as Ketut Liar for his lack of authenticity after his sudden fame.
We were directed to a different elderly gentleman named Cokorda Rai, a traditional Balean aka healer. There are thousands of healers (actually there's more Baleans than doctors), so feel free to do some research of your own. But, you should be aware of a couple of things when finding one. Real Baleans are not fortune tellers; they look at your vitals (glands, lymph nodes, pressure points, etc.) and determine where there's a problem in your body and provide treatment. Also, you shouldn't have to pay more than a few dollars to see one and it's actually a donation not required to pay.
After our session with Cokorda, and in the spirit of being spiritual, the hotel also hooked us up with a Balinese offering class. Offerings are a daily part of the local life and are a combo of palm leaves and flowers brought to temples both in the home and in the town. A woman spent two hours teaching us how to make these offerings (aka canang sari) explaining they are for giving thanks for peace given to the world. They are also looked at as a small self-sacrifice because they take time and effort to prepare making it a daily reminder of acknowledging the gods and blessings in your life.
Calling all HuffPost superfans!
Sign up for membership to become a founding member and help shape HuffPost's next chapter
This post was published on the now-closed HuffPost Contributor platform. Contributors control their own work and posted freely to our site. If you need to flag this entry as abusive,
send us an email
.