Being in the marketing industry for over six years now, I've often come across marketers who are 'stuck' when it comes to their marketing (admittedly, I feel that way sometimes too). Many of them have done the same thing over and over for so long but are now finding that those strategies are outdated and no longer successful.
Brands, especially Luxury brands, according to Ad Age, are being forced to innovate in the digital age if they want to survive. Let me let you in on a little secret of mine. When I'm feeling 'stuck' I immerse myself in the marketing of brands and industries that rock at marketing; whenever possible I get in touch with the brains behind that marketing. One of those industries is the housewares industry and two of those brains agreed to share their secrets behind their marketing strategies, the marketing channels that are their biggest influencers, and more.
Peter's of Kensington, located in Sydney, Australia and has often had to re-jig its marketing strategy in order to ensure it was meeting the right market at the right time, according to Peter Satouris, Chief Operating Officer. Through hard work and innovation, it has managed to go from a small store in Kensington to a warehouse.
What has been one strategy you put in place to meet and exceed the demands of your existing customers and prospects?
PS: Planning has been key. We often plan months and sometimes even a full year in advance in order to make sure we're able to appropriately place our brand to meet the needs of returning customers, but also customers who are simply looking for gifts in festive periods or demographically-centric holidays, such as Mother's and Father's Day.
Aside from this strategy, what are some other things you do to make Peter's marketing a success?
PS: Some people don't see customer service as a form of marketing but we do it and take it very seriously. A lot of what we do is centered around the customer experience. As cliché as it may sound, we work hard to provide our customers with excellent service via whichever form of communication they reach out to us on such as social media, phone, or email.
Which communication channels have you had the most success with and why?

PS: Definitely our website and email marketing. By appearing in a wide range of search engine results and email marketing to our existing customers, we're able to efficiently reach an audience that has already engaged with us and is happy with our service.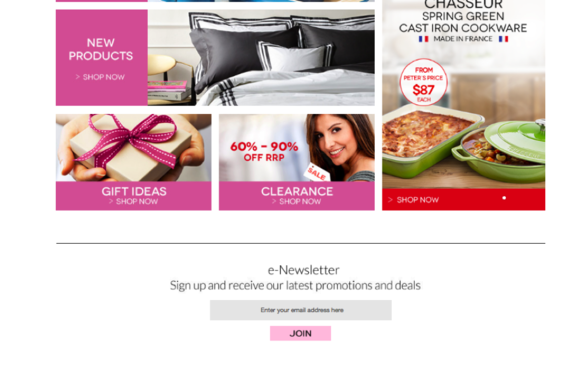 Pictured: The company's homepage is easy to navigate and clearly displays an encouraging way for users to opt into email marketing.
I'm a big fan of A/B testing. Can you elaborate on an A/B test you've done that was successful, such as your product descriptions?
PS: We have split tested a wide range of aspects of our business. It's in our DNA to constantly check and change every touch point that our customers have with our business.
Everything from the descriptions to the types of images and layout of the page have been tested so that we can get the best out of whatever traffic we have visiting our website or opening our emails.
With our product descriptions, we have tried a few different deliveries of items and have had the most success by including:
• Information regarding the brand
• The history of the company
• The history of the product
• How said product is made as well
• An inclusion of the favorites we have as a business and the positive stories that our customers have shared with us regarding them.
Obviously in some cases, the information is limited, however we have observed that including any information that can be 'felt' by the user is most successful in our industry.
Writer's note: I could not agree more. Like The Daily Egg noted, make an emotional connection for lifelong customers and rabid fans. "People buy based on emotion, not logic. Tell stories that resonate with your customers."
Tell me about A/B testing you've done.
Kristin Barclay, VP of Product & Marketing, Speakman: We have done usability and user experience testing with our Make Your Shower Count campaign. We engaged with SurveyMonkey and tested preference for header images (product+human, product alone, video screen shot), CTA (Add to Cart v. Act Now v. Make Your Shower Count), and additional features and functionality (water conservation facts, featured review quotes, showcasing our 5-star product rating, and adding an Amazon.com shop button).
Testing is one surefire way to gut-check our assumptions and ensure we are portraying our brand, mission, and products as accurately and positively as possible.
Which marketing channels are your biggest influencers in sales?
KB: Our Make Your Shower Count campaign has a huge presence on social media. We developed a set of videos that serve as the foundation of the campaign. As a result of both great content and strategic targeting, we have seen a lot of traction on Facebook in particular, which is currently driving more sales than any other channel.

What would be one marketing and/or brand killer for housewares brands?
KB: In the housewares industry, reviews carry a lot of weight with consumers. When we launched our first e-commerce site ever last year we made it a priority to include reviews for each product on the website so that consumers could feel more confident about making a purchase. Not having a high volume of easily accessible reviews, or having negative ones, can be hugely detrimental to a housewares brand.
When you are putting a strategy together, what goes through your mind? Please help readers get inside your mind to think like a housewares marketer.
KB: We always ask ourselves, "What is going to attract the attention of our core customer demographic, and what channels are the best places to reach them?" Social media has played a key role in our current campaign, as has the accompanying microsite that we launched.

Speakman engineers premium shower and bath products.
Calling all HuffPost superfans!
Sign up for membership to become a founding member and help shape HuffPost's next chapter